Today I am sharing another gift guide for the holidays,
this time focusing on gifts for the traveler!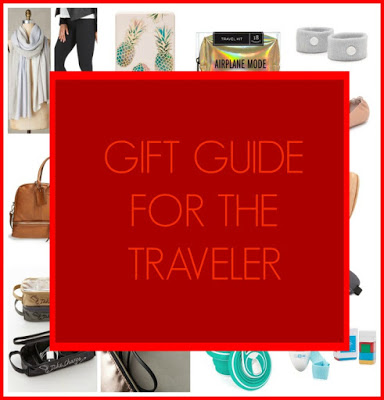 In the past couple years, I feel like I have traveled a crazy amount. For someone who doesn't travel for work, I am always at the airport + on an airplace. First it was weddings and bachelor/bachelorette parties, and then I was flying back and forth from Chicago to Atlanta to see family, and now friends are scattered across the country from me and I'm lucky enough to use any excuse to hop on a plane.
Having a Companion Pass and traveling for free with my husband has also added to the increase in traveling.
Thank you Southwest 🙂 I heart you.
I'm on airplanes far too often and I did extensive planning for our long flight for Italy, so take a look at some great gifts below for the frequent flier or for anyone who just wants to pack a little smarter for a vacation!
a lot of these are the perfect stocking stuffer size and price!
:: GIFT GUIDE FOR THE TRAVELER ::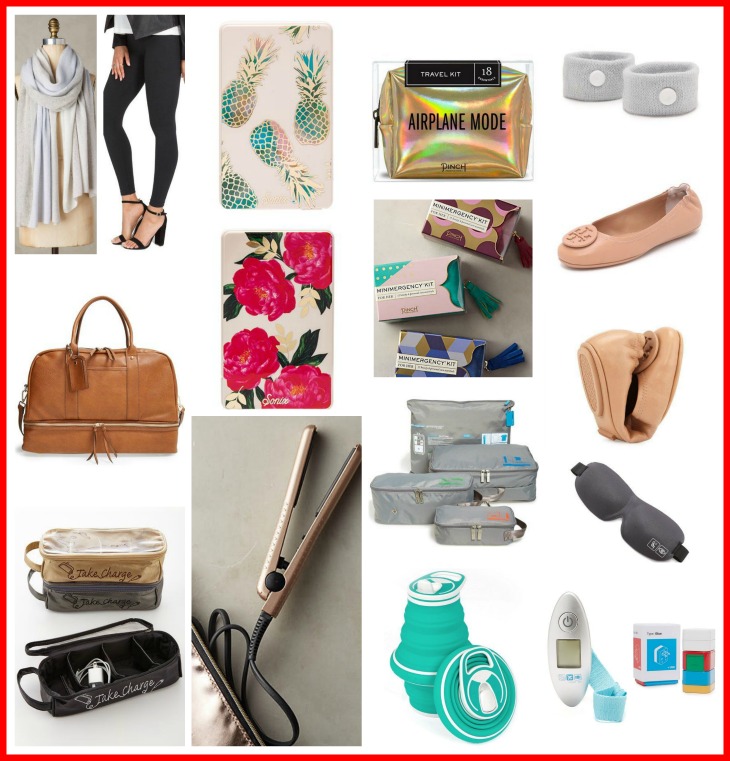 MASON TRAVEL BAG : you know I am obsessed with this thing. and I will never stop recommending it. ANDDD I was just watching The Big Bang Theory and it is Bernadette's Hospital Bag! She has the burgandy/ox-blood color 🙂 It seriously would be a perfect hospital bag….. the characters and the writer's of that show are obviously geniuses, so if you don't believe me, believe them.


MINI STRAIGHTENER : trust me when I say that having small hair products is a life saver. this travel straightener is only $30 which makes it a complete steal, and it's so much less space in your travel bag. hotels always have hair dryers that you can use, but they are usually straight out of 1980. this lightweight and COLLAPSIBLE HAIRDRYER would be a great thing to have too.


PORTABLE PHONE BATTERY : because let's face it, they come in so many cute prints, but this FLORAL CHARGER and PINEAPPLE CHARGER are my favorites.


PINCH PROVISIONS AIRPLANE KIT : trust me. you'll need something, if not tons of things, from this when you are on a flight. plus it takes up zero space! this makes such a great inexpensive gift for anyone and everyone – and is the perfect stocking stuffer size.


CASHMERE SCARF : it starts out hot, then gets freezing, then hot again. Pick a nice scarf that will last you, in a lightweight but warm material, and ideally in a neutral that will match as much of your clothing for the trip as possible.


SPANX LEGGINGS : I prefer to wear maxi dresses in the warm months, but basically anything but shorts (ew…. bare thighs and skin touching the airport seats and airplane seats…. nay nay fluffy) but if I can't get away with a dress I wear leggings. and if you're like me it's something you would be packing to wear at some point on your trip anyway.


FOLDABLE TRAVEL FLATS : pick a pair of flats you'll wear on your trip, or stow these foldable beauties in your carry on to change in to when needed. I love these TORTOISE SHELL FLATS but a great SOLID FOLDABLE FLAT in cream, black, or navy would be perfect too.


LUGGAGE SCALE : just do it. don't act like you haven't needed one in the past.


TAKE CHARGE CHARGING ORGANIZER : keep all of your necessities for your phone/computer/ear-buds all in one easy to access, super-cute spot. another perfect stocking stuffer!!
COMPRESSION PACKING CUBES : some people may only use these for bigger trips, but Kip and I use them for every trip, even a short weekend. It is a great way to fit as much as you can into your suitcase but also to pack in an organized manner.


a few more specific items, especially perfect for longer flights :
MOTION SICKNESS WRISTBAND : if you are one of those people that could even possibly get neaseous, have some on hand. people swear by them. I'm getting some for my sister for our flight to the Caymans for Christmas because she had a rough time this past weekend on our flight to Boston.


COLLAPSIBLE WATER BOTTLE : I'm insane and drink more water than anyone I know. Especially for long flights or for big trips, this is a necessity. It was a lifesaver for our Italy trip.


MOLDED EYE MASK : a necessity for long flights. this one will keep from messing up any eye make-up (or from smooshing your eyelashes for you lucky ladies I envy with super long lashes)


UNIVERSAL MINI ADAPTER : again, if going abroad, gotta have it and this one will work for any trip to any other countries you take in the future. plus, it's mini and has cute colors!

I've been e-mailing with a few readers about our Italy trip a year or so ago answering some questions.


I realized I never did a Rome recap …. oops…. so unlike me right? 🙂

I'm adding that to my list!

We are possibly going back to Italy for a wedding in July….. not completely finalized yet if we can make it, but I am keeping my fingers crossed that we make it to Lake Como!

In the meantime while I get my act together and finish the final recaps,

check out my travel necessities for long international trips with this
PACKING FOR 2 WEEKS IN ITALY POST

and also my recap of the following cities
VENICE RECAP
SIENA RECAP
FLORENCE RECAP
POSITANO RECAP PART I
POSITANO RECAP PART II