First of all, my apologies in thinking that Ladies of London had started when it hadn't! AHH!
I am delusional. The shame and guilt for leading you all astray is real.
The season premiere was last night — I hope I didn't mess anyone and their DVR's up!
We decorated our tree last night, so I was only able to watch This is Us last night and part of the Lea Remini Scientology show. Was everything amazing?! Ladies of London?! I have some serious catching up to do tonight for Coffee Talk!
Today I am back with another gift guide!!
Today's gifts are geared towards the fitness lover.
These also make great gifts since January is right around the corner. If you or anyone you know is like the majority, new years resolutions will include being healthier or working out more, or simply trying to cook more meals at home, and all of the gifts below are perfect for that!
:: GIFT GUIDE FOR THE FITNESS LOVER ::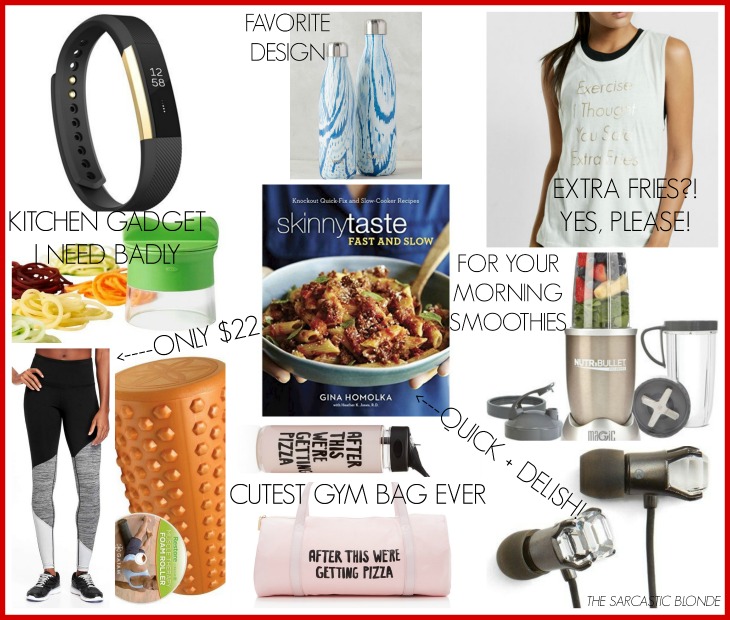 FITBIT ALTA // SWELL WATER BOTTLE // EXERCISE? OR EXTRA FRIES? TANK
VEGGIE SPIRALIZER // SKINNYTASTE FAST + SLOW COOKBOOK // NUTRIBULLET
COLORBLOCK LEGGINGS // FOAM ROLLER // AFTER THIS WE'RE GETTING PIZZA GYM BAG and BOTTLE // DIAMOND EAR BUDS
If you've been debating a fitness tracker for awhile, the Fitbit Alta seems to be the best option there is. It has amazing reviews unlike other trackers or older models. This one also can show text messages and calendar alerts in addition to monitoring your sleep, activity levels, and more.
By now I'm sure you know how much everyone loves their Swell water bottles for keeping their water cold or other drinks warm. The hard part is choosing a design! I love this beautiful blue ikat pattern so much but the options are endless.
You know I'm a sucker for a graphic tee. I just can't help myself. And one involving fries? Sold! This "Exercise? I thought you said Extra Fries!" tank is too darn cute.
Everyone is all about the spiralizer
this year!! Make pasta-free and beautiful dishes without the guilt, and avoid paying lots of money for pre-spiralized veggies at places like Whole Foods, with this inexpensive favorite kitchen gadget.
It's a Love/Hate relationship with this foam roller.
But it's a necessity and hurts so good after just a couple of minutes.
The
nutribullet
was one of the best purchases I made this year. Seriously.
I bought a refurbished one off of Amazon for super cheap incase I ended up not liking it, and I love it. It blends through everything in seconds for a quick and delish breakfast or snack.
Nothing gets you more in the mood to workout than cute clothes! I love these colorblock leggings and they are on sale for only $22 today. Workout clothes don't have to be expensive to be cute!
There is no cuter gym bag in the world than this after this we're getting pizza workout bag and bottle. Sometimes (most of the time) you need that meal as motivation 🙂
Some girly bling for your music with diamond ear buds ; nothing worse than working out without music as a distraction (or TV/Netflix in my case….)
I absolutely love the first cookbook from skinnytaste. I know that this skinnytaste fast and slow cookbook will be no different, and especially in the winter months it is so nice to come home to warm a meal in the crockpot after work!
Other ideas any girl is sure to love:
A Classpass membership (the first month is only $19!), classes to their favorite studio, or joining Tone It Up.
And as I'm sure we all know, don't go gifting workout classes to someone who has no interest …. something tells me that will end badly for you 🙂 so know your audience!
Something no one would ever be upset with would be a massage of course!
Pamper someone for all the hard work they've put in and work out those sore muscles!
Happy Gifting!