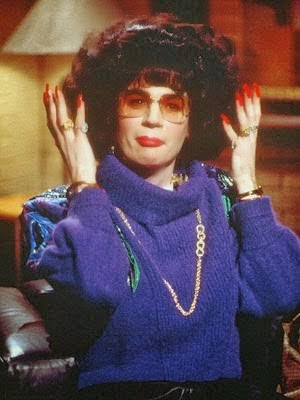 discuss amongst ya-selves…..
:: New Jersey Reunion Part I ::
As with most reunions, when I begin to recap or comment, I feel like a lot happened and yet nothing happened at all. So much is said, but it's always the same things over and over.
One of the most shocking events of the evening: Teresa and her delusional comments about why it's totally normal that she had a brand new Lexus with a big red bow waiting for her when she arrived home from camp prison.
T

eresa
is like "Oh Please, Andy. Would you ever drive a Ford?"
….and that is how you end up in jail for false bankruptcy, tax evasion, the list goes on and on.
Teresa's husband Joe never graduated from high school. He is getting his GED whilst in prison. I mean…. these two handling money and finances is making a lot more sense now…..
Teresa's brother/Melissa's husband joe lost his virginity at NINE.
I can't even form words about that one.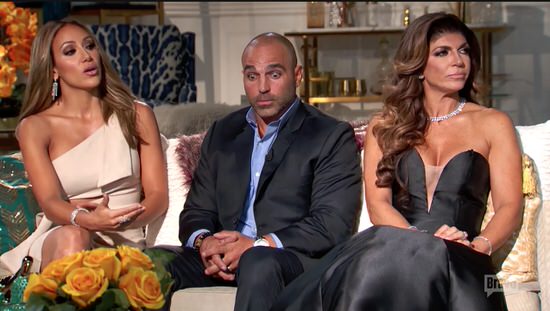 Teresa then blames the FBI and the jail-time and everything that happened to her and Joe on Jacqueline for setting her up.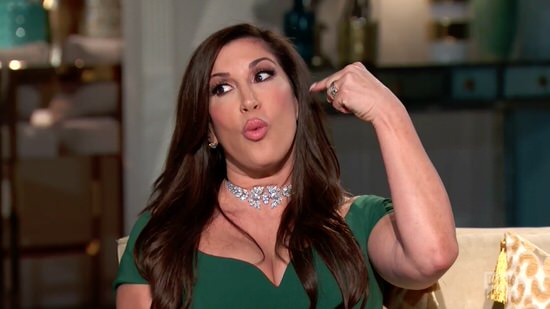 I mean, Jacqueline has been pretty cuckoo herself this season, but WOW.
Even my-boyfriend-andy-cohen's face was in a state of "girl, no you didn't"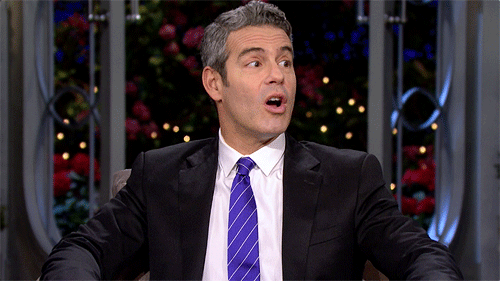 :: DWTS ::
If you've been reading Coffee Talk awhile, you know that when Erin Andrews became the new host she used to drive me absolutely insane.
In particular, her first year as host. It was just painful and her interviews were just so hard to watch. You never, in a million years, would have known she interviewed people and gave commentary for a living. And was famous for it.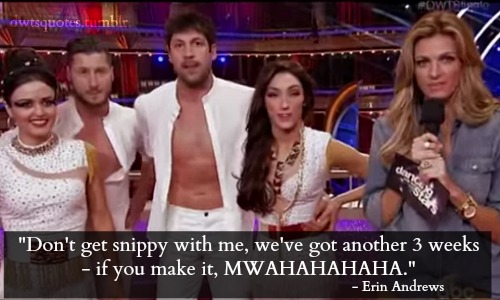 Now, however, I need to give her credit and say that I like her and she has GREATLY improved.
I just felt the need to share that I have joined team Tom AND Erin and am not strictly on team Tom anymore….because for awhile there I was praying they would snatch that microphone away as fast as they did to Brooke Burke (which was so not fair) and hand it over to someone else, mainly Lea Remini.
but, as always, I digress…….
I am SO SAD that Sharna is injured because the Racecar driver James really is my favorite and I would love for him to win.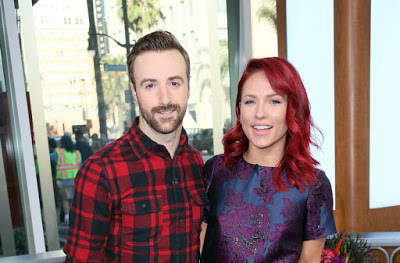 Hopefully she'll be back dancing with him next week.
I also love Lindsay and the football player.
and of course the US gymnast Laurie with Val.
Those 3…. but James for the Mirror Ball Trophy.
:: OC reunion Part I ::
Kelly's boobs look bigger than ever in her dress of choice. Massive.
Also, when she was on WWHL last week as a guest I was thinking…. hmm… her face never looks the same …. she's done more work.
And now seeing the reunion, I feel like it's confirming that she definitely looks like she had more work than when she was filming the season.
Thoughts? Agree? Disagree?
We kick off this reunion where the last reunion imploded, which is discussing Brooks and cancer-gate. Somehow crazy Vicki said as recently as Ireland that he is her soulamte and she wants to be with him in heaven.
I really can't with this woman.
Vicki wins the award for fastest reunion freak-out because this Brooks conversation really pushes her buttons and she is fuming right out of the gate. She decides to end this conversation by saying they are done with discussing it and whoever doesn't like it can "Get off her show. By Felicia."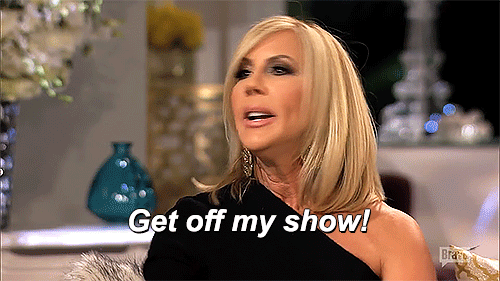 Then Vicki talks about "ding ding dong" or something? Even my-boyfriend-Andy-Cohen didnt understand the ding-dong commentary so I feel a little better about having NO idea what that was all about or what it was supposed to mean.
I mean I just cant get over how much I really like Meghan King Edmonds this season….. even moments where Andy is reading the callers question of "when I went through IVF my husband was there every step of the way" and she's like "wouldnt that be nice" with a sarcastic laugh. She really was the voice of reason this season and still wasn't afraid to point things out to people like Heather when they acted like they did nothing wrong.
Rumors are swirling that she isn't coming back, and that they likely are moving to St. Louis, so we will see what's to come.
I would totally understand her moving back to St. Louis so her mom can help her raise her baby since her husband will undoubtedly be as absent as ever.
Kelly isn't sorry about anything except how her husband was portrayed… and it is her versus shannon + tamra (and Heather….) but I feel like there is plenty more to come with that…. and by feel, I mean know, because they are dragging this thing out into 2 more hours the next two weeks. So we can just discuss Kelly more then….
:: Chateau Dubrow : Heather's Closet ::
So I just stumbled across this video and link to Heather's closet in the new house.
Sorry…. felt like I had to share.
I was all excited to see it, and then as I was clicking play, I saw it said "Episode 1"
Seriously? She drags this thing out big time, talks in the third person the whole introduction, and apparently 'Heather's Closet' is it's own YouTube Channel.
Just a warning…. this is a horrifically boring 7 minutes and not an actual closet tour.
She is making this into some kind of series, when really, we just want to see the darn closet.
Every season I tell myself I will not watch this filth…. and then somehow I do.
It honestly is just horrible the things these people say and do.
Brittany (and her new boob job) is now working with the rest of the crew at Sur.
Tom, who shaves his face and straightens his hair, introduces us to some new blonde highlights while he works behind the bar. Wow. O
h my.
Jax tells this awful sexual story/rumor to Tom and his highlights, and then when LVP walks up he doesnt miss a beat and tells her the same thing.
You would think she'd be appalled and reprimand him for saying such a thing at all but especially to his boss and an older woman.
NOPE.
The things that Lisa says in her commentary I can't even repeat on this blog… they are disgusting.
It's gross when an 18 year old (or 35+ in Jax's case but acts 18) says it, but it's even worse when LVP does.
This show makes it nearly impossible to even comment…. I feel like it was XXX talk this episode (I need the emoji with hands covering eyes).
:: American Housewife ::
This is a new family comedy on ABC, and I had set it to tape but hadn't watched it until this week. The lead of the show is Katy Mixon;
she played Melissa McCarthy's sister on Mike & Molly and has been in a ton of different things. All you need to know, she is hilarious.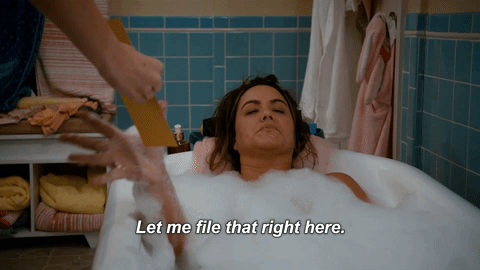 and she also used to date Paula Deen's son, Bobby! She was on a full episode of Paula's show one time on the Food Network cooking with the two of them…. seriously people – I know EVERYTHING. well….. everything useless that I do not need to know.
anyways, this show is great and I highly recommend adding it to your weekly DVR routine.
:: One More OC Tidbit ::
Gretchen Rossi celebrated her birthday with some former cast members.
Vicki must really be scrounging for friends, because no way would she have even spoken to Lizzie or Gretchen or even Kelly for that matter if she had the other girls on her team.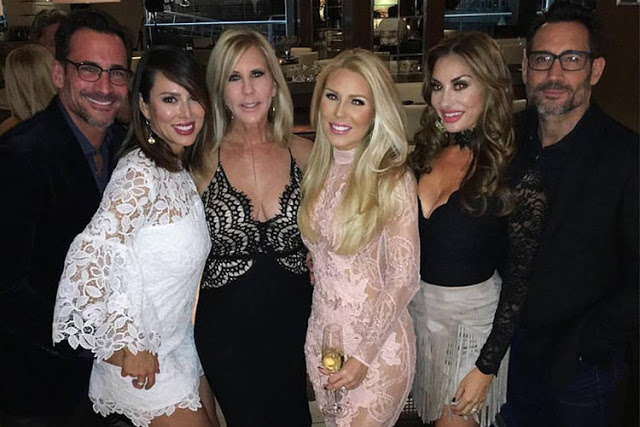 EDITORS NOTE :
as always, ignore my own blatant grammatical errors whilst I make fun of others poor grammar during coffee talk on a weekly basis.
#hypocrite #sorryimnotsorry
I write these posts late at night while simultaneously watching Bravo, taking snapchats of my snoring husband, and making to do lists of everything I was supposed to do and didn't do that day and likely won't do the next day either. or the day after that.
gifs and images via giphy, ABC , E!, Reall Housewives Tmblr, and Bravo