First of all,
if you didn't see Laurie Hernandez dance on DWTS last night,
do yourself a favor and head on over to YouTube.
She. Is. Amazing.


It was SO GOOD.


We are settling in to our new house and loving every minute of it.
It's a cute little ranch with 3 bedrooms, built in the 1950's (I think?)
Luckily, there wasn't much that we needed to do prior to moving in other than put in hardwood floors in one room.
We have plans for a few upcoming projects, such as a new back deck, but luckily it was all pretty much move in ready.
I even liked the paint colors, so that was a huge plus.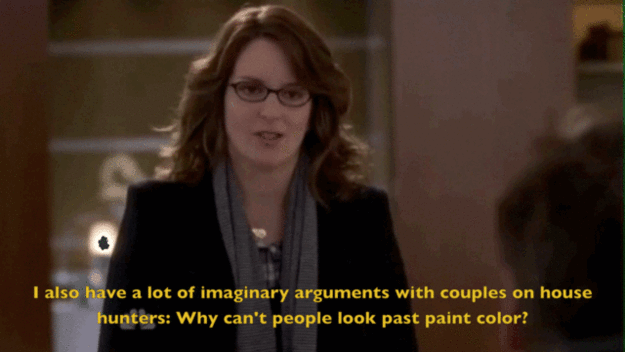 We still can't believe we own an actual HOUSE.
It is so weird!!
We owned a condo in Chicago, but it had 2 other units in the building and we shared everything with them. We had a tiny shared little yard, but never once used it (and neither did our neighbors).
We barely had any responsibilities as owners there, so this has already been a huge difference.
For instance, with alley's in Chicago we could just chuck all of our garbage back there, and if a bag or two wouldn't fit into the trashcan, we would walk down to one of the dumpsters in the alley.
Now, trash is once a week, and we have SO MUCH garbage from unpacking everything that Kip keeps having to load up his car full of everything and drive it.
I also forgot how it takes time to get used to the noises of a house.
I slept amazing one night and so-so the other two, but being back in our King size Tuft + Needle Mattress that we are obsessed with has helped a ton.
When we first moved into our condo in Chicago, I could hear little noises from the neighbor above us or in front of us and it would sound exactly like someone was in our apartment. Truly. Even Kip would think someone was inside.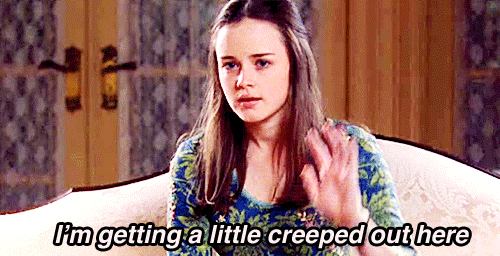 I've already caught myself several times thinking I'm hearing a sound and thinking "don't worry its the neighbors" because I'm crazy, and then I remind myself there is no one above us or attached to us.
So then I freak myself out more that it is coming from inside the house 😀
insert Scream voice : "It's coming from inside the house"

Kip has done so much yard work already which is new for us.
I do not have a green thumb at all, so hopefully I'll figure out how keep some plants alive in the coming months.
I wanted to share a few of the listing photos with you today!
This is how the house looked when we first saw it and fell in love with it.
Luckily the previous owners had good taste, so it was easy to imagine our own things inside the home.
One of my favorite things about the house is the white built-in's that you see right when you walk in the front door. This is exactly the kind of thing I would have loved to have put into the house myself, so I am very excited to get our knick knacks and photos on the shelves and style them.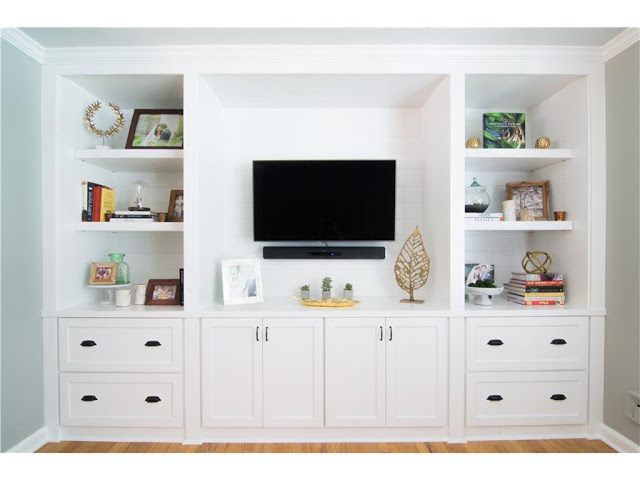 The dining room is off of the open kitchen/living room.
We don't really have a need for a full dining room right now, so instead we are making this room into a den.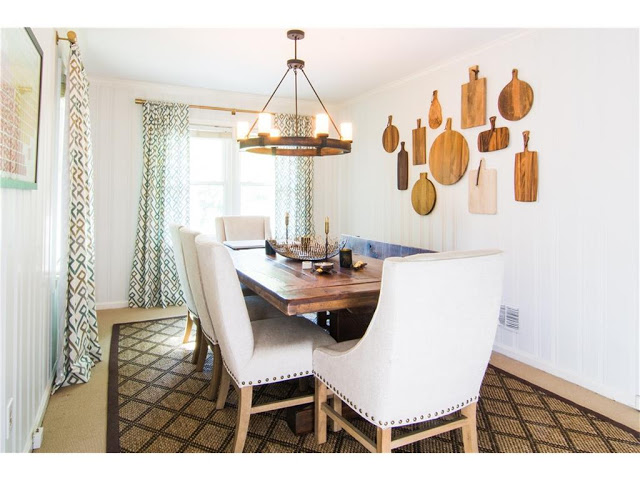 I found an old listing photo from previous owners who used this as a den as well.
Our furniture is set up in a similar way, but the walls are of course white now like the photo above.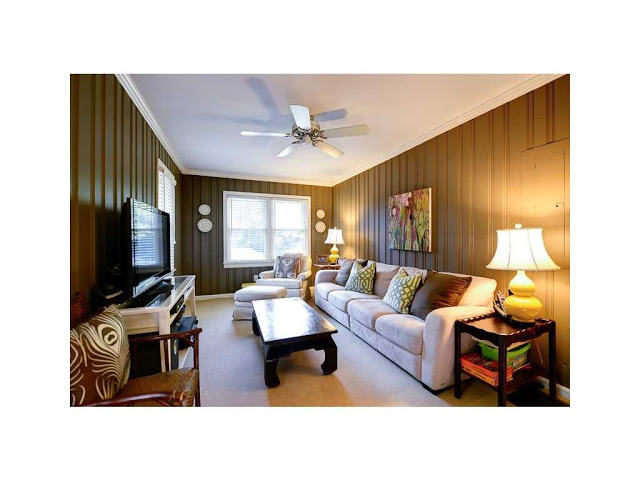 We replaced the carpet in this room with hardwoods and I love them.
We did our best to match the hardwoods to the existing hardwoods that are in the rest of the home and they match up pretty well.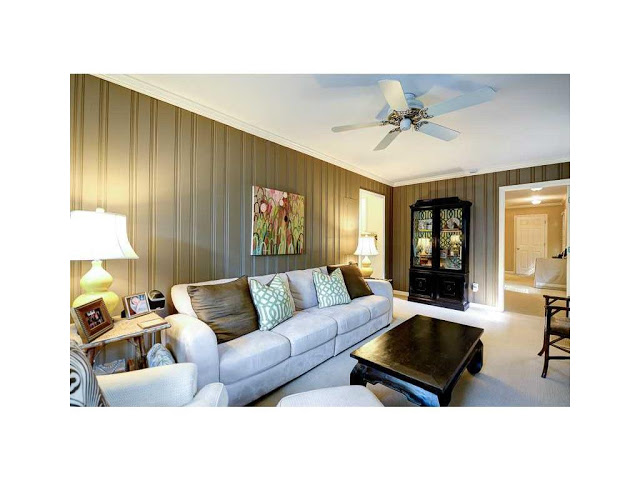 Our master bedroom was an addition that was added years ago off of the den/dining room.

You can see the hallway off of the den in the above photo that leads into it. It has a long hallway with the laundry room, then the master bath, and then a large walk in closet and our bedroom. We love it so much. It's so nice that it is on it's own separate side of the house. It has tons of windows looking out onto the deck and backyard too so it's super bright and sunny.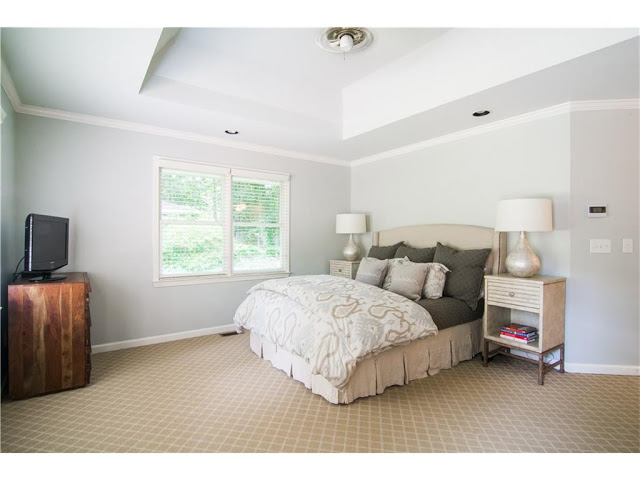 Kip is in love with the shed in the backyard for all of his tools.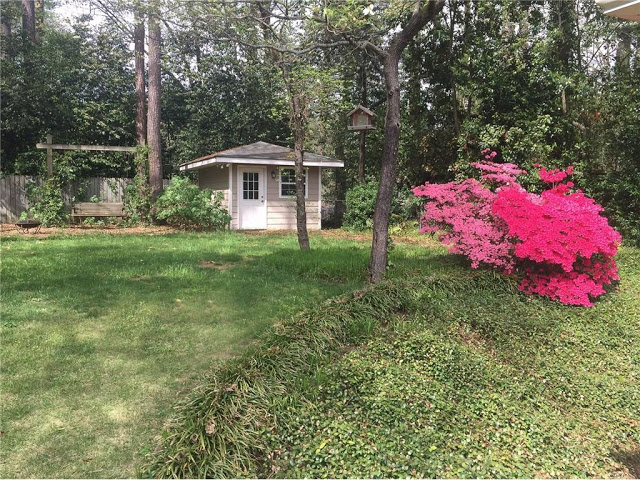 and we think the deck will be the first project on the list.
We are hoping to extend it and add a screened in area as well.
Now that we aren't in the bitter cold for months and months on end we want to try to be outside as much as possible and we know it would get so much use.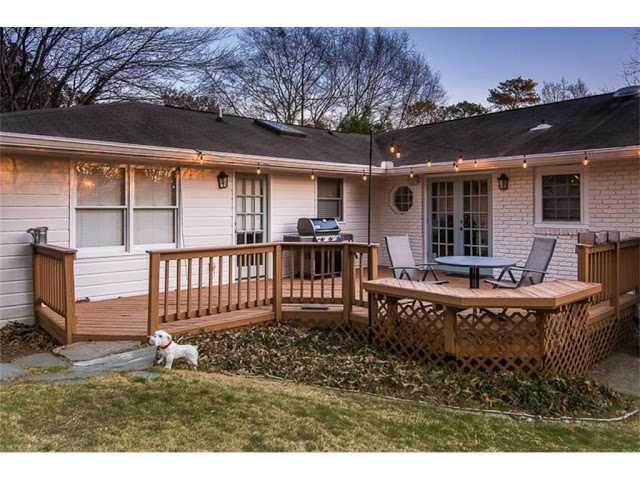 There are two other bedrooms, a guest bedroom and an office, that are still completely in shambles at the moment, but that looked very cute when we first saw the house.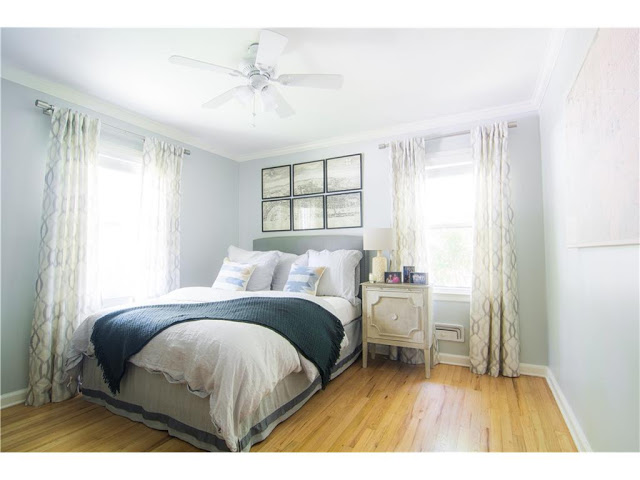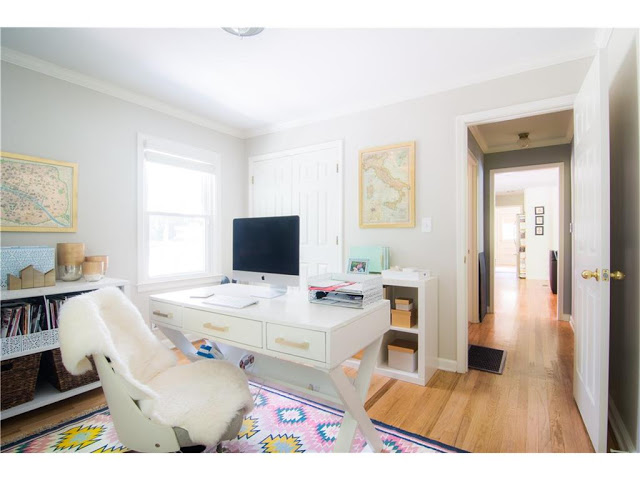 We're excited to make it our own and have visitors from Chicago!
Save
Save