Happy Coffee Talk Thursday
I sadly have missed basically EVERYTHING this week, and you know how strongly this disappoints me, especially when it disappoints you!
I even tried to go to abc.com to try to watch Bach in Paradise online and Bravo to try to watch Housewives but I haven't been able to because we don't have an online username for those accounts.
but who cares….. I digress….
one of the few things I am privy to this week….
UM NICK AS THE NEXT BACHELOR????
I am so NOT okay with this.
if you're a long time reader/Coffee Talk Connoisseur, you know my thoughts from both Andi's season AND Kaitlyn's about him.
Imagine my surprise, when I go to the gym in the hotel this morning, thinking that I'll be nauseous from my cocktails the night before and lack of sleep, when in reality, I am ALL excited to be watching KLG and Hoda on the 10 o'clock hour of the Today Show – a true luxury that I will forever miss from my school days – and what do I see?
That Nick is going to be the next Bachelor.
I have discussed this in the hours since this horrific news with a few friends and I realize that many ladies him find hot and sexual….. but I have also realized many share my thoughts and do not.
But really, its not even about his level of hotness or lack thereof.
It's that it's his 9,428 hour of ABC fame-whoring and they are continuing to feed it?!
TWO seasons of The Bachelorette, and a whole other one now with Paradise, plus TONS of publicity and commentary in between……..
I was thinking I would be disappointed with whichever recent JoJo-reject they chose….. but THIS.
Never saw it coming.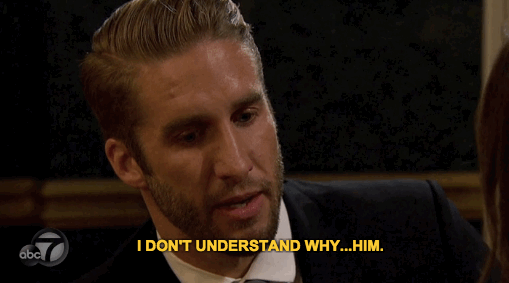 I guess the only thing that could be worse would be Josh-MmmmmMM Noises-Murray being the next most eligible…….
The hardest part to grasp is that I know I will watch every single minute of every hour of it….. which makes me feel bad for all of you… prepare for some serious "SERIOUSLY?" and "REALLY?!" and "I CAN'T EVEN!?!" coming at you on Thursday's this fall….. because SERIOUSLY REALLY I CAN'T EVEN with Nick freaking Viall being the person I have to watch for 2+ Hours every week.
I will end with a kind comment in Nick's favor:
He has been great comedic relief involving Princess-Jasmine-Crying-Face and the other crazies on Paradise this season – telling them to LOCK IT UP.
I hope you all had a great night last night watching NY Housewives Reunion Part I…. I am sure my-boyfriend-Andy-Cohen did not disappoint
the way ABC continues to. okay sorry. I'll drop it now.