It took me a long time to realize the girl on the end next to her brothers was her sister. They never showed her smiling or talking once, so I figured it was one of the brothers girlfriends or something
{you know…. like the Roger's brothers amazing hair girlfriend who we so rudely didn't get to hear talk and her hair was clearly stating she has something to say}
But really…..
The only time they show this girl is her just staring blankly and not saying a word, and all we ever hear about in general forever is her two brothers. I'm so confused.
after much googling I realize its a half sister or something? but my goodness couldn't they have showed her asking her opinion or a shot of her smiling – I feel so bad for her it was so awkward
Jono practically screams at her parents (and really at her mom) when she realizes that they all want her to pick Robby and that Jordan did not ask for permission to marry her.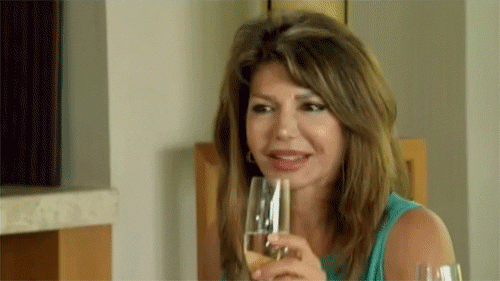 The whole conversation the final date night with Jordan and Jojo about him not asking permission and about their future truly makes me not be able to stand him EVEN MORE which I didn't think was possible.
Jordan : "Yeah, No like whatever .
it sucks"
QUIT SAYING "YEAH-NO"
after more of her asking why he didn't ask permission when they discussed how important it was he FINALLY is like, pissed, but just pissed about being badgered about it and he says
"I'm devastated we can't get it back"
and then a "yeah ya know….."
I. CANT. STAND. HIM.
Hashtag Team Aaron Rogers for life.
Sorry I'm not sorry but ESPECIALLY after her parents talking constantly about her having trust issues from past relationships, he's the last person I would trust.
I dont trust the hair. I can't do it.
When its big like that, it's just full of secrets I think. Secrets and lies.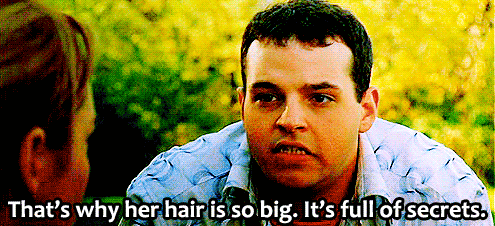 side note : I really do wish Jojo took the reject to the side before the rose ceremony to tell them they weren't the one. A lot of Bachelorettes in the past have knocked on the door before when they're expecting Neil Lane or something and its her and she rejects him so that he doesn't pick a ring and plan a proposal speech. But whatever….
i wasn't nuts over Robby this season, he just seems kinda boring, but sure he was super nice and normal and whatever. I was never "OMG I Love Robby"
BUT
I have NEVER felts so horrible for someone getting rejected in the history of this show.
He did not see it coming AT. ALL.
I felt so, so awful for him.
I could barely watch. Truly painful.
WHY DIDNT SHE TAKE HIM TO THE SIDE THE DAY BEFORE OR EARLIER THAT MORNING!!! WHY JOJO WHY!!!
:: after the final rose ::
Robby walks out to the stage legitimately like a robot. Nothing moves except his feet. And then what is this flower on your suit? It needs to go.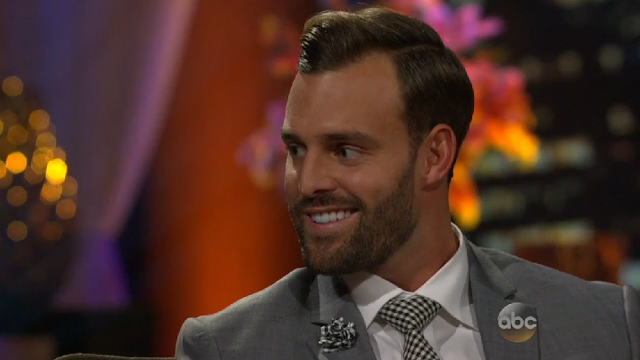 Robby talking "after our overnight ….which was awesome…."
ew, no. shhh.
and then he asks if she still thinks about him!!
Robby quit while you're ahead and we all feel bad for you and you're seeming the most normal and great that you had all season!
No she isn't thinking about you! Her fiance is about to walk out!
Chris announces that when we return jordan sees jojo for the first time
…. cut to the camera man showing Jordan doing his damn hair in front of the make up mirror for FAR too long.
SERIOUSLY. THE HAIR IS FULL OF SECRETS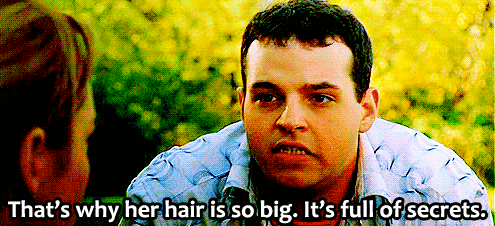 Chad interrupting and them constantly showing him is so stupid, but his commenting about his mother passing in his selfish rants is disgusting and he goes from mentioning that to grinning uncontrollably and its just wrong.
editors note: after seeing Bach in Paradise I now understand why ABC was shoving Chad down our throats the last two weeks – it worked and man they weren't lying.
Jordan : You can keep side stepping the questions about your brother all you want but
ITS WHY YOU WERE ON THE SHOW
sooo you should send a big 'ol thanks to aaron !!!
Jono is always so well spoken and always addresses every question even the uncomfortable ones (like about aaron) in the perfect manner.
Ugh she is just WAY too good for him!
:: GMA ::
I saw their first appearance on GMA and when they were showing Jojo's outfits from the show Jordan is sitting there commenting on the romper (like, sounding like the plastic surgeon husband from Real Housewives of Dallas).
No, Jordan. Strike 957.
:: Bach in Paradise ::
Evan is back.
a favorite quote from my living room TV partner would be :
"how did he impregnate someone 3 times?"
but really……
Seriously, Nick. AGAIN ? This is pathetic.
Get. A. Job. And. A. Girlfriend.
Everything about Canadian Guy that's friends with Chad but compares him to Hitler (Daniel, I finally learned his name last night) is strange and just…. off.
Poor Jared. Last time Pricness Jasmine Belly Ring claimed him and he had no chance with anyone else, and now Jubilee is doing the same thing.
He really, really attracts the stage 5 clingers.
This Lace and Chad stuff is un-freaking-believable.
I don't think I've laughed this hard watching anything Bachelor/-ette related ever.
where are the updated gifs from this week when I need them!
I can't even begin to recap all of the insane things that came out of Chad's mouth, and all of this was after :
-make out session with lace in hot tub (sitting next to two other people)
– slap fest with lace in and out of pool
– saying bitch and lace allowing it then now and then talking about money
Then he somehow starts talking about peppermint and being tied to a car?
And then things being murdery or unmurdery?
I mean it's all hilarious until you realize – hold up – theres no way this stuff is scripted and this person is legitimately losing it and capable of anything and Lace is so out to lunch that she isn't stopping him from doing or saying a darn thing.
Before Chad's done for the night, he decides to start speaking in general terms to the group and when one of the girls, who is missing half of an arm, stands up for women and talks back to him, he makes a huge degrading comment towards her about her arm.
Seriously.
Chad passed out snoring while the huge crab is all over him was amazing.
Seriously the crabs at this place at insanity. I'd be packing a mosquitos nest in my suitcase for fear of being attacked by crabs + who knows what else in the middle of the night.
Oh, and Chad apparently did not just pass out, but passed out and pooped his pants.
Yes. Sorry but that felt like a detail that needed to be shared.
In the morning, a huddle is obviously called because unfortunately the producers don't know how to save this sinking ship and everyone finally agrees no one is safe around The Chad and he must go.
He rants his brains out and is pissed that Lace is offended or anyone else and says "the only one that should be offended is Arm-y Mc-Arm-erson."
Seriously.
Chris Harrison informs us that on top of everything America got to see, there was oh so much more. Like Chad telling all of the staff at the hotel to "suck a d___"
Lace : "So, Chad is acting like Old Lace"
Oh Lace. There are just no words. You may not have threatened anyones safety, but you are legit two steps behind Chad on the crazy train.
How many shots did Old Lace used to take in a day and how many times did Old Lace slap a guy around because New Lace is like Frank the Tank?
The saddest part to all of this is that now Chad has to go home. Trust me Chad, the producers + America didn't want this to happen either. I'm sure the producers were doing everything they could to slightly sober you up and keep you from behaving worse and worse because without you this season will only go downhill…. he set the expecatations so high – and exceeded them with his antics – and now everything else will just seem like childs play.
They obviously made this a To Be Continued so we get one more week next week with Chad 🙂 PAH-Reach!
:: RHoOC ::
Meghan King Edmonds husband Jimmy, no surprise, is never there for ANYTHING.
And no, he wasn't even using work as an excuse.
He had off days for her egg retrieval and he used them to play golf.
She calls him post surgery when she's waking back up and he's annoyed that she interrupted the golf game.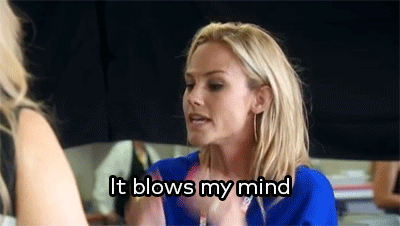 Meghan. Seriously. Run.
He wants absolutely nothing to do with this.
UM highlight of the episode: Meghan (King Edmond's) fertility doctor's ex is Nina (perhaps you don't remember Nina, she's the Tata's lady) that was running her mouth at the 70's party last week!!!!
as in running her mouth saying "never (insert bad things) to pay a bill" Nina
Another OC episode, another week of Heather bitching about Terry working….. ugh. no.
Every scene with Kelly and her husband just makes me squirm…. mostly because her husband just makes me squirm as I discussed last week.
Well, and it's like, once you say Hitler on episode 1,
there just really is NO going back from there.
It's over. No one can forget that.
The fight at lunch between Shannon and Kelly Dodd is quite strange.
First of all, Shannon should just let Kelly run her mouth and continue to ruin things herself.
Kelly starts to sound like she's backing off and then Kelly doesn't even understand what she's saying (perhaps its the mini bottle o'wine she drank that confused her?).
Kelly goes from "You're a liar!" to "Okay I believe you" seconds later and then from "I hate negativity" to "Well I called her Ugly because she is Ugly!!".
….riiiight. riiiiight.
"no your outfit looked ugly"
"well your outfit was native american"
"are you saying thats bad to be native american"
"you are saying native americans are bad"
shannon in diary part : "kelly's native american name would be dances with bullshit"
dances with bullshit!!! slow clap for shannon. slow. clap.
Kelly holds up the empty wine bottle in defeat/a sign she's done either saying she believes her or not and is like "alright i gotta go". AKA she's out of wine and done with this convo.
And I still don't know if Kelly was wanting to move on or still pissed and saying Shannon's a liar or neither or all of the above?
Oh well.
:: RHoNJ ::
I've been trying……
I haven't watched in years, but trying to this season.
I feel like I have so much to comment on but then I don't because its really just a disgust to watch the Giudice family; in particular the way Joe speaks to everyone but mainly his daughters. Theresa has not changed an ounce.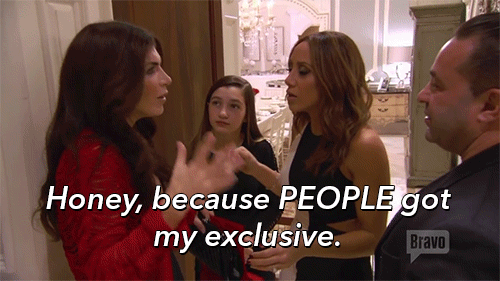 It's her world and everyone else is just living in it. After the WWHL one-on-one's before jail and after jail and all of it I just really can barely stand to watch her.
She still acts like everyone else has done everything wrong to her and she is a saint (i.e. every conversation with Melissa and Jacqueline).
I really like the two new additions a lot though! Very, very much so far.
christine – I'll see what I can find out about the top 🙂
:: RHoNY ::

Haven't seen last night's episode yet – I am so excited too though.
Sonja looks like she's dressed to kill – like the sexiest ensemble possible to show your lovah of 10 years a big Eff Yoo. And then Ramona screaming in the hotel room after Bethenny says she has to tell LuAnn I'm just dying to know !
However, I'm sure its that he's sleeping around and I'm sure LuAnn doesn't give a flying flip and shell just say "everyones happy for me except you bitches" and "incase you didn't realize my engagement is the biggest thing to happen since McDonald's announced they're serving breakfast"
:: flipping out ::
I learned when Jenni Pulos was on WWHL that
Gage's assistant left and went to work for kris kardashian!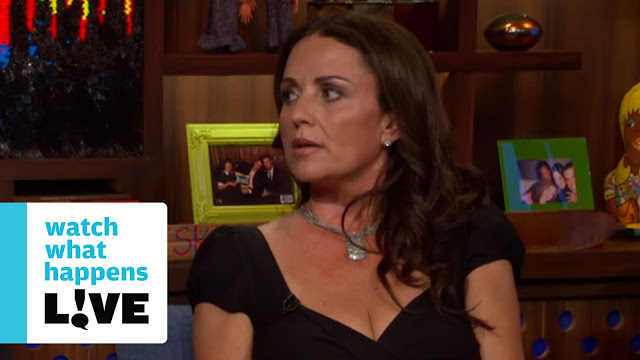 Also, the WWHL with Kelly Dodd sitting next to Jenni Pulos (a BFF of Shannon Beador) was Ah-Mazing. So much shade and dislike for Kelly Dodd (but politely)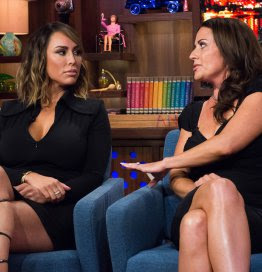 I loved the raising of the hand and "Jenni from Encino has a question…."
Truly a wonderful 30 minutes between the two of them and my-boyfriend-Andy-Cohen.
:: lilo ::
I mean… who knows?
Preg? or no?
Still engaged? or no?
The one thing we do know: Her dad is still desperate for money or attention and will sell his own offspring down the river at the drop of a hat.

:: UnReal ::

I really like this show and all of the main actors.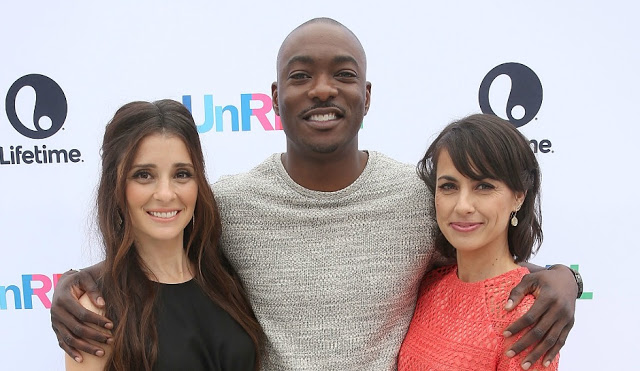 One of my favorite parts is the host of the show (the "Chris Harrison" of "Everlasting") and all the BS stuff he says and then I watch The Bachelorette and Chris basically saying the same nonsense and it just cracks me up.
:: the hills special ::
HOW did I miss this! I have it taping and am very excited to see.
:: mazel ::
to erica jayne, just because I miss her and love her.
she teaches me life lessons on a regular basis.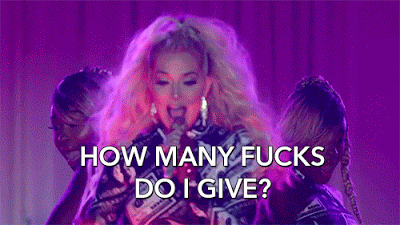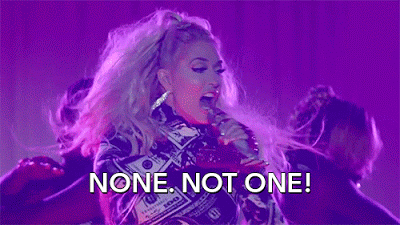 PS this just reminded me that I still have never seen Erin Brockovich and I really need to do something about that……
:: jackhole of the week::
ME.
sorry for having zilch time to go through and find good images and gif's for todays post.
OH, and like every week zilch desire to re-read any of this before hitting publish…. so I'm sure it's not even English.
But hey, if you're still reading by this point, you've already lost millions of brain cells
so I'm sure you can't even tell 🙂
EDITORS NOTE :
as always, ignore my own blatant grammatical errors whilst I make fun of others poor grammar during coffee talk on a weekly basis.
#hypocrite #sorryimnotsorry
I write these posts late at night while simultaneously watching Bravo, taking snapchats of my snoring husband, and making to do lists of everything I was supposed to do and didn't do that day and likely won't do the next day either. or the day after that.
Save
Save