I really felt all the feels for Brandi at this reunion.
She was sitting there so quiet and meek…. and hearing about how her kids got kicked out of school for her behavior and for
calling wine jesus juice made me sad.
she just seems so broken 🙁
I was SHOCKED at how much Cary cried?!
I understand why – just was surprised
She's so "I don't give an Eff" on the show?
and LeeAnne literally admits to NOTHING.
you say you were repeating the rumors you heard and you tweeted things about Cary having an affair, but no, you didn't ever accuse them of having an affair?
WHA?
She literally won't up to ANYTHING.
I mean, she even defends that "her definition of killing someone and your definition of killing someone are two different things" so I don't know why this surprises me.
my-boyfriend-andy-cohen is like well then what did your tweet mean?
she's like "oh that's proof you shouldn't drink and tweet"
and then at the end of the the Cary/Mark/Affaird debacle where she's such a betch, she's like "can i have a hug Cary? because I feel your pain?"
SERIOUSLY??????
right after staring at her husband and saying this is the meanest voice with the meanest face possible:
and then MARIE comes out – eyes wide and terrified.
damn I love her navy bow shoulder dress
LeeAnne : "you are who you walk into the charity world with"
Well, your best friend Tiffany is doing soft core porn on Skinemax!? Sooooo talking about poop or doing porn…hmmmm… which is a worse representation?
as someone who despises potty talk, I never thought I'd be defending all of these poop conversations
my-boyfriend-andy-cohen's best line of the night
"in all the hours of filming housewives I've never asked something like this:
did you poop in a bag?"
LeeAnne : "No, I pooped in a basket"
The other couch with the sense of humor is cracking up and saying "that's awesome that's amazing", and LeeAnne is like giggling and smiling like "I know right ha it's so funny now?" Well, then why are you still wanting to kill Marie over it?
Then LeeAnne continues her story (but, NEVER call it a story, only she can call it that, remember?) about this horrifying event of her boyfriend trying to murder her.
Sooooo explain to me how someone who has almost been killed, someone whose boyfriend attempted murder, says things like "I'm going to kill you" and defends it as if its some trivial sentence?
SERIOUSLY PEOPLE. NO. WORDS.
Marie is clearly delusional, and rich, because she hired an entire social media team to be in charge of instagram and twitter and wrote a nursery rhyme about LeeAnne's poop-gate.
and I WANT TO HEAR IT!
found it!
watch the video of marie reading it HERE
But seriously, Marie, I now understand why you were BFF with LeeAnne because GIRL you are nuts. It would have been SO easy for you to be the high road friend who was threatened to be killed and sat on the couch nicely and quietly, but now you're acting cray!
Perhaps LeeAnne's best "I'm the victim" line of the night, referring to Austin death threats:
"not only were y'all scared, I was scared too"
(WHAAATTTT!!!)
and she starts "crying" with no tears coming down AT ALL and just the high squeaky voice.
She continues the "crying "and voice cracking with no tears saying "I'm still that little girl"
OH and then my-boyfriend-andy-cohen's second best line "and you're in anger management?"
nodding, no tears.
I say it every week and I mean it.
LEEANNE LOCKEN IS THE CRAZIEST SCARIEST HUMAN IN HOUSEWIVES HISTORY.

and one more time for good measure

Charity (DRINK!)
:: RHoOC ::
I'm super excited this is back…. but not that much to report just yet.
Megan King Edmonds husband Jimmy is still a selfish jerk and I don't understand how she doesn't see any of it OR does see it and puts up with it.
"Jimmy said he didn't want any more kids, and I told Jimmy I would leave him, so he said he'll have a kid so I don't leave him" Giant smiles from Megan.
GIRL? NO!
Did anyone see the Unseen Footage from Season 8 Special that they played?
Because Vicki looked amazing
like. AH MAZING. never better.
:: bachelorette ::
Chad's gone so now everyone is going after everyone else.
come back chad! now we miss you!
Wells for the next Bachelor!
a Protein Powder funeral? He's hilarious I love him
and I for one am NOT okay with them ganging up on sweet little Derek.
I liked Chase – no more. And Chase and little Alex need back the eff up.
and Alex…seriously… I was liking you and you seemed nice…. but you really outta stop calling people little bitches…. because we all watched you JUMP onto that high chair to sit with Jojo a few weeks ago. You can't be wee man and mean man – lock it up.
and seriously Robbie? Saying "I love you" on your FIRST one on one date?
WHAT?
be a normal bachelor looney tune and just say "falling" in love until the final 3 fantasy suite week where you say "in love"…. everyone knows that!!!
also, how did I miss this comment?
and HOW was Evan on that long?
It was just getting mean people – he was seriously thinking she was going to mother his 4 children. It was getting RULL weird.
But, back to Chad.
via
chad posted and instagram kissing robbies ex and was on kimmel talking about it.
this guy is just seriously searching for attention and 7 minutes in the spotlight.
AND THANK GOD BECAUSE……. DRUMROLL…..
Chad is on Bach in Paradise 3 !!!!!!
I'm like ADD spazzing out all over it so excited for Bach in Paradise that I no longer care at all about Bachelorette.
not really, but you know.
:: southern charm ::
these people are truly insane.
I feel like I say that about a lot of shows….. like my first sentence in every post about every show…..but oh well it's true
one of my favorite things is the several comments on how they didn't even get to eat any of the amazing food and everyone left before the salad, which was literally all I could think about last week during the meltdown.
of course Thomas can't understand why everyone left! why are they so sensitive! him hurling his face screaming and spitting at them through the gate should have shown them he wanted them to come back inside and sit down to dinner?
ps – ew to the end of the night when Thomas is like "hey… kathryn… wanna sleep over? and she says YEAH"
first of all… I've never birthed a child and I'm no doctor, but I don't think thats allowed and please for the love of God quit procreating with one another.
and then later when he butters her up to keep her happy with "you're so wise and intuitive beyond your years."
kathryn : "Thank you for seeing that, yes, I've always known that."
OK wait I want that oxygen therapy mask that Patricia has.
and why does she have a purple Dior fur? I know when you're that rich you don't need a reason, but really, why?
better question : why does Landon pick the purple and why does Patricia let her?
even better question : why must all these Charleston people wear fur there is no possible way you need a floor length fur coat people???
but I digress……
I love when Kathryn talks about her "calmly" talking to Landon about the Thomas situation – you have never talked calmly in your damn life!
Is this like how you don't understand why people think you don't behave well in social settings? We've yet to see you sane in ANY of them.
especially at the Founders Ball….
So: Finally! Founders Ball! The made up ball by Cooper who is openly gay but requires everyone attend the first time he did this as "woman escorted by a male" or else they couldn't come.
Seriously?
Although it sounds like he finally realized the hypocrisy of it because people aren't only man + woman dates this year.
She brings Landon's friend as his date!!!! WHAT!!!! Shep!!! Not cool bro. You're better than that.
also, shep's date looks like the actress that plays Amy in Gone Girl and its giving me the chills.
Kathryn feels the need to upstage her attire for Thomas' Dinner from Hell (Floor length green gown, black fur, elbow length black gloves, giant gold cuffs on each wrist) with a BRIGHT RED dress with a cape that flows behind her as she walks.
I mean, in one sense, can't miss it. Girl loves an entrance. She is always the last one to arrive to any damn thing.
kathryn wants everyone to know she fears no one and nothing and wants them to know it instantly so she, as a red head, wears a bright red dress and slaps on a bright red lip to go with it.
OH and like these GIANT gold leather hand wraps on each hand.
seriously girl. wow.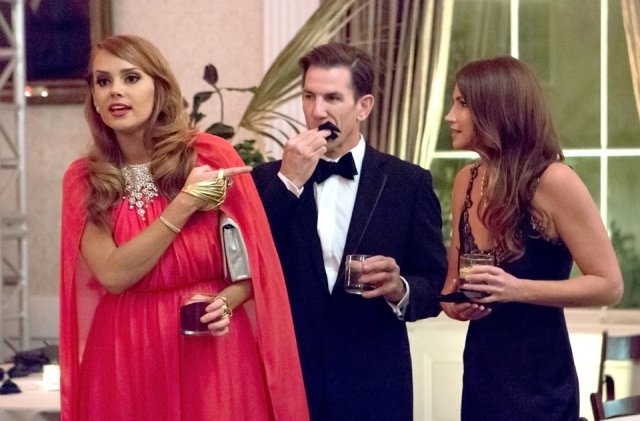 and then it gets great IMMEDIATELY.
kathryn tells thomas to shoo and go mingle, he greets landon (cough and obviously puts his hand on her ass) and IT IS ON.
Kathryn bring Landon outside to talk.
Kathryn says "first of all I want you to know this is not a mean conversation"
Landon, over the blasting music : "what? I can't hear you?"
Kathryn : ENRAGED!!!! FUMING. legit smoke out of ears. it's time to throw down.
Me: hysterically laughing and slapping the couch! this girl is made for TV.
Kathryn : you propositioned Thomas!
Landon: I did nothing!
Kathryn : Goes A-Wol. Nuts. Talking so much crap. And then is like "Landon YOU are crazy I'm walking away".
Me : grinning ear to ear WHAT JUST HAPPENED?!
outside the party:
Landon: I've done nothing
Kathryn : Then you're fucking crazy
DROPS MIKE
now if only Landon hadn't done a socialite southern "time to go now dah-ling" weird ass thing at the end it would have been so much better.
what is Kathryn going to do at the reunion?!
especially since the last line was she's date saying "I wonder if Landon will ever admit to sleeping with Thomas"
:: #RKOBH ::
how AH-MAZING was Morgan's wedding dress?
gorgeous.
I can't.
Stunning.
:: jackhole of the week ::
whattayaknow
its a Kardashian!
18 YEAR OLD kylie jenneris selling her first purchase of a 2.7 million dollar mansion (now selling for $4 million) because it was merely a starter home. I mean, she can't possibly stay in that hell hole! She bought it when she was 16!
She's now buying a $6 million dollar
:: mazel ::
BIG BROTHER IS BAAACKKKKKKKKKK
EDITORS NOTE :
as always, ignore my own blatant grammatical errors whilst I make fun of others poor grammar during coffee talk on a weekly basis.
#hypocrite #sorryimnotsorry
I write these posts late at night while simultaneously watching Bravo, taking snapchats of my snoring husband, and making to do lists of everything I was supposed to do and didn't do that day and likely won't do the next day either. or the day after that.
Save
Save