I've been trying to expand my dinner menus and trying out new recipes again.
Skinnytaste is always a favorite go-to for healthy but delicious meals.
My friend made this for dinner for a girls night last month and it was so good I knew I needed to recreate it at home.
Confession : I am not a chicken person – I'll eat it out but hate making it at home. I always end up over-cooking it because I'm scared it isn't done. However, since these were pounded thin and little tenders it kept me from overcooking them and they kept all their juiciness. And they don't taste "skinny" at all!
I love tomatoes, balsamic, and onion. and of course I love breadcrumbs so there's that 🙂
I used Ian's Panko Breadcrumbs from Whole Foods and I also used Trader Joe's Balsamic Glaze which is THE BEST.
:: Baked Chicken Milanese with Arugula & Tomatoes ::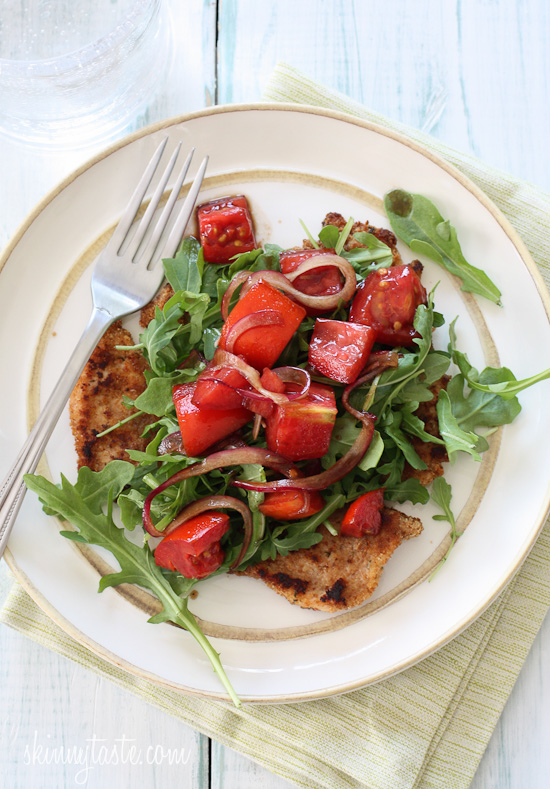 and the killer food photography is courtesy of MOI.
as always, it's just identical to the professionals and you can't even tell which one is hers and which one is mine! right?!
always top notch skills over here…. I was really feeling the St. Paddy's Day hangover if that counts for anything?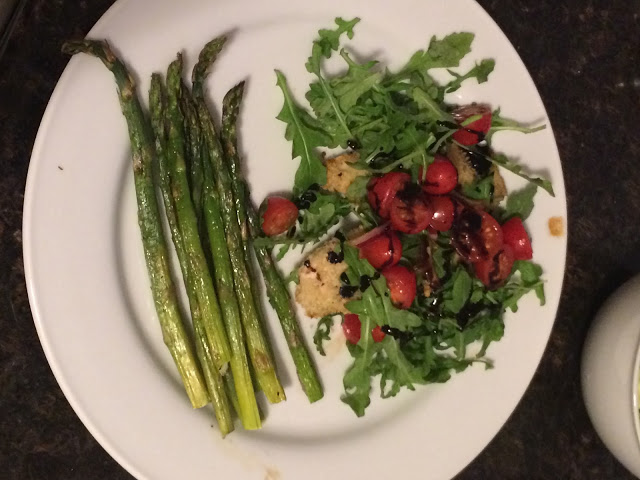 1 tbsp olive oil

2 tbsp balsamic vinegar

5 medium ripe tomatoes, diced

1/4 small red onion, sliced thin

1 tbsp chopped fresh basil

kosher salt and pepper to taste

6 cups baby arugula
24 oz (3) boneless skinless chicken breasts, sliced in half lengthwise

3/4 cup Italian seasoned breadcrumbs

1/3 cup grated Romano cheese (or parmesan)

1 lemon, juice of

1 tbsp olive oil

kosher salt

fresh cracked black pepper

olive oil spray (I used my misto)
In a medium bowl,

whisk

olive oil and balsamic.

Add

tomatoes, basil and onions;

season

with salt and pepper. and toss. Set aside at least 10 minutes so the juices combine.
Preheat

oven to 450°.

Place

a large baking pan in the oven to get hot.
Combine

breadcrumbs and grated cheese in one bowl. In another bowl

combine

olive oil, lemon juice, and pepper.
Lightly

pound

chicken breasts into cutlets, you should have 6.

Wash

and dry cutlets well with paper towels; season with salt and pepper.
Dip
cutlets into lemon/oil mixture, then into breadcrumbs, pressing firmly to adhere.
Remove
the baking pan from the oven and spray with cooking spray.
Place
the chicken on the baking sheets and
spray
with olive oil spray on top.
Bake
chicken, turning once halfway through for about 15 minutes total, or until chicken is golden.
Remove
from the oven and
top
with arugula and tomato salad on top.
Hope you enjoy as much as we did!!
xo