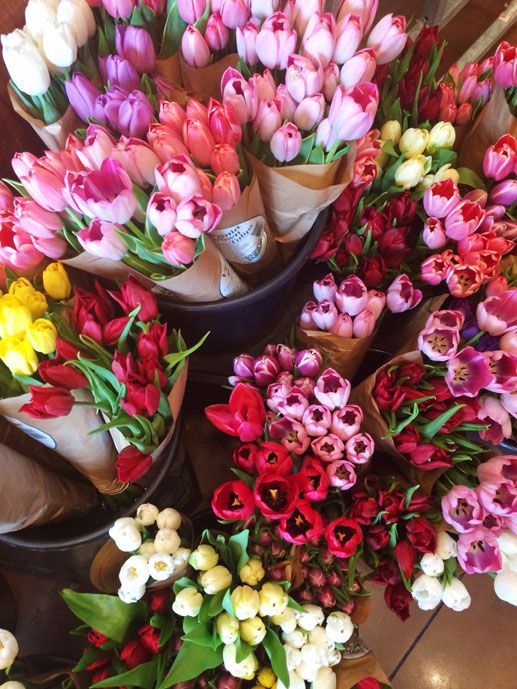 I hope you all had a great weekend!!
Ours was super busy but a great one.
Friday I had a jam packed day since I hadn't had one of my do-it-all-Fridays in Chicago since before I went to Atlanta.
I started the day with Pure Barre and it was great to be back in a class (and barely walking Saturday) then had a much needed massage, and finally got my hair cut. It was a great "me day" and I finished it off with dinner out at The Dawson. I had never been to The Dawson and I loved it – the patio in the summer looks like it will be so nice, and the food was all delicious!
my top from friday is on super sale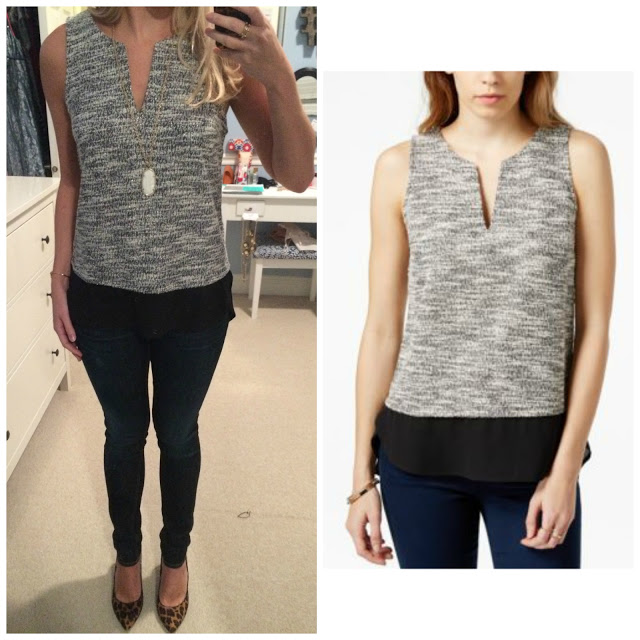 :: sanctuary layered tank ::
two colors, super sale 50% off now under $30!
runs big, order down a size
Saturday we went to Home Depot to get some things for some home DIY projects (more on that below, just call me Martha) and then had friends over for cocktails before dinner.
These lemon cookies/crackers with blueberry goat cheese from Trader Joe's is legitimately heroin. Legit. Laced with crack. No one can stop once they have a bite.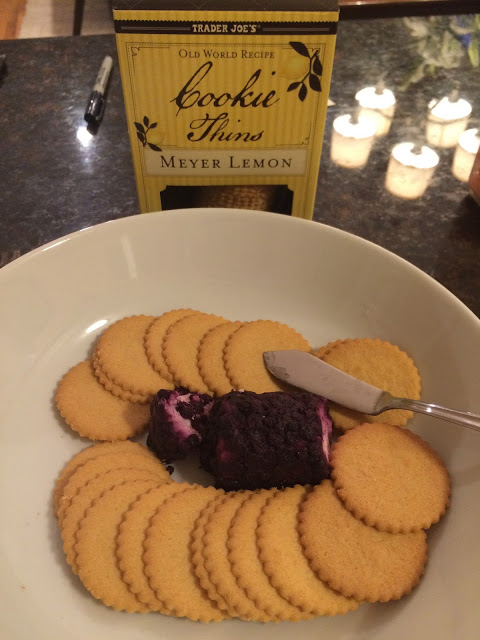 Dinner was at AMK in Bucktown – also amazing; super unhealthy menu entirely, and damn were the fried cheese curds delicous. kips duck fat pot pie was also amazing and I had a pimento cheese grilled cheese.
the burger looked so, so good but I gave those up for Lent so had to salivate watching my friends husband eat his.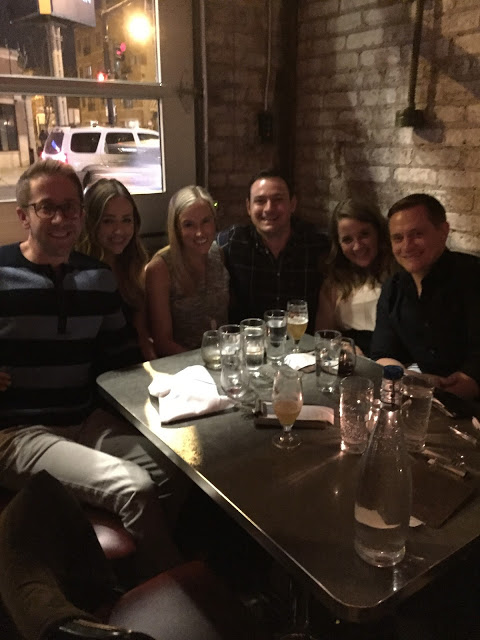 Sunday was spent working on the house.
So, we have never liked our kitchen and master bathroom cabinets, but we had to move in the day we closed and never got around to painting anything or doing anything about it. Kip had wanted to paint the cabinets himself and I was always like ehhhmmmm that is a BIG ASS project and I don't think it will look good at all unless done by a professional which was a lot of money we could spend on other things. (Kip is SUPER handy. He can build anything and wire anything – you name it. He likes to constantly remind me that he built his college house over the summer…. but STILL. There are certain things that just look better when left to professionals! Anyways……)
SO
while we were at Home Depot looking at backsplash and paint colors, a customer was at the paint counter with this cabinet painting kit.
He raved about it. And then the paint lady raved about it.
And then I looked at Kip and knew hours of work were ahead of us.
But he's been wanting to do this since we first looked at the house,
and if it looks awful we'll hire someone to come redo all of it
and I know it will look great.
this is the product that we bought.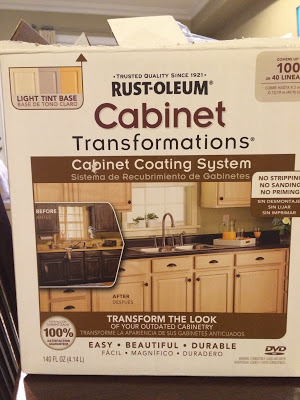 So we decided to start with the bathroom cabinets to test it out, and we finished everything last night except the top protective coat.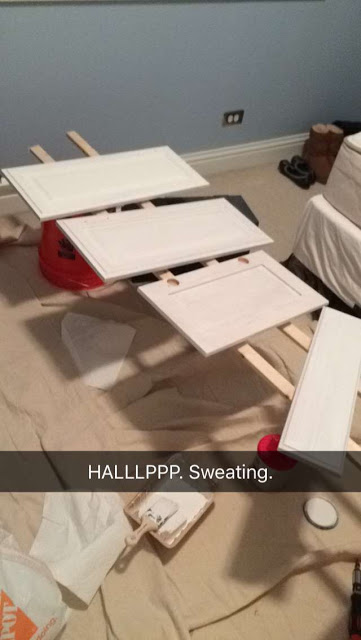 I forgot to take a before pic before Kip took the doors off, but I have some somewhere and will post a before and after when its all done.
in the original listing photo below you can the under sink cabinet below, and then we also hung one on the wall above the shower curtain because we have ZERO STORAGE that was the same ugly color. Anything to help this bathroom.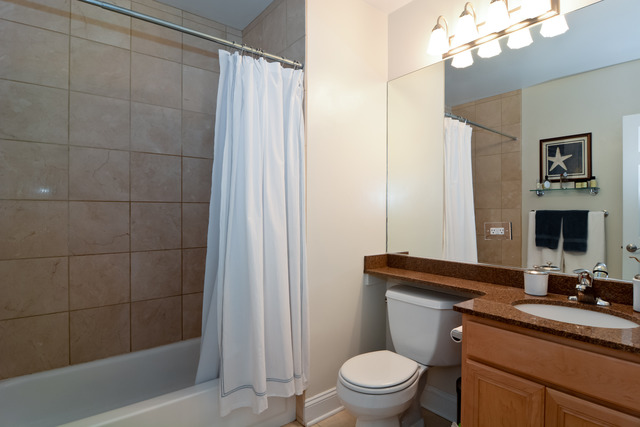 It honestly looks amazing.
I wish we had known about this sooner.
It was a.lot.of.work. though.
next up: kitchen (stole this from listing pics as well)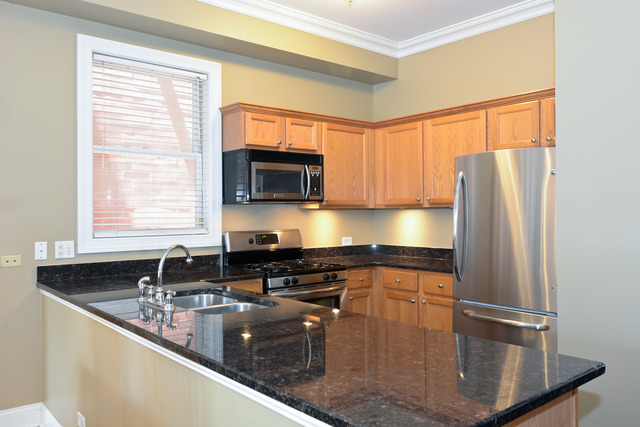 and the kitchen will be 10x more to do than the bathroom…..bathroom was 4 doors, kitchen has 22 doors and drawers so I'm scared, but hoping we can have it finished by next Sunday.
#prayforus
I'm such a Martha Stewart DIY'er now!
…… and a few other things:
My Rocksbox subscription this month is amazing.
My favorite piece: this Kendra Scott necklace.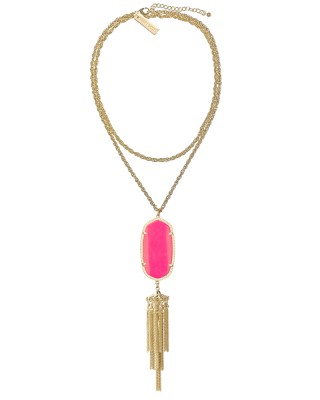 use code tayloroshayxoxo for your first month free!
I'm tearing through Luckiest Girl Alive and am so mad that I couldn't read for a few hours on Sunday and finish it because of the cabinets, so hopefully this week!
This tee from Old Navy is incredible.
It is so soft and thin, has the perfect side slit, perfect longer in the back length and so flattering.
Also, the price is perfect. I ordered it in all colors because I wore the grey three days in a row this weekend!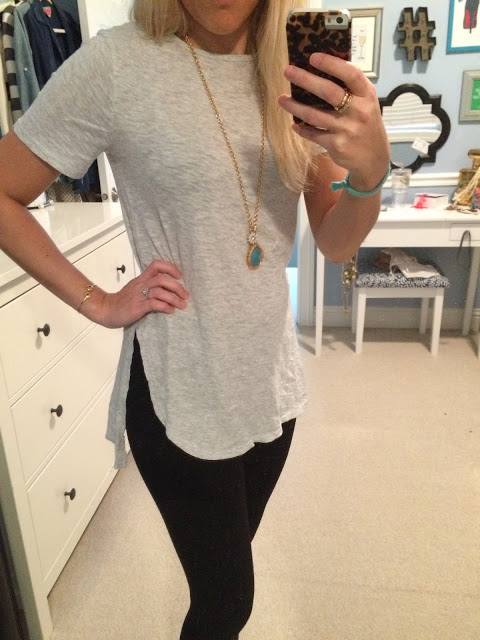 :: old navy tee :: TTS or order down, I'm in XS // necklace from NM Last Call