just wanted to check in to let you know about a week away from blogging and binge tv watching this week.
(I have missed everything….literally haven't seen one show! It's always good to know when important things occur I am capable of living a normal life….. who knew?)
I will be MIA this week because I have been home in Atlanta since Friday helping my mom move into a new house.
It's an emotional week, as any move will be, but it will be great in the end. The house holds such a special place in my heart. It was a dream house for my parents and they put so much of their personal touches into it. I'm so lucky I was able to get ready for my wedding there and that my mom was able to stay there for all of these years. She will be back closer to friends and my sister and I can't wait to see what she does with the new home.
Packing everything up and seeing so many photos and memories brings up so many smiles and also a lot of tears. There are so many things of my dads and his memory was everywhere. Going through notes and cards from him and pictures of all of us growing up has been overwhelming in a good way.
Right when things would be getting tough, one of us would find something, like this note from my dad that my mom found cleaning out a box.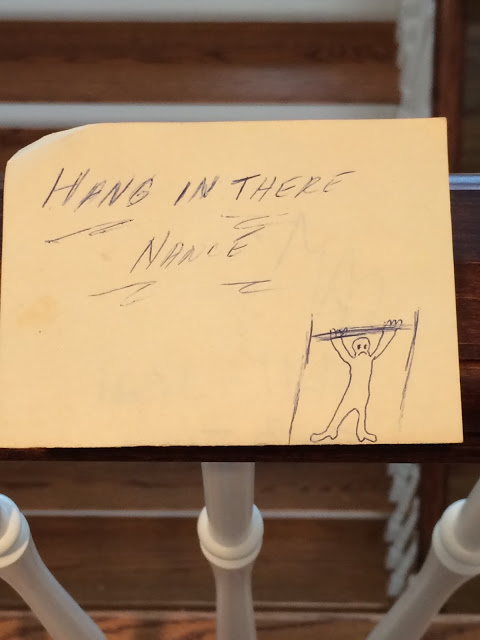 I haven't lived at home really since I went to college, and then I moved straight to Chicago the day after I graduated Miami of Ohio. It was always a comforting place to go back to, where it would feel like nothing had changed, and I know the new house will feel just like home soon too.
Soooo I'll be off all week crying, doing some heavy lifting, laughing, spending time w my family and extra time with my sweet little nephew, and grateful that my parents were able to build such an incredible place that made them so happy and will always hold so many memories for me.
Mmmmmmmmk enough rambling at 11 PM and I'm not re-reading it.
I need to go lift heavy things for my mom and pregnant sister and then have a random burst of hysterics and then complain about how my back hurts.
And then eat some chick fil a.
Every day.
Because I can.