for today's crack of the week, I have the perfect dessert for a chocolate lover.
last Valentine's Day I made one of my best cakes ever, and this is a similar recipe of Ina's but with cupcakes and a whipped peanut butter frosting.
warning : this recipe is RICH. very rich. but so yummy and the peanut butter frosting leaves the perfect finish!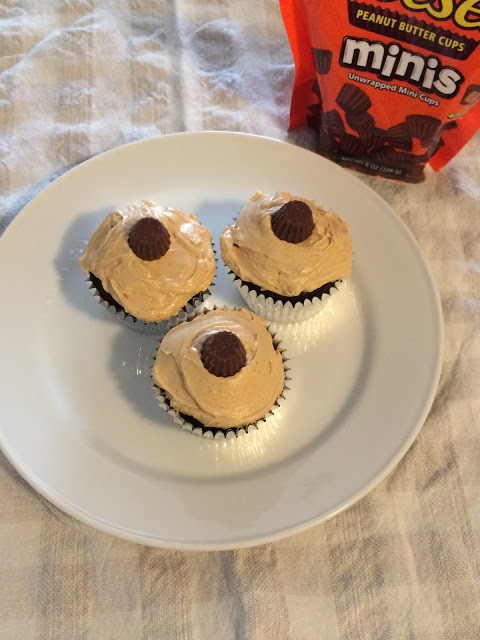 Ina Garten's Chocolate Cupcakes with Peanut Butter Frosting
*note: I made the cupcakes the day before, and refrigerated them overnight before making the frosting and then keeping them at room temp.
these cupcakes are SO moist that making them ahead won't affect that at all. day 2 they were still insanely moist.
i'll stop saying moist …. ugh….. but had to share that tidbit!


12 tablespoons (1 ½ sticks) unsalted butter, at room temperature
2/3 cup granulated sugar
2/3 cup light brown sugar, packed
2 extra-large eggs at room temperature
2 teaspoons pure vanilla extract
1 cup buttermilk, shaken, at room temperature
½ cup sour cream, at room temperature
2 tablespoons brewed coffee
1 ¾ cups all-purpose flour
1 cup good cocoa powder
1 ½ teaspoons baking soda
½ teaspoon kosher salt
Miniature Reese's Peanut Butter Cups, to decorate (optional)


Kathleen's Peanut Butter Icing
1 cup confectioners' sugar
1 cup creamy peanut butter
5 tablespoons unsalted butter, at room temperature
¾ teaspoon pure vanilla extract
¼ teaspoon kosher salt
1/3 cup heavy cream
Preheat the oven to 350 degrees. Line cupcake pans with paper liners.
In the bowl of an electric mixer fitted with a paddle attachment, cream the butter and two sugars on high speed until light and fluffy, approximately 5 minutes. Lower the speed to medium, add the eggs one at a time, then add the vanilla and mix well. In a separate bowl, whisk together the buttermilk, sour cream, and coffee. In another bowl, sift together the flour, cocoa, baking soda, and salt. On low speed, add the buttermilk mixture and the flour mixture alternately in thirds to the mixer bowl, beginning with the buttermilk mixture and ending with the flour mixture. Mix only until blended. Fold the batter with a rubber spatula to be sure it's completely blended.
Divide the batter among the cupcake pans (one rounded standard ice cream scoop per cup is the right amount). Bake in the middle of the oven for 20 to 25 minutes, until a toothpick comes out clean. Cool for 10 minutes, remove from the pans, and allow to cool completely before frosting.
Frost each cupcake with peanut butter icing and sprinkle with diced Miniature Reese's Peanut Butter Cups, if desired.
Kathleen's Peanut Butter Icing
Place the confectioners' sugar, peanut butter, butter, vanilla, and salt in the bowl of an electric mixer fitted with a paddle attachment. Mix on medium-low speed until creamy, scraping down the bowl with a rubber spatula as you work. Add the cream and beat on high speed until the mixture is light and smooth.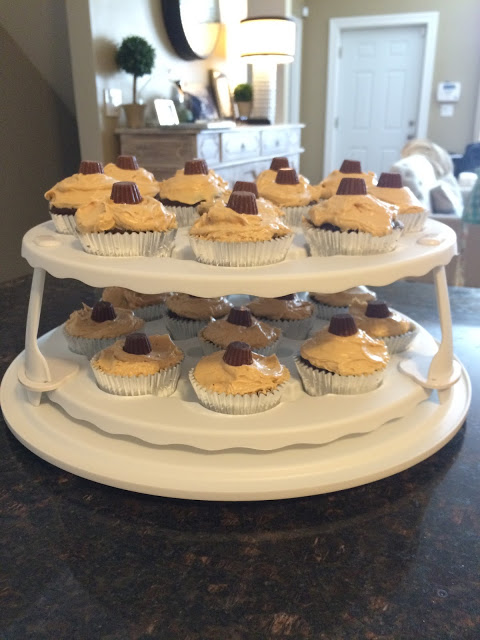 her recipe says that this makes about 15 cupcakes…. mine made way closer to 24? so perhaps hers were like the size of muffins, but even I had made them huge I would have had more than 15.