:: VANDERPUMP RULES ::
tom and tom's meeting with vanderpump (and her daughter and her daughters hot but way too pretty and kinda pompous and metro husband) was hilarious.
Did these people even graduate from high school? Do they even have a GED?
Shaves-His-Forhead-Tom is so embarrassed when Wannabe-Cool-Unemployed-Fake-Model-Tom talks….. and then other Tom can't form a sentence either.

Ariana is super annoyed at work when lover Shaves-Forhead-Tom acts like he came up with the idea of serving a pink girly drink for a luncheon. I mean! The gall! Ariana, you serve cocktails. No one is creating Facebook over here, but glad you take your job so seriously. And you have heard your boyfriend speak before right? Even if you were creating something miraculous he would have no idea how to steal an idea.

WOAH. Time out.
a commercial just came on for the Vanderpump After Show and Jax's little kentucky girlfriend got some IM. PLANTS.
I am seriously so breast obsessed that while I am eating, on my computer, and simultaneously on my phone, I see her come on the screen for 1 seconds during the commercial and am like WHAT WERE THOSE I JUST SAW!
I mean, in her nonexistent romper underwear she wore to interview at Sur twice, I was thinking Yay flaunting a flat chest! You go girl! buuuuttttt clearly she's been Jaxed.

I just hope it's not from the same surgeon as Jax's THREE nose jobs.
BECAUSE YIKES.
:: WWHL ::
Did you catch my-boyfriend-andy-cohens self proclaimed worst episode of WWHL EVER with with lala and james on Monday?
THESE PEOPLE DISGUST ME THEY ARE JUST THE WORST.
half of the show was dead air from them having to bleep their curse words.
the rest of it was these trash ball morons acting like they were bad ass with the most obnoxious non-answers to questions. Lala would answer each question with another question like "WHY NOT?!" or "Yeah. BECAUSE." and make some squishy fish face as if it was something sexually appealing and also as if it actually was her speaking words and answering a question like a normal human.
but half of it I don't even know, or care, what they said because it was all bleeped out.
THESE PEOPLE ARE THE WORST YET I CANT LOOK AWAY.
for once I agreed with Jax (I need a drink…..)
:: RHOBH ::
we finally meet Erika new girl!!!
am I the only one that was shocked when followed up her cocktail waitress meeting her much richer husband with the fact that they had been married for 15 years?!
I was like DAMN GIRL talk about a plot twist! Good for you two! Love really does know no age! (except for me personally it DEFINITELY knows an age….. call me crazy, but I don't think even if I had been over served one too many vodka martinis on an empty stomach after a stomach flu that I would look at a 50 year old man and be like "Who is that unattractive older man that is 20+ years my senior and we have zero in common? I must meet him and date him?"
but hey….. no judgement no judgement….. you do you
but she seems funny, and so far I like her.
I was thinking that I'll pass on the music and dancing and all of that, especially the nude pubic hair outfit, but its hilarious.
her choreographer voiceovers for the dance moves :
"pat the puss pat the puss crawl kitty cat meow"
and then turns out she's like, a legit music person for clubs and thinks I'm not cool enough to understand? never saw that coming either! You've shocked me twice in 5 minutes I really like you!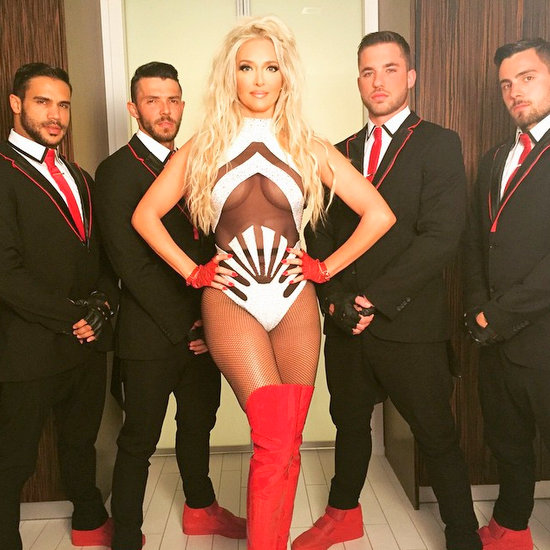 and then I think OH EM GEE why do I know her choreographer?!
what famous person does he work with, because when I see a face I don't ever need to remember on TV, you bet your ass I REMEMBER IT.
when I need to recall someones name to introduce them to someone else?
NO IDEA WHO YOU ARE.
ughhhhhh I'm just not ready for the "brooks cancer gate" to start next weekend with yolanda and her lyme disease.
it's making my stomach hurt I feel so awful about it….. not like, stomach hurting because I am making up an illness because of my sadness for her….. or wait….
just kidding. NO, for real, no jokes I am all HASHTAG TEAM YOLANDA.
:: JOY ::
I really really really want to see this movie.
really.
and now I have been singing carly rae jepson for 10 minutes and can't get out of my head
:: MAZEL ::
my-boyfriend-andy-cohen for his show Then and Now.
A show dedicated to pop culture and events in different years?
It's like a modern day I Love The 80's, 90's, etc. (remember how amazing that VH1 show?)
it is AMAZING. I love it.
I am right on the edge of getting sick, I can just feel it, and I WILL NOT ALLOW IT.
so I am off to bed.
who am I kidding I'll probably keep watching bravo until I pass out, but closing the laptop is self control people.
but I am ACTUALLY going to post tomorrow…..
friday goals…. I can do it…..
as always, ignore my own blatant grammatical errors whilst I make fun of others poor grammar during coffee talk on a weekly basis.
#hypocrite #sorryimnotsorry
I write these posts late at night while simultaneously watching Bravo, taking snapchats of my snoring husband, and making to do lists of everything I was supposed to do and didn't do that day and likely won't do the next day either. or the day after that.