:: crack of the week ::
:: PROTEIN BAR COPYCAT CHILI ::
I have a few food obsessions as of late. One of them is Quinoa, but I have been obsessed with that for quite awhile. I have quinoa with dinner at least 4-5x per week. My other, more exciting food obsession, is with Protein Bar.
Protein Bar is a fast health food chain here in Chicago that has smoothies, bowls, wraps, salads, etc. I'm not nuts about everything they have, but their smoothies are my favorite Friday treat post workout class. Like, they bring me pure joy you'd think I was eating McDonalds. I like being rewarded with food so a smoothie is the best option to not ruin the work I just did and seriously they are SO good 🙂
ANYWAYSSSSSS I really know how to ramble…….
Protein Bar also has a delicious Veggie Quinoa Chili. It is so chunky and delicious and seems so MEATY but its not.
My friend sent me this recipe and told me it's a great at-home version of Protein Bar's Chili and it definitely is!! This recipe makes SO much, so you'll have plenty to eat for the week and plenty to freeze for later when you don't have time to cook.
are you so excited for my food photography you can't stand it!?!?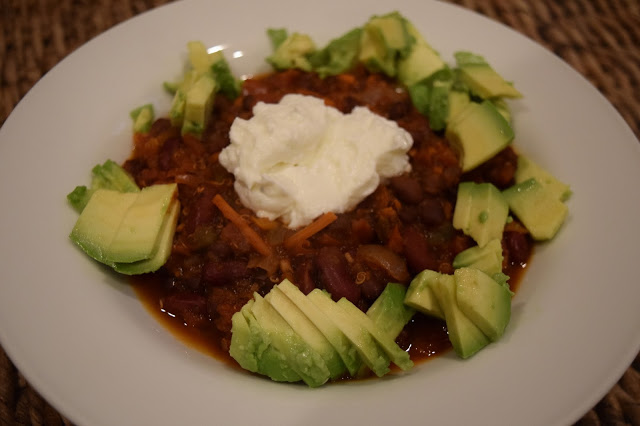 I, of course, like it best topped with avocado and plain greek yogurt!
:: Protein Bar Copycat Quinoa Chili ::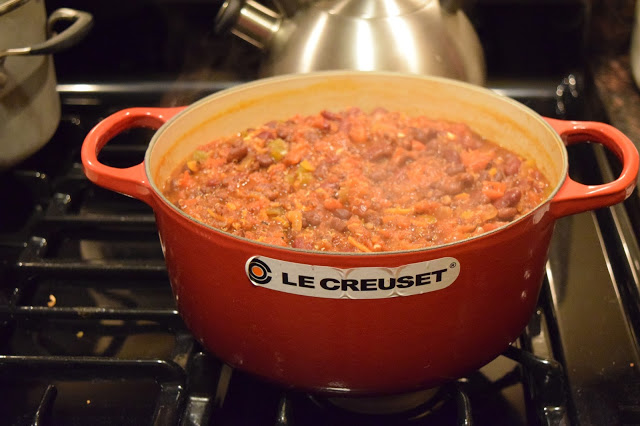 After my 90th time using the Le Creuset I finally remembered to take the sticker off after the pot cooled. Every time I used it, I never noticed until the darn pot was already too hot to take it off. Just keeping it real up in here.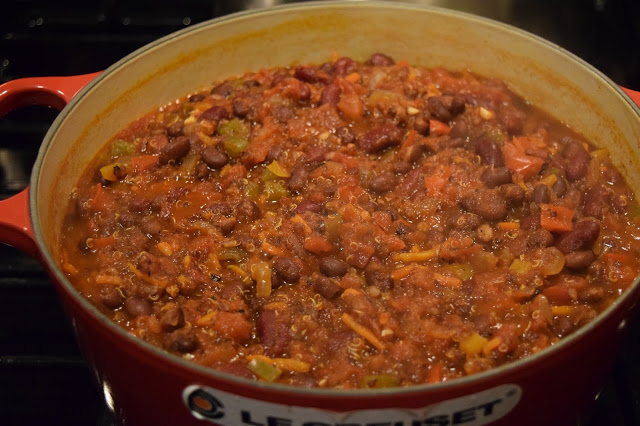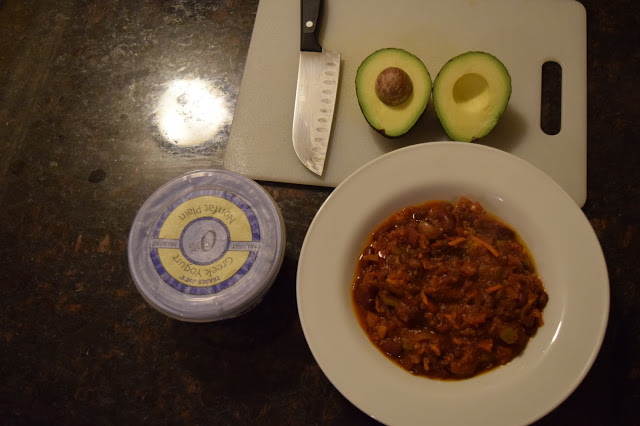 Yield:

Serves 10-12

Prep Time:

10 minutes

Cook Time:

45 minutes

Total Time:

55 minutes

1 large carrot, peeled and chopped

1 green bell pepper, chopped

1 red bell pepper, chopped

1 medium zucchini, chopped

2 (15 ounce) cans black beans, drained and rinsed

1 (15 ounce) can red kidney beans, drained and rinsed

3 (15 ounce) cans diced tomatoes

1 (15 ounce) can tomato sauce

2-3 tablespoons chili powder, depending on your taste (we used 3)

*I recommend far less!

1 tablespoon ground cumin

Salt and black pepper, to taste

Optional toppings: green onions, avocado slices, cheese, sour cream, Greek yogurt, chips, crackers, etc.

1. In a medium saucepan, combine the quinoa and water. Cook over medium heat until water is absorbed, about 15 minutes. Set aside.

2. In a large pot, heat the olive oil over high heat. Add the onion and cook until tender, about 5 minutes. Stir in garlic, jalapeño, carrot, celery, peppers, and zucchini. Cook until vegetables are tender, about 10 minutes.

3. Add the black beans, kidney beans, tomatoes, and tomato sauce. Stir in the cooked quinoa. Season with chili powder, cumin, salt, and black pepper. Simmer chili on low for about 30 minutes. Serve warm.

Note: garnish the chili with green onions, avocado slices, cheese, sour cream/Greek yogurt, chips, crackers, if desired. This chili freezes well.
Expert-Chef-Taylor's-Editor's-Notes:
The 2-3 Tablespoons of Chili Powder was WAY too hot for us. I only did 2, but perhaps we just can't handle the heat!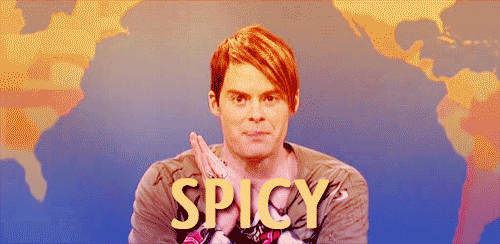 I would recommend to start with 1 TBS or less, perhaps just a few teaspoons, and then you can always add more. I also was using our fancier chili spices that I had gotten for an Ina Garten Recipe and did not take into account how much more heat came from that than from our regular chili powder. I think with the chili powder it would have been okay to have more, but just keep in mind that you can always add more not take any out 🙂
Soooooo learn from my mistake! T
he greek yogurt + avocado cools it down a lot though, so that helps.