:: crack of the week : positano pesto ::
when we were in Italy, we ate more delicious and heavenly food than I could list.
but don't worry I'll attempt to list all of it in the future 🙂
when we were in Positano, we had some of the most amazing pesto dishes…..in particular, one at Tre Sorelle and another at Buca di Bacco. both are right along the water on the main little beachfront strip in Positano.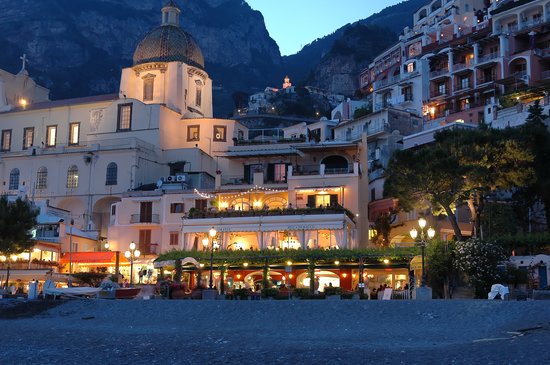 we sat right there (where the man in the red shirt is standing) and had a gorgeous view of the water and people watching while we ate.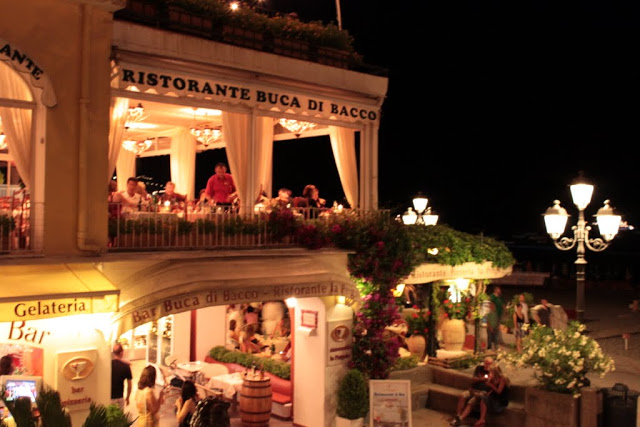 the downstairs has their casual bar and pizza place
Buca di Bacco also has hosts cooking classes and although we didn't take one, we saw that they had their pesto recipe posted on a little board when we were leaving dinner. While I can't promise it will taste as good as it does there it definitely will be delicious! (I do not understand how the most simple ingredients taste like the most incredible bites of heaven over there!) Also, I know that a pesto recipe would have come in far more handy during summertime when everyone has 90 pounds of basil, butttttt I didn't have it then so deal with it.
:: Buca di Bacco Pesto ::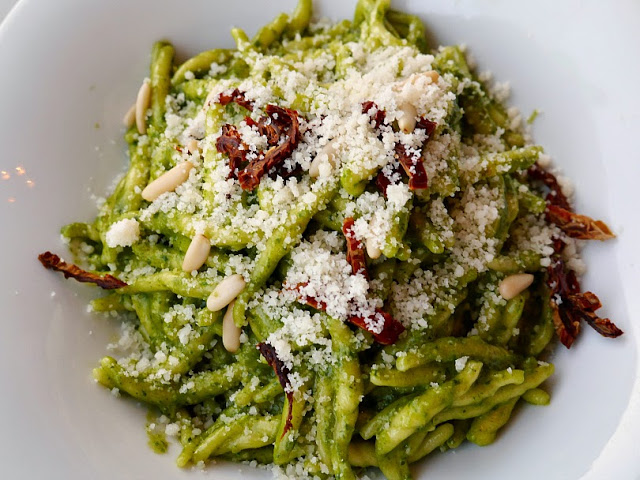 30 – 40 basil leaves, with the stems removed
the smaller the leaf, the sweeter the pesto
1 clove of garlic for every 30 basically leaves
30 grams pine nuts (a little more than 1 ounce)
40 grams freshly grated parmesean cheese(a little more than 1.5 ounces)
30 grams grated pecorino cheese
150 ml olive oil (5 ounces)
1 small boiled potato, peeled (this makes the pesto creamy and prevents it from turning brown)
1. Gently wash the basil leaves, being careful not to crush them. Lay them on a paper towel to try naturally. Do not press or pat the leaves.
2. Peel and roughly chop garlic.
3. Add the pine nuts to the blender or food processor. The reason we process them first is they require more time and a high speed to break up properly. We do not want to add the basil at this stage otherwise it will be over blended and the heat generated by the friction of the blender will alter the color and fragrance of the basil.
4. Once you have blended the pine nuts, add the basil leaves and garlic.
5. Start blending at a low speed. At the same time, gradually pour in the olive oil. Add a small amount of salt to season.
6. Add the pecorino and parmesan cheeses. Add the small potato.
thanks to google I found this picture of their pesto, and the fried zucchini flowers stuffed with mozzarella were amazing!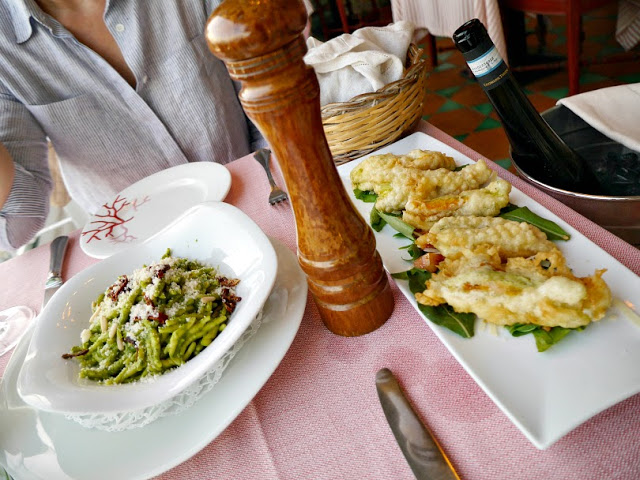 PS to me the name of the restaurant sound exactly like the Family Guy where he speaks italian and is just like BAKADEBUPI. BOOBA DE BEECI.