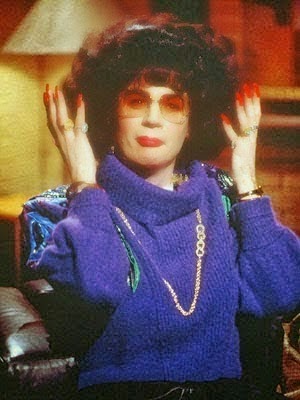 discuss amongst ya-selves…….
:: NEW EMOJIS ::
NEW EMOJIS. NEW EMOJIS. NEW EMOJIS!!!!!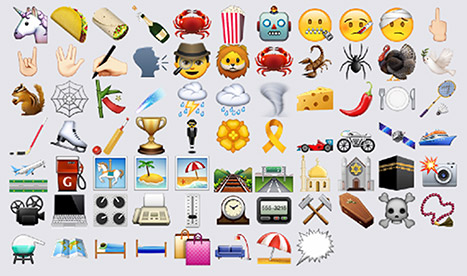 be still my beating heart.
the only thing I will EVER update my phone for!!!
but I still do NOT see a HASHTAG WHITE WINE EMOJI????
throw me (and ramona) a bone people.
:: DANCING WITH THE STARS ::
I'm not as in to this season as the last (if you can't tell….. last year I was talking every week about which dance made me cry and going on and on and on)
Its getting better though……
The intro this week was back to what I love.
When all the pro's do the big numbers together it is just AH-MAZING.
Paula Deen continues to make my jaw hit the floor with what comes out of her mouth. And not in a good way.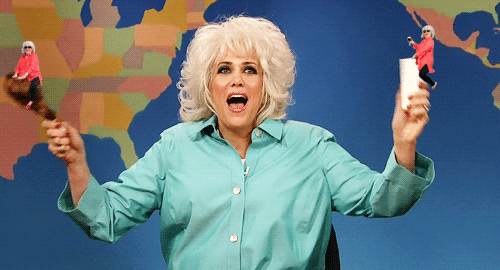 unrelated side note based on gif: I watched Bridesmaids for the first time in forever last weekend and died laughing; I forgot how hilarious kristin wiig and all of them were in that movie.
:: farrah abraham ::
you know that crazy ____ (what do you even say? 16 and pregnant cast member turned porno star turned plastic surgery fiend turned I don't knoww what?)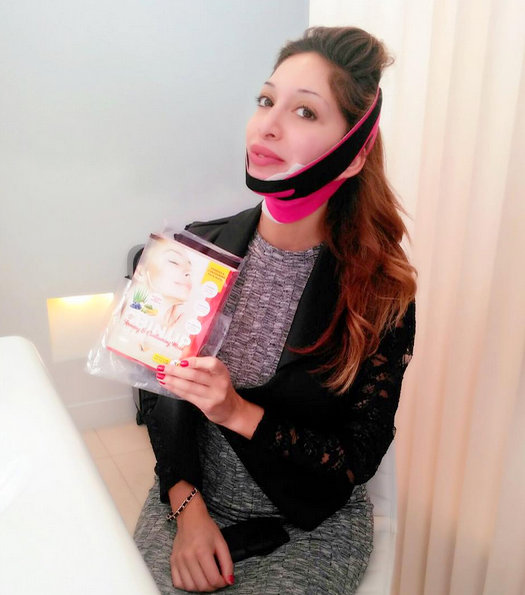 I mean seriously good lord why do young people pay tons of money to look 25 years older??? I will never understand. well…. I guess the plastic surgery is the least of her mistakes but still….
:: REAL HOUSEWIVES OC REUNION ::
ok, first of all, it has to be said :
(whenever I say "it has to be said…." I think INSTANTLY of the scene from Stepmom where she tells of the high school boy…. anyone? bueller? crazy brain in overdrive over here?….. but I digress….)
It has to be said, that with every single one of these reunions, no matter which city/cast, are filled with NADA and complete BS for "Part One". Like…. what a waste of time while you tease us with the good stuff that we won't see until next week, or most likely the week after that for hour 3!!
Just make it 2 damn reunion episodes not 3 !!
Come on My-Boyfriend-Andy-Cohen! I can't handle it anymore! I have too much other crap on Bravo for you to spoon feed me!!!
anyways, in case you forgot, because she hasn't said it 97 times (per week , Vicki wants to make it clear that she is the "OG of the OC". and she created the whole show. she is responsible for all of it. so respect her. basically everyone at bravo owes everything to her so bow down bitches!!!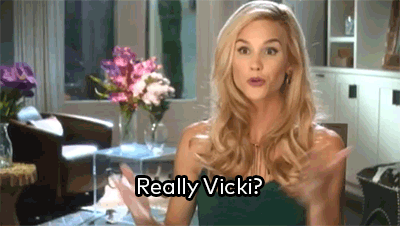 oh vicki…. you can blab all you want, but you created nothing and all this does is point out that you are the oldest woman in all of the franchises. but bless your heart.
Tamra isn't one to let a single episode air without being a complete and utter hypocrite.
my-boyfriend-andy-cohen reads an email from Alexis Bellino -aka "Jesus Juggs" and her thoughts on Tamra and her newfound Christianity.
ya know… cause the "former" tamra did things like this: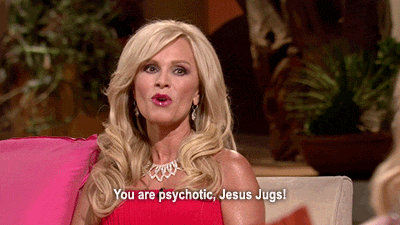 well, JJ wasn't buying what Tamra was selling and shockingly doesn't think she's changed.
Tamra responds the same way pre-baptism Tamra would and says she's "the kind of christian that gives christians a bad name!"
ohhhh. okay. I thought that was you, but I must have had a little too much ramona pinot grigio? I could have sworn that in relation to you finding God you said "anyone that doesn't like it can suck it." hmmmm…. if anyone is giving christians a bad name…..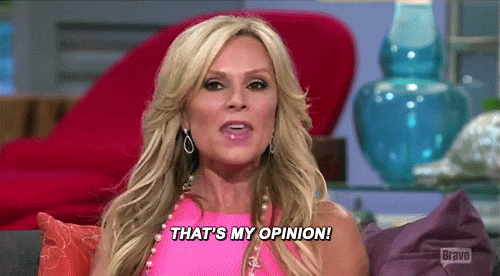 whilst megan's brunette hair gets a NAY NAY FLUFFY from this girl, it definitely is much better than the cotton candy pink she sported a few weeks ago.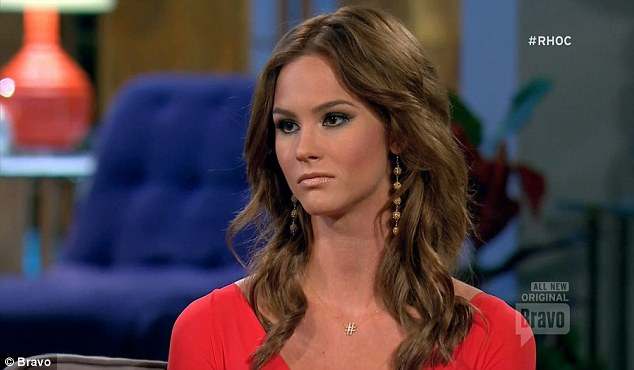 maybe she hopes each time she has a new hair color her husband will start treating her like its a new relationship and do a 180. like, get a personality…. stop being a complete ass…. not yell at her in public like a bitchy 16 year old saying "YEAH I CAN! I CAN DO WHATEVER I WANT". that one moment alone at the "sex tape" party blew my mind. I just googled it so that I could put his direct quote in here because I could not believe I was seeing a grown ass man scold his wife in public and say these things :
"Don't ever put me in that situation again. Don't. I can do whatever I want. Yes, I can. Yes. Zip it. I don't really give a f**k,
SERIOUSLY MEGAN. LEAVE HIM. RUN LIKE THE WIND.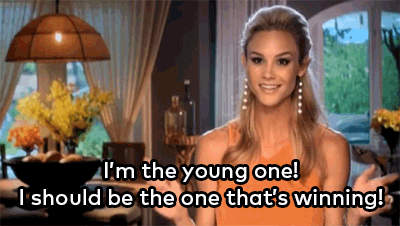 I am super excited to see what nonsense that ass says when he sits on the couch during the reunion (I'll probably have to wait for part 427)
and my-boyfriend-andy-cohen better not be all nice to him because he is a former st. louis cardinal and andy loves him or else I'll be PEESEDDD.
There wasn't a single moment of the Brooks Cancer talk for this part of the reunion (further proof that this whole first hour was BS sorry I'm not sorry its true because that is the only thing the ladies talked about for 99% of the season.) I am very much looking forward to Vicki defending/not defending/lying/having a couch freak out while talking about Brooks next week.
I have a feeling she's going to pull a Ramoner when she gets grilled…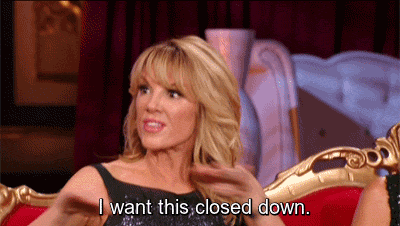 :: mazel of the week ::
vicki's late mother.
the story of her keying that dude's car and getting arrested and the whole shabang was PURE GOLD PEOPLE. highlight of part 1 hands down.
OUR WIFI HAS NOW GONE DOWN BLOODY GOSH DARN IT!
thats all I got….. adios.
as always, ignore my own blatant grammatical errors whilst I make fun of others poor grammar during coffee talk on a weekly basis.
#hypocrite #sorryimnotsorry
I write these posts late at night while simultaneously watching Bravo, taking snapchats of my snoring husband, and making to do lists of everything I was supposed to do and didn't do that day and likely won't do the next day either. or the day after that.