when I posted about our upcoming trip to Italy, all of you were so helpful with your comments and emails and sent more information than I could even fathom.  THANK YOU again! 
with the incredible e-mails came several from engaged ladies asking about honeymoon information, and I thought I should share on the blog what I shared in e-mails to them.
So, I basically put my e-mails with some edits below.  They wanted to know where we stayed in St. Lucia and what we thought of each place.  Our honeymoon was of course everything we wanted and more and so romantic and perfect and everything a honeymoon should be –  and blah blah blah – but it really was 🙂 But below is my sincere honest thoughts about everything – soooo less gushing and pretty photos and more just being honest with rambling thoughts so that hopefully it helps anyone planning a trip there. 
We decided to split our honeymoon in St. Lucia into two resorts. We did half at Sandals Grande and the other half of our trip at Sugar Beach A Viceroy Resort .  I really loved both and am glad we split the trip up.  Everyone is different but here are my thoughts for why I liked both and the negatives that some people may find with them if it isn't their cup of tea.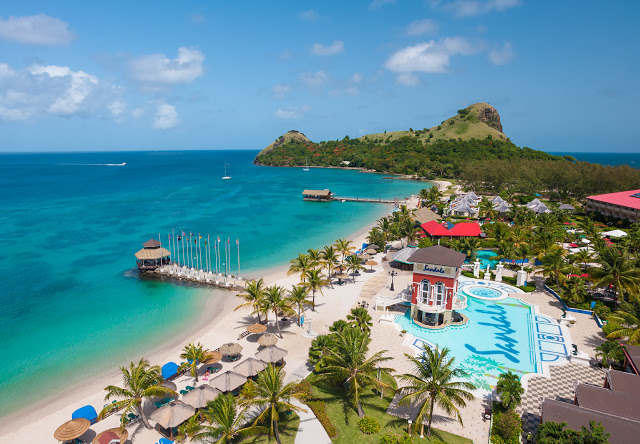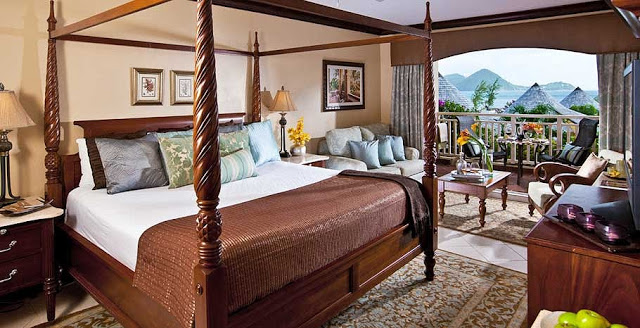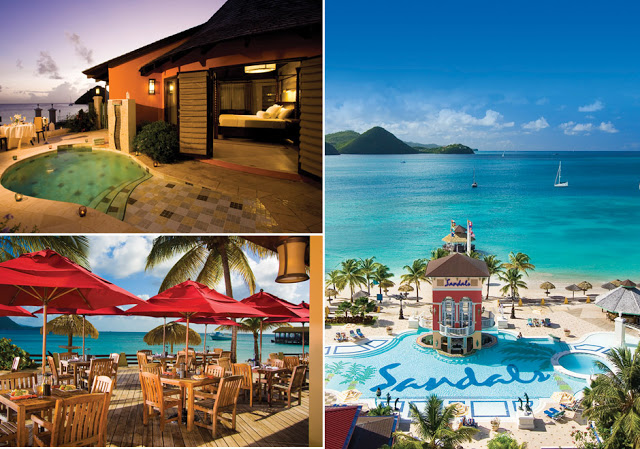 Our first half of our honeymoon was at Sandals (we stayed at the main one on the beach).  There are 3 in St Lucia, the other 2 are smaller and not on the beach but you can go to all of them on a shuttle – the road are SO WINDY in St Lucia so we did not leave the property at all except for when we transferred from there to Sugar Beach which was a one hour drive. I do not get car sick and I could not get out of the car fast enough!  We treated ourselves on the day we arrived to a helicopter ride to Sandals instead of the 2 hour bus ride and it was worth every penny.  This was a tip from readers and I can't thank you enough.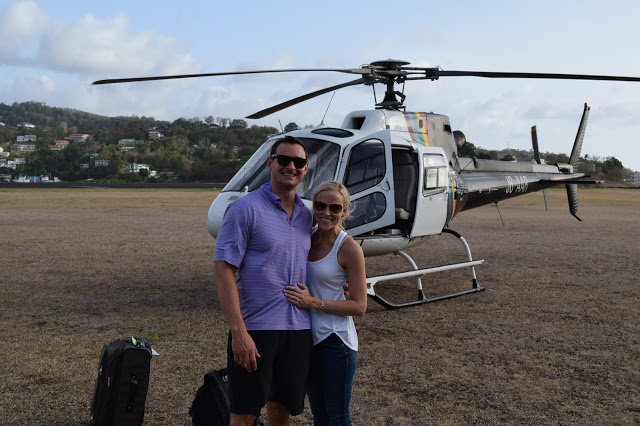 Gorgeous views, first and maybe only time in a helicopter, and got there fast and without being car sick.  
So Sandals is adults only and is basically 98% honeymooners and the majority in our age group – probably at least 70%.  Which I think is nice – adults only is amazing and especially for your honeymoon.  There are plenty of restaurants on the property, the food was great, the rooms were really nice.  We did "club level" which was a slightly upgraded all inclusive – full bar with liquor in the rooms and a few other things it came with.  They have the individual huts with private mini pools as well here (which my sister and many friends did and fully say to do the upgrade!!) but we saved the dough for our next hotel where we had a private cottage.   It was nice to have more of a night life there – not crazy, everyone is always tired after full days in the sun – but it was nice to be able to be by ourselves and feel secluded at times, and then be able to socialize at night or at the pool bar with people if we wanted to!  Outside one of the restaurants is a piano bar that was fun to drink and chat at, and the guy would sing anything you wanted.  And to have music playing and things like that (random things you don't even realize until you are somewhere with no music…. aka the next hotel….. ) 
We did a full day boat excursion from the hotel's dock to the springs, waterfalls, tour of the town, all that.  It was such a fun day – something you must do if you go to leave the property and see everything.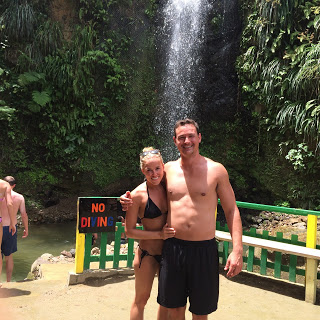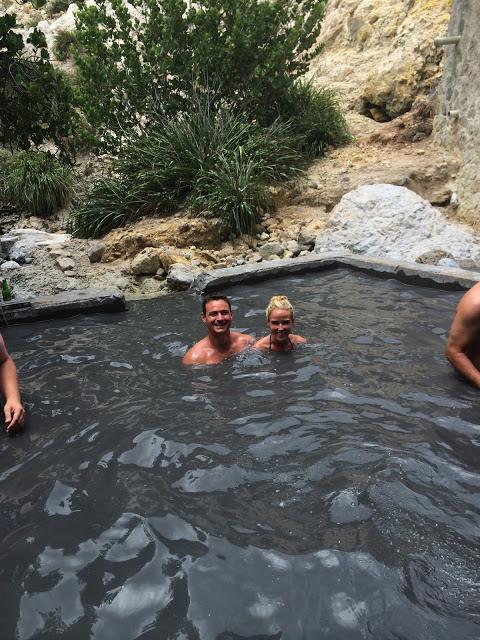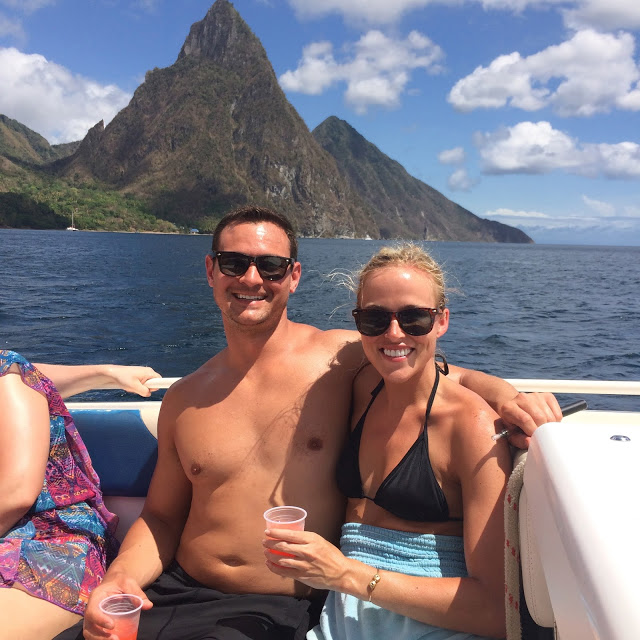 In all honesty, there is no reason to leave your hotel, and other than the boat tour to the springs and waterfalls I would not recommend it (or unless you are going to another hotel or spot for dinner or something).  The island is very small, and obviously the town(s) very small;  in my opinion, you do not want to be there by yourself with your spouse or without one of the guides and your group.  There isn't anything to see in the town anyway.  Just being honest with you.  You can tell that there is a vast amount of poverty on the island and that tourism is the main source of income.  The drive from Sandals to our second spot at Sugar Beach was kind of sad to both Kip and myself and something we hadn't experienced anywhere else we had traveled.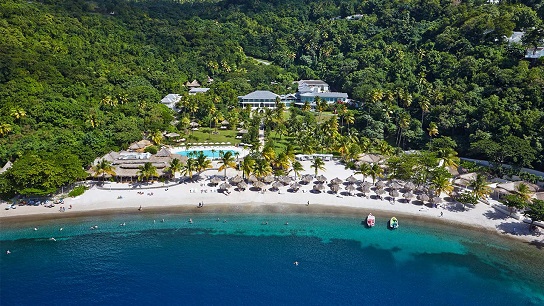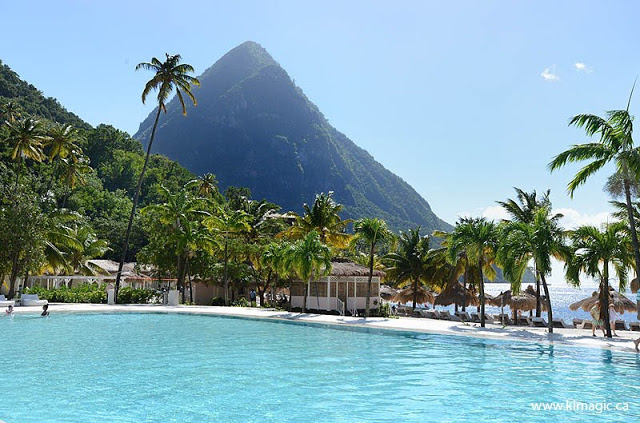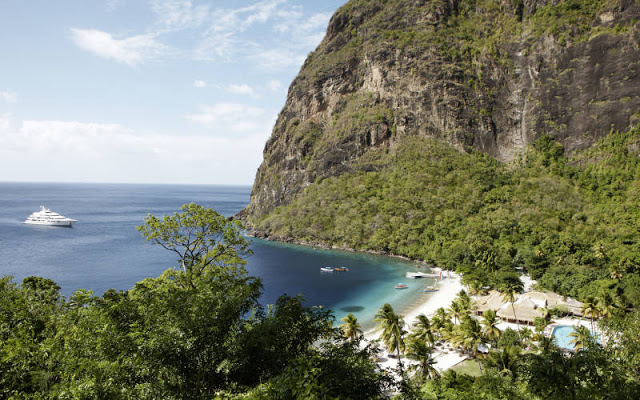 images via Sugar Beach. I could post 9,000 pictures of ours of this resort it was that beautiful. so gorgeous. 
  This was our honeymoon splurge because they are all those individual cottages with your own pool and they come with a butler and a little cell phone that you can call them for anything for.  It was definitely the honeymoon luxury we were hoping for.  The property is insanely gorgeous  – gorgeous is actually the understatement of the century – we would walk in the main house with the marble floors and open air and stare every single night on our way to dinner.  It was stunning.   The views from the beach of the pitons make it look EXACTLY like Jurassic Park.  You can't even believe it is real — you feel like you are surrounded by heaven.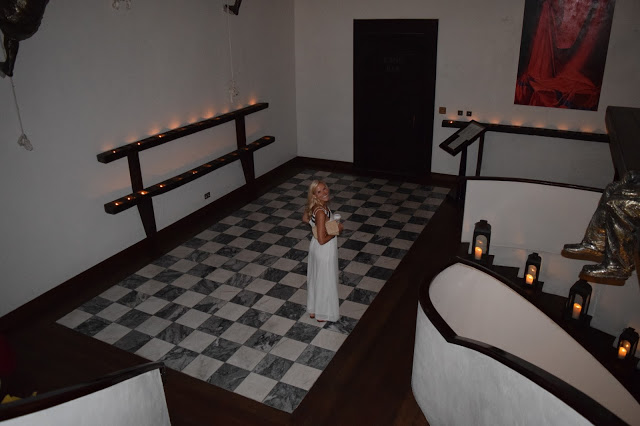 we were constantly the only people ever anywhere…….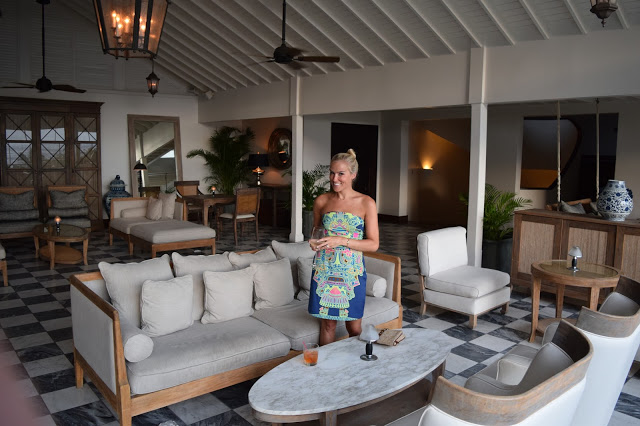 The food is to die for, everything was wonderful. We didn't have one bad meal (see below about secret all inclusive option)  One thing is it is VERY quiet.  VERY.  The quietest place I have ever been. Everyone has their own little cottage so after dinnertime the place is dead – 100%.  Empty.  We were the only people at 9 o'clock (or even earlier) just trying to have a single after dinner cocktail on the whole property.  This was really nice, but not gonna lie it creeped me out a little bit? Sometimes it would have been nice to just have some music playing in the background or someone playing music on the beach or something. But then you can't play your own music because its like AH its so quiet we can't even play music on our little speakers? 
(except OMG one day this couple got in a huge fight in the little floaty thing in the water…. like HUGE HUGE HUGE and it was silent as usual on the beach and their voices were amplified from the ocean facing the beach….. everyone just sat their and listened to the whole thing – it was WILD – it lasted like 30 minutes.  and we never saw them again sooooo I think they broke up. this stands out in my mind because it was the only conversation of someone else's I could audibly hear all week….. and it was just nuts and horrible but entertaining. just sayin)
 It was super super romantic and super relaxing.  But I was glad we had split it up because 2 weeks of that much silence and just the two of us without even tunes on the beach would have made me crazy…… I hope that comes off the right way 🙂  I definitely don't like to make "honeymoon friends/vacation friends" and spend my trip talking the whole time with other couples, but I DO like to have conversations occasionally with other people during the course of a week…….even a "what is that drink?" at the swim up bar and thats it.  The only other negative was that the service on the beach and at the restaurants was sub par for what we were expecting.  The butlers for your cottage were wonderful – you had a personal cell phone and could call them for anything and they were so fast and polite.  We left something down at the beach one day and they brought it up so fast it was amazing.
(especially for how far the beach chair was from our place! they take you in these cute little golf carts all over the property…. you just call and they come pick you up and take you down)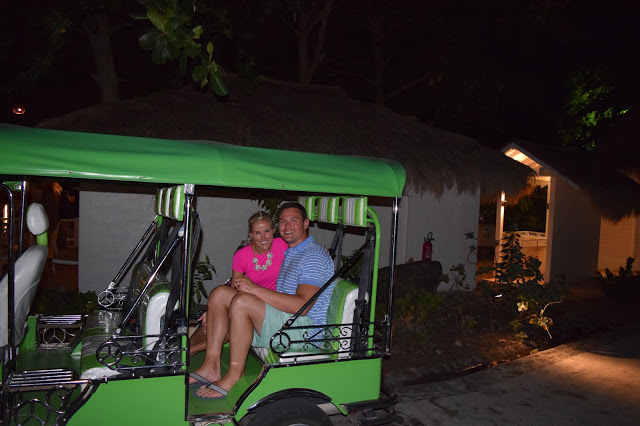 But we realized that the other staff was never smiley and never really….. happy at all.   It was a strange thing to realize, because normally you just assume staff at hotels are at least warm and smile a fair amount or something….. but it was something that was very very different from the staff at Sandals. 
No one would be on the beach except us and 2 other people and getting one of the servers to come over to order lunch or a drink was like pulling.  I don't mind walking up to order my own food and when I would try to walk up to do it they would shoo me back to my chair and say they would come to us and then still not come over for some time.  I also realize this is part of their culture – local life is slow living – and I am an annoying American.  (I promise was patient and not exaggerating this though :D) However, the lack of smiles was definitely more off putting than the slow service.  The Sandals resort and other resorts always have people from all over the world working on their staff so that is probably why they smile more and are more quick with their service.  At Sugar Beach it was all locals – which I liked and was happy my money was going to them – but for how nice the property was and how much $$ we were shelling out I just expected at minimum normal pace of service and it was strange.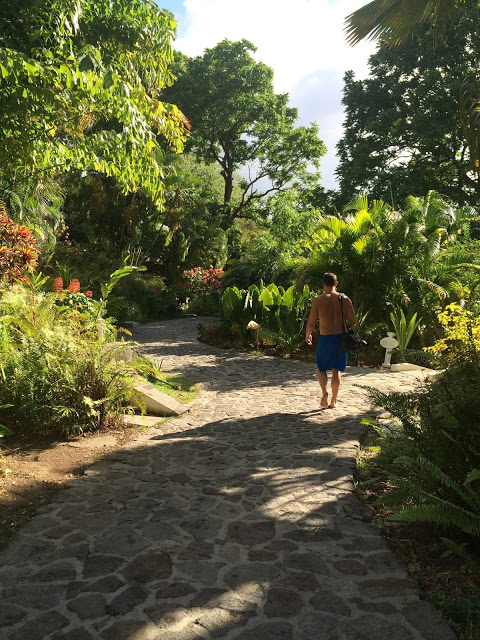 even the path to the cottage was gorgeous! 
Also, luckily one reader commented on my blog about the all inclusive option at Sugar Beach (which I didnt see anywhere ever).  Thank goodness the person told me about this!  Everything food and drink wise was extremely pricey, so even though the all inclusive add-on option was far from inexpensive, it is worth it if you are going to be having wine with dinner and some drinks while you lay at the beach. Or if you eat a lot like we do 🙂 We gained a lot of weight on our honeymoon and it was wonderful. 
 It definitely made for a relaxing and enjoyable week not having to care about what the prices were — like at dinner when we saw a cup of SOUP for $48.  FORTY EIGHT DOLLARS.  so guess what kip and I ordered to start our meals with? You bet your ass we had some fifty dollar soup to kick things off 🙂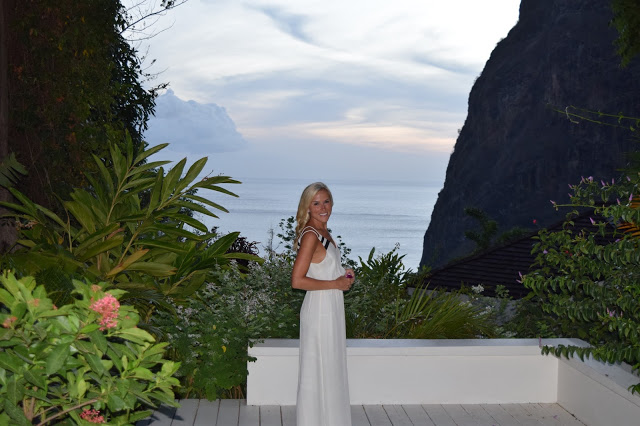 SOOOOO to sum things up : We LOVED both.  Sandals met every expectation we had for it – we had an amazing time and the service and people were great.  There were things, like the food for example, that paled in comparison to Sugar Beach, but that was to be expected based on the cost difference, and we were still very very happy. I am very glad we splurged for Sugar Beach because it was such a "honeymoon" and not just a vacation – everything about it was unlike any place we had ever stayed.   The cottages were gorgeous, sitting there on your private patio overlooking the pitons and the ocean was heaven.  And the scenery is straight out of a movie.  I can't recommend both enough, but definitely TREAT YO SELVES to a place like Sugar Beach.  BUT the whole time there would have been way too long for us; we are so glad we split it, because I think we would have been bored out of our minds.  If you only like relaxation and quiet and only have one week, I think you'd be perfect.  Sandals gave us quiet when we wanted it AND things like water spots, going out on a boat cruise for the day, actual sounds other than nature (just kidding) etc etc, so the combo was nice. 
OH and bring ear plugs 🙂 even my noise maker blasting 
couldn't drown out nature outside the cottages….. I did not sleep very well on this half of the trip despite the beautiful white pillow top canopy bed…. the frogs ( I think it was frogs ?) were seriously killing me.
AND if your pockets are deeper than ours, definitely consider putting Jade Mountain on the top of your list for St. Lucia! 
 it's one of the nicest hotels in the world and I can't even get over how stunning the open air rooms are! 
hope this helped in any way shape or form 🙂 feel free to email me with any other questions! 
PS.  writing this post made me SO DEPRESSED I want to go back right now 🙁