I seriously cannot believe the 4th of July is this weekend,
and not just in a regular "I can't believe it!" but because I have been still wearing jeans and sweaters at night here in Chicago.
Mama needs to break out all of her dress wardrobe at some point, and I have been patiently waiting for about 11 months now! Good Lord! AH! Profanities Galore!
My skin is practically translucent and there isn't enough self tanner in the world to help me at this point.
So you may remember I posted about my friends Watermelon Feta Salad that she made for her Memorial Day BBQ. It was so adorable and also so tasty and refreshing.
I found another version that looks equally delicious, but possibly more because it has more cheese – and mainly : mozzarella. I love caprese salad and mozzarella, so I'll be making this version for a different twist for our 4th of July BBQ.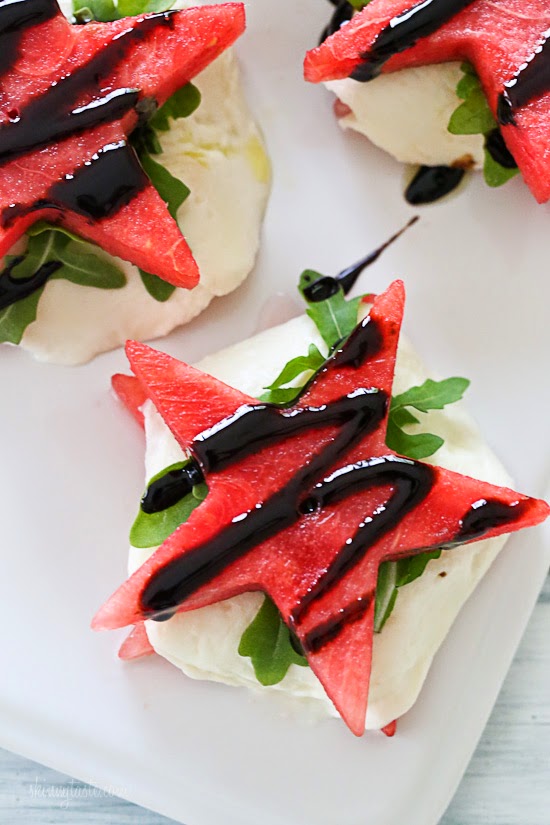 :: watermelon caprese with balsamic glaze ::
Servings: 8 • Size: 1 salad • Old Pts: 3 pts • Weight Watcher Points+: 3 pt
Calories: 119 • Fat: 7.5 g • Carb: 7 g • Fiber: .4 g • Protein: 5.5 g • Sugar: 6.5 g
Sodium: 90 mg • Cholesterol: 20 mg
1/2 red seedless watermelon, sliced 1/2 inch thick (calculated with 16 oz)
8 thin slices fresh mozzarella (1 oz each)
1 loose cup baby arugula
2 tsp extra virgin olive oil
kosher salt
2 tbsp balsamic glaze
Use a 4-inch star-shaped cookie cutter (or any shape) and cut 16 stars out of the watermelon (about 1 oz each). Save the excess watermelon for another use.
Arrange the watermelon on a platter, then layer with cheese, arugula, 1/4 tsp olive oil and a pinch of salt on each. Top with a final star, drizzle each with balsamic glaze and serve.
a simpler option, for a little less work or lack of a star shaped cookie cutter,
just cube the feta and watermelon and display in the shape of the flag with a side of blueberries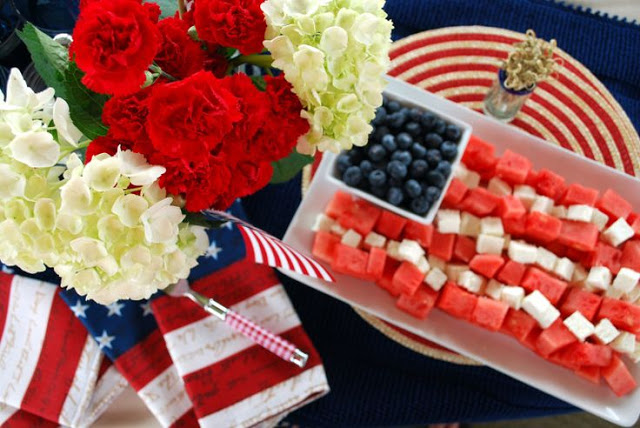 some of my other favorite summer sides can be found under the recipe tab above..
a few years ago I made my Layered Mexican Salad for a big party we had for the 4th and it was a hit.
I also love this cold Greek Tortellini Salad. Any pasta salad is a must in my book for a BBQ.
My sister is coming in town to stay with us for the weekend!
It will be the first time she's been to our new place so I'll be cleaning and prepping for her arrival Thursday and for a fun weekend of festivities.
lets just say she still talks about how gross my first post-college apartment was with my girlfriends…. and she's not exactly wrong, it was like a frat house…. but in our defense we were having way too much fun and going out way too much to care about housework…. so there is extra pressure to make sure it's "grown up married lady pretending I'm an adult clean".