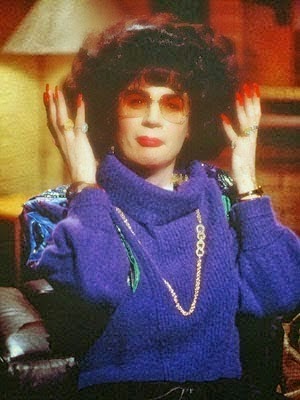 ……. discuss amongst ya-selves…….
:: bachelor in paradise ::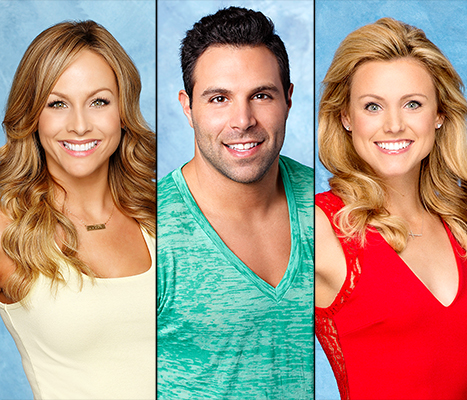 the chart for this season was just announced! (link) click the link to see all of the names, minus a few surprises and a few of this seasons rejects of Kaitlyn's.
no surprise, it's all the crazy girls from Farmer Chris season on the Bachelor and then TENLEY?? WTF? dance instructor baby voice nine year old tenley? please.
but Ashley Kim Kardashian Virgin Princess Jasmine from last season,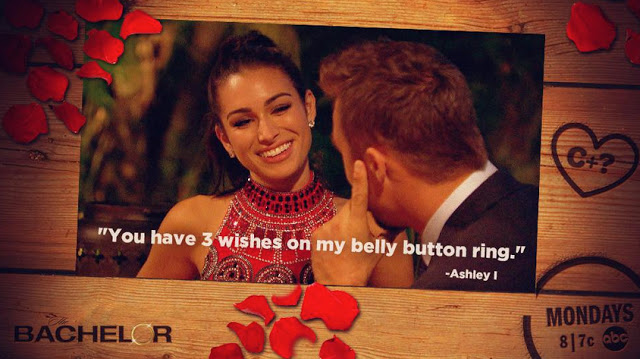 along with Porn Star Jane, and nonexistent eyebrows sh*t stirrer Carly will all be in attendance and IT'S GONNA BE GREAT.
wayyyyy better than this season of the bachelorette…… so can it just end already so that bachelor in paradise can start? please? please chris harrison?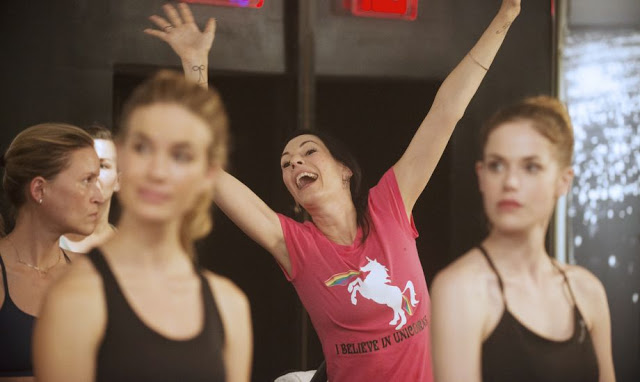 slow clap for bravo. they've done it again.
I can't even recap this show because every line was amazing (i.e. a donut is just a gay bagel) and hysterical and fabulous. get on it ASAP and thank me later.
if I had to pick, everything about the soul cycle scene was my favorite.
dare I say this is the best new show on television?
it's amazing!!! and half the reason : it's more about friends than frenemies yet still is HIGHLY entertaining. they laugh their asses off the whole episode instead of yelling and bitching.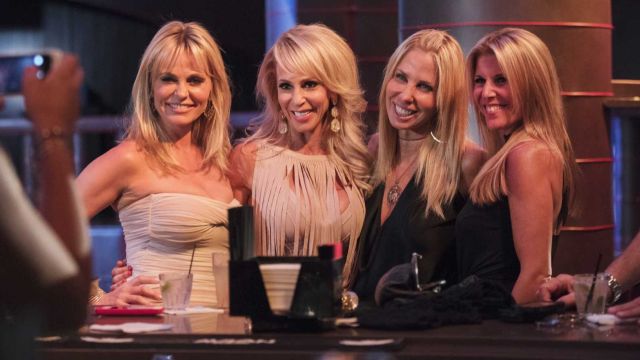 so random but I have to comment on it:
when Susan (the only brunette so easy to keep that one straight) goes to dinner with her husband, the male host seating them for dinner is one of the most terrifying men ever, slowly but viciously chomping on his gum with a scary voice and everything – it was straight out of the godfather. holyyyyy moly.


susan is the only one of this show I can't stand.
she is comparing herself to Liza (too confusing to explain all the blondes just watch :D) and says they're so similar but "the only difference is, I actually made something of myself" and continues to be a condescending ass.
UM sweetie. you have on black lip liner and YOUR HUSBAND IS AN EX – CON. simmer down and lock it up.
Amy's boyfriend Arthur ATHA is a raging lunatic. I seriously feel like he is a hormonal 14 year old girl with the insane mood swings and tantrums we've seen from the 2 seconds he was in the show. For Coffee Talk, we will call him AhTHA since name is only pronounced AhTHA. WHen Amy's flight gets cancelled due to hurricane AhTHA – and its literally the hurricane not her psychotic boyfriend AhTHA I couldn't stop laughing. Mainly because I got to hear AhTHA about 12 times in a span of two minutes.
liza, talking about putting dr. g on her lap and breast feeding him with her natural boobs??
I LOVE HER.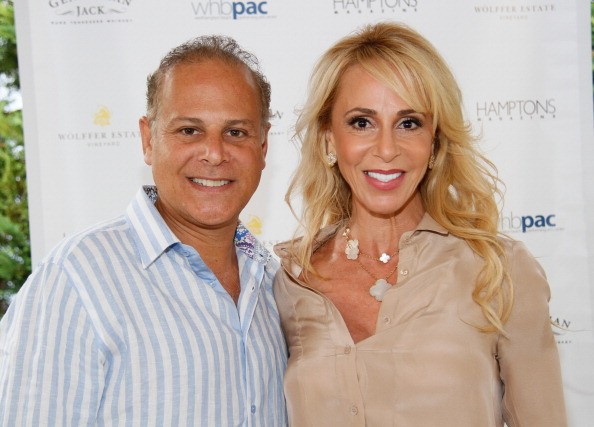 gail is truly insane. she brings little husband dr. g to the all female dinner in her GIGANTIC van cleef and arpels necklace (I have never in my life seen one larger, good lord) and is eyeing the mac and cheese like IT IS THE DEVIL. As in she really is disgusted by it. Macaroni and Cheese, and just cheese, disgust her.
This woman TRULY a robot my mind is blow. the only smile she cracks : when andi calls out susan for STEALING MONEY when she is acting like he is a saint. oh okay wait, robot gail is alive 🙂
:: SHAHS OF SUNSET REUNION ::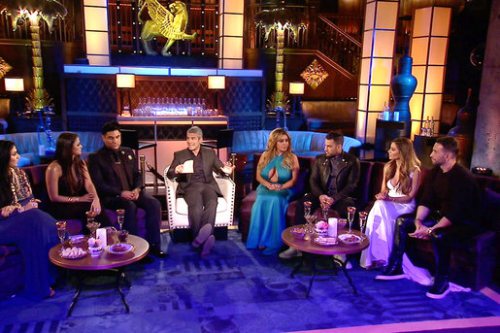 first of all, I love that they get to drink during their reunions. It's like Bravo and my-boyfriend-Andy Cohen know that even if they wanted to say no, they can't. It's amazing. No other show gets that privilege….. but these people are professional boozers so I guess Andy knows they can handle it.
I love how there are so many subtitles for this show, and that most of them are for bad words or genitals. I feel like I speak fluent Persian.
New language to me : flossy. Even My Boyfriend Andy Cohen didnt know what this meant so I feel a little better.
for the record : flossy is like being flashy and showing off what you've got.
can you use it in a sentence please? OF COURSE.
when mike acts like he isn't flossy, reza sarcastically + accusingly shouts at mike "Your girl doesn't floss?! You don't floss?! Ha!!!"
see…. I'm like….. fluent in Persian and Persian code words.
Seeing Reza without the stache is really weird.
Did mike really sleep with GG's sister the day of his engagement to Jessica? It's gonna get REAL RULL next week.
something tells me kristin won't be around next season. so far her role has just been nothingness/annoyingness/stupidity, and I really liked her last season!
after a huge scene at dinner between bethenny and heather, bethenny is like I JUST WANT THE WALL UP (blah blah blah WE GET IT) with tears and anger and a whole hell of a lot else I'm sure in her voice. I do agree that Heather needs to leave her the eff alone it's ridiculous. Heather, you're a grown ass woman married with children. Quit calling strangers made up nicknames like Beth and acting like they need you to order dinner for them and have to be best friends and braiding each others hair in 5 seconds. Back off.
I digress…. back to Kristin….
Kristin walks in the other room after dinner and says to Heather "She said I just want the wall up? What wall? She wants a wall up? What do you think that means?"
I SERIOUSLY CAN'T. YOU JUST LOST ME KRISTIN. Ummm no Kristin "pretty is not smarter than [we] think".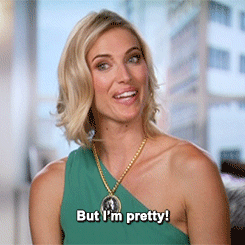 And when she acts like her Nail Polish line is like giving birth to a child, she loses me even more. Nail Polish is not Skinny Girl…. not even close.
Somehow this episode I'm purely on Bethenny's side the entire time, which is a shocker because I've wanted her to just stop talking the entire season.
OH wait. I forgot Betheny brought Sonja into her huge corporate meeting. Seriously? You should be ashamed of yourself and all of your employees should be mocking you for that one.
:: RICH KIDS OF BEVERLY HILLS ::
confession. I cried watching Brendan propose to Morgan.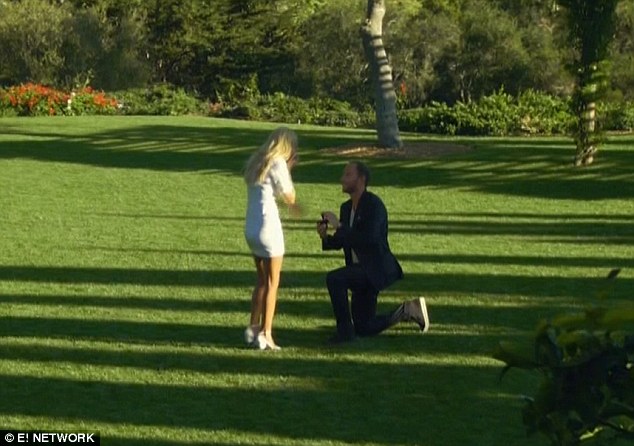 I love them together and it was great and she cracks me up.
AND THIS RING WAS UNREAL.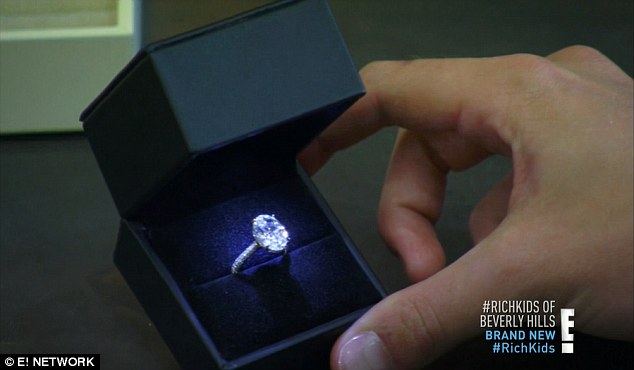 UN FREAKING REAL. the box had a damn light in it to illuminate the diamond!
:: RHOC ::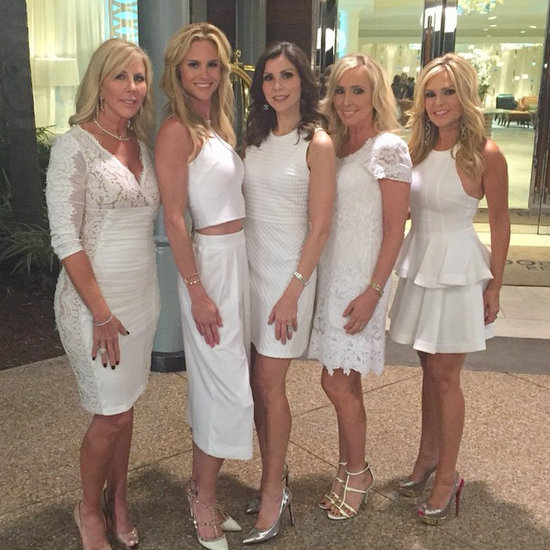 orange county is back, and somehow I took no notes on it in my phone while I watched ?
shoooooot. shannon makes me sad its just awful, ugh brooks, new girl megan needs to eat something-anything-immediately, terry dubrow continues to creep me out and my gawd their new house is stupid, stupidly huge.
The women of Secrets and Wives for laughing so much on their show, making me laugh my head off, and for having closets like this
(see videos of their closets here)
:: JACKHOLE OF THE WEEK ::
My Boyfriend Andy Cohen for not bringing back
Princesses of Long Island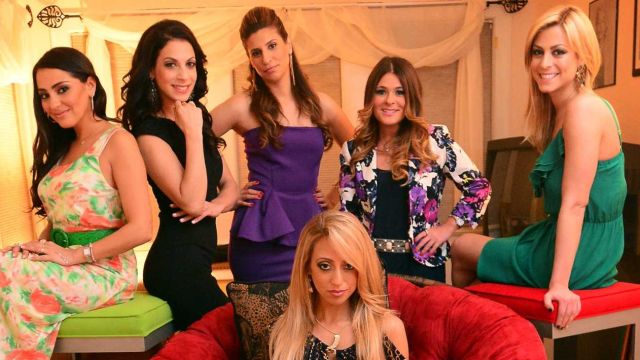 it was SO GOOD . HOW did it not get renewed?
I honestly want to do a full blog post with my thoughts and questions about what is going on with them currently,
like amanda and her boyfriend Jeff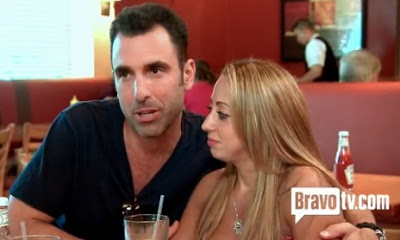 and Ashlee and her dad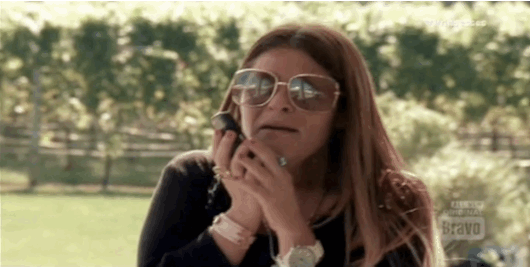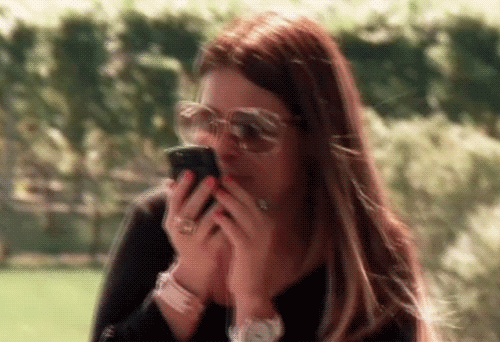 oh my gosh now I'm just depressed.
maybe I'll re-watch the whole season this weekend…… no sarcasm.



as always, ignore my own blatant grammatical errors whilst I
make fun of others poor grammar during coffee talk on a weekly basis.
#hypocrite #sorryimnotsorry
I write these posts late at night while simultaneously watching Bravo, taking snapchats of my snoring husband, and making to do lists of everything I was supposed to do and didn't do that day and likely won't do the next day either. or the day after that.