y'all when I say this is the greatest spaghetti and meatballs, I am telling no lies.
pasta is my favorite food ever. (well….. its a tie between pasta and cheeseburger & fries…. but seriously other than french fries it is the pasta).
I am 10x more of a salty/carby person than a sweets person.
unfortunately, my husband could care less about pasta of any kind (I've told you all before he must have been abudcted by aliens because basically no food excites him, he just sees everything as equal food. makes. me. crazy.)
I was home almost once a month while we were engaged last year – I'd fly home from work Thursday night to spend the whole weekend; it was a great excuse to combine wedding planning with seeing my nephew and also to escape the miserable Chicago winter.
almost every time, my sister would make this recipe for Ina's Spaghetti and Meatballs.
they are SO GOOD. it is such comfort food it is crazy. if you love spaghetti and meatballs, this will become your go to recipe I promise.
my mom and I made them for Easter dinner, but they didn't taste as good as when my sister makes them.
(food always tastes so much better when someone else makes it for you. and, of course, she just makes a mean meatball)
they are technically called turkey meatballs, but that makes them sound all healthy and bland and basic.
you know ina wouldn't do that to you. or jeffrey. ina's not basic.
there is turkey, a whole lot of spicy sausage, and also proscuitto in these bad boys.
one : you MUST use Rao's pasta sauce. Ina says it and I say it. Their pasta sauce is the greatest thing in the world. when you see that the recipe calls for 3 jars of Rao's sauce you'll be thinking "ok crazy pants lay off the sauce" but we actually ended up using almost all of it…… don't judge, ina said to.
two : this makes a LOT of meatballs, so you will have leftovers, or it is perfect for feeding a big group. our batch made about 38 but it will vary of course depending on how consist you are with rolling them.
Ina's Spicy Turkey Meatballs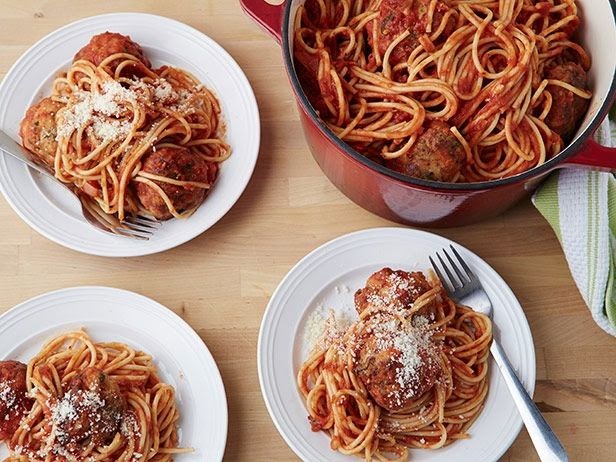 Ingredients

3 cups (1-inch diced) bread cubes from a round rustic bread, crusts removed

(we used breadcrumbs to make it a little faster)

2/3 cup whole milk

2 pounds ground turkey (85-percent to 92-percent lean)

1/2 pound sweet Italian pork sausage, casings removed

4 ounces thinly sliced prosciutto, finely chopped

(use the mini food processor to make it so easy and fast)

1 cup freshly grated aged Asiago cheese

1/2 cup minced fresh parsley

1 teaspoon dried oregano

1 teaspoon crushed red pepper flakes

Kosher salt and freshly ground black pepper

3 tablespoons good olive oil, plus extra for brushing the meatballs

2 extra-large eggs, lightly beaten

3 (24-ounce) jars good marinara sauce, such as Rao's

(a lot, but get it all and re-jar whatever you don't use)

2 pounds dried spaghetti, such as De Cecco

Freshly grated Parmesan (or Asiago) cheese, for serving
Directions
Preheat the oven to 400 degrees. Line 2 sheet pans with parchment paper.
Place the bread in the bowl of a food processor fitted with the steel blade. Process until the bread is in medium crumbs. Transfer the crumbs to a small bowl and add the milk. Set aside for 5 minutes.
In a large mixing bowl, combine the turkey, sausage, prosciutto, bread mixture, Asiago, parsley, oregano, red pepper flakes, 1 tablespoon salt, and 1 1/2 teaspoons pepper. Lightly combine the ingredients with your hands. Add the 3 tablespoons of olive oil and the eggs, and stir lightly with a fork to combine.
With your hands, lightly roll the mixture into 2-inch-round meatballs and place them on the prepared sheet pans. Brush the meatballs with olive oil. Bake for 35 to 40 minutes, until the tops are browned and the centers are completely cooked.
Pour the marinara sauce in a large, low pot, add the meatballs, and bring to a simmer.
Meanwhile, cook the spaghetti in a large pot of boiling salted water according to the directions on the package. Drain and place the spaghetti in individual bowls, and top with 3 meatballs and lots of sauce. Serve with Parmesan cheese on the side.
I didn't take a picture of my heaping bowl o' pasta, #bloggerfail
but here we are rolling and prepping.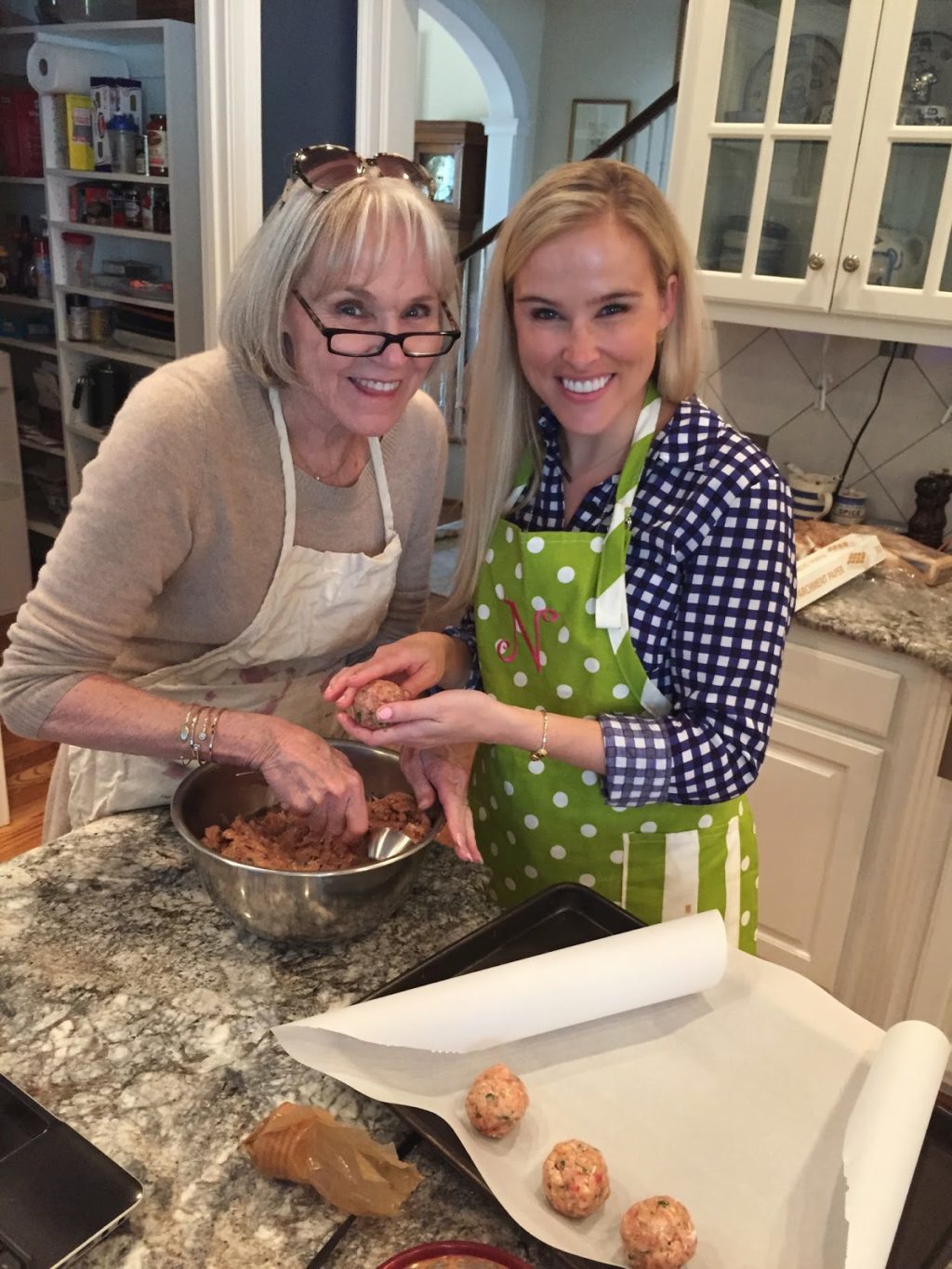 make this for your next dinner party and you will make your friends sick because they won't be able to stop eating and then they will feel awful because their stomach hurts so bad but they will love you and tell you so while they unbutton their pants.
if you really want to kill 'em, follow it up with ina's chocolate cake and they will have to roll themselves out of there and you can be like YOU'RE WELCOME.