discuss amongst ya-selves……..
I love how they do the intro with Kathryn and Thomas TOGETHER – as one entity – when they show the cast. ha. okay. sure.
a reader sent me a link about Whitney's mom and who she is and a tour of her home (and a ton of other amazing things; thank you amy!) and it's too good not to share.
here is the

AD article on her home .
she was married to serena altschul's dad (who passed) and so whitney's stepsister is serena altschul. which makes whitney being a "film producer" make slightly more sense even though it still makes him a crappy one filming T-RAV campaign commercials with hooters girls.
the episode kicks off with Patricia making a scrapbook of whitney and his girlfriend….. but with tabloid cutouts ? what ?
she IS very pretty….. but I do not understand this relationship. but I guess now that I know how loaded his family is, perhaps that is always a reason.
Thomas decides that the smart thing to do would be to host a "campaign party" at his house. his legitimate home. I mean GOOD LORD.
why not invite anyone and everyone into your families estate and private home where your baby is. sure. go for it.
crazy people don't exist in the world, especially involving rich old families who lives are displayed in the public eye.
kathryn has the perfect attire for a campaign event :
she wears a see-thru shirt with an orange bra….. perhaps she was trying to fit in with rest of the people that attended the event off of the street.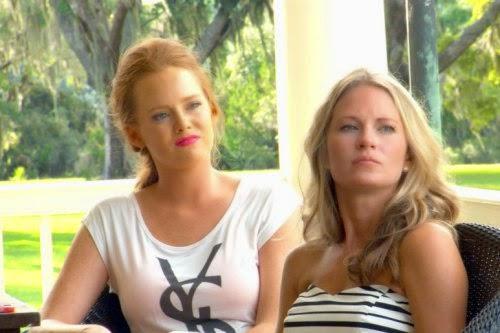 photo does not do it justice.
oh, and of course Thomas gives his speech and doesn't mention his baby mama once.
what he is really trying to say in his speech he can't quite put into words.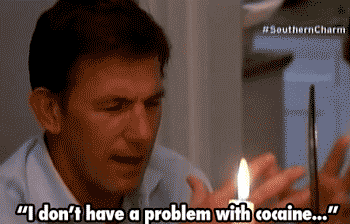 oh, Travis! you just scream southern senator!


craig…… craig, craig, craig.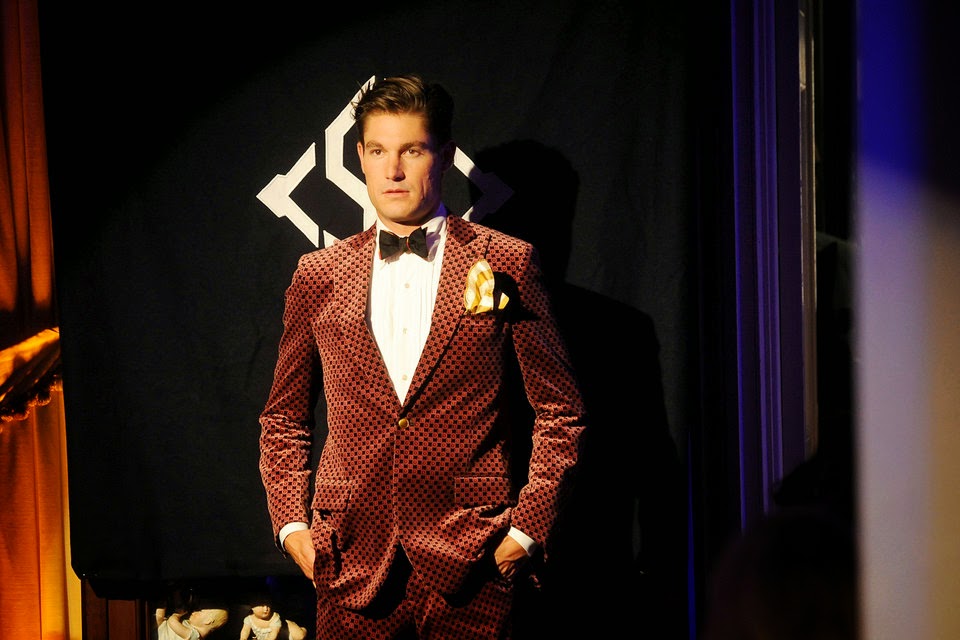 craig goes to the bar with no money even in his wallet. or credit card. I meannnnn listen to shep buddy…… you aren't a rockefeller.
even drunk 24 year old girls with any self respect won't want a guy that has no drive and no job.
side note : PROPS to kathryn for being SO GOOD at doing her hair. every day its a different style. even on moving day her hair looks better than mine has ever looked. ever. I'm so jealous of people that know how to do their own hair.
example below : even when she doesn't give a damn and is crying and has no make up,
hair is ON POINT .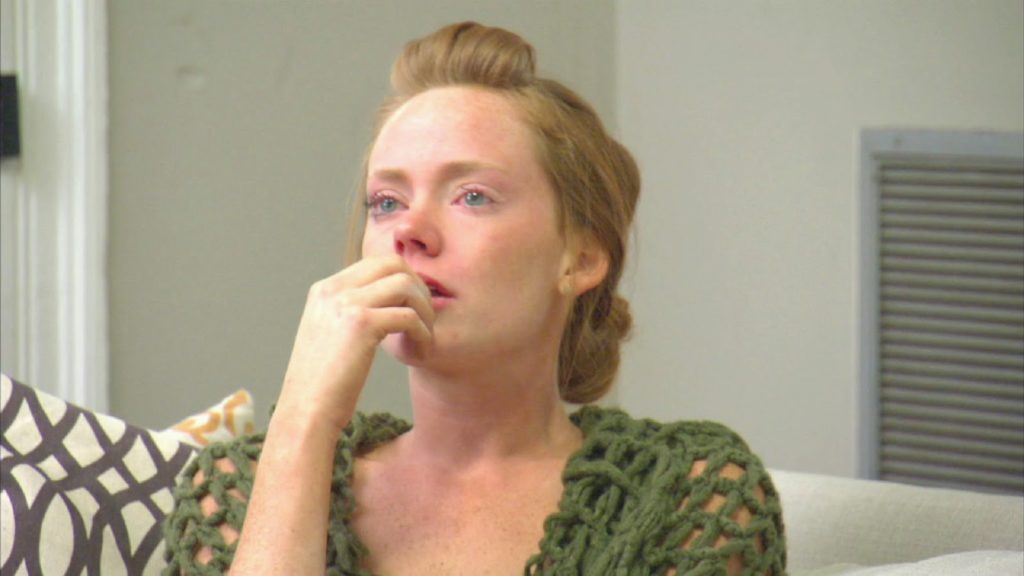 k ill stop. anyways……
next weeks episode looks super exciting : kathryn lets her hair down drankannn and old kathryn is back in action. YEAS.
also, an example of hair ON POINT even when in the SLAMMER.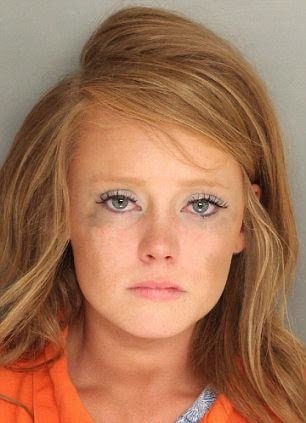 I WOULD KILL FOR MY HAIR TO LOOK LIKE THIS AND SHE IS IN THE DRUNK TANK.
her, above. me, below.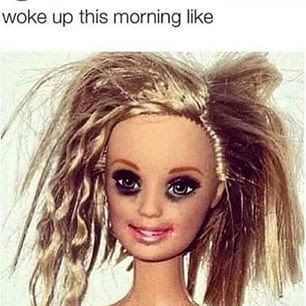 I haven't seen all of this weeks episode,
but I'll tell ya what I did see.
Bachelor Farmer Chris snapped at his precious perfect partner Whitney and made her cry.
I. can't. even.
I hope he got kicked off after I stopped watching. Bastard.
Way to make us all watch a full season of the bachelor based on "who can live in my crappy small town with my crappy personality" and then LIVE IN LA AND BE A FAME WHORE ON TV YELLING AT THE CUTEST LITTLE GIRL EVER.
k….. sorry…. and he looked like a moron in the white grecian outfit.
:: RHOBH reunion ::
Rinna and Kim at the beginning was a bit much. My girl Rinna was annoying me a little bit by having her first response to her angry texts to Kim be defensive crying about childhood stuff. Come on now.
I mean it from a place of love.
You're better than that. This reunion is really getting to you.
These poor newbies don't know what they're getting themselves into.
….. just say sorry and let Kim be the nutso pointing and jumping off the couch
And then suddenly angry as hell Kim was running over to hug her ? Did someone spike my drink ? Did someone spike her drink ? What's happening ?
OK. So on to more important things. Kim and Kyle.
We come to find out it all boils down to the dog biting kyle's daughters hand.
They replay the video clips of two seasons ago when Kim tries to train her dog.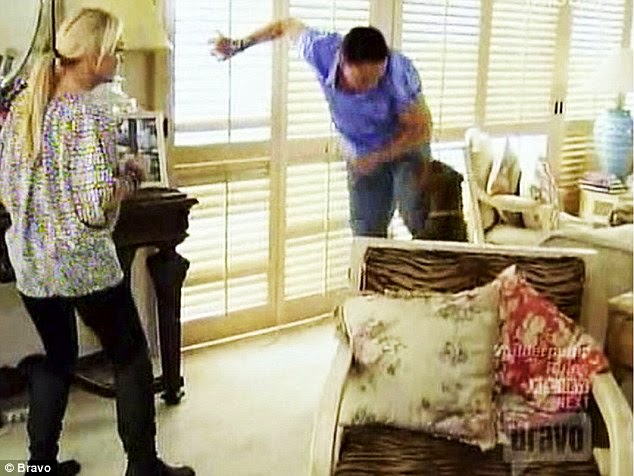 Kingsley attacking the "dog whisperer" again was the highlight of all three parts of this reunion.
His voice was as high as Mariah Carey hitting a high note saying "off! off! off!" and flailing around.
I rewound it four times and laughed harder than I did the first time it aired.
…..but I'm sorry….. I know Kyle's daughter "almost lost her hand" so I shouldn't be laughing at dog attacks. but I mean, the dog whisperer……. love.
I just cannot believe that out of everything that has gone down, THE DAMN DOG is what brings Kim to her craziest point and causes her to make threats about telling things publicly regarding Kyle's children.
Kim has seriously surpassed Brandi. Horrible.
I know pets are like children, but I LITERALLY CAN'T with Kim saying
"No. Talking about my dog is off limits"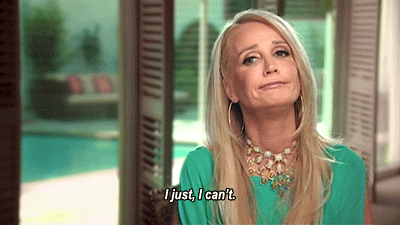 WHAT?????
Yes, he is like a child, totally understand that…..
But talking about a dog is off limits?
What BECAUSE HE'LL HEAR?
He'll know people are spreading rumors about him??!!
He'll start reading the gossip blogs?!?!?
He'll spiral into a deep depression from the pressures of being in the public eye?
LOCK IT UP KIM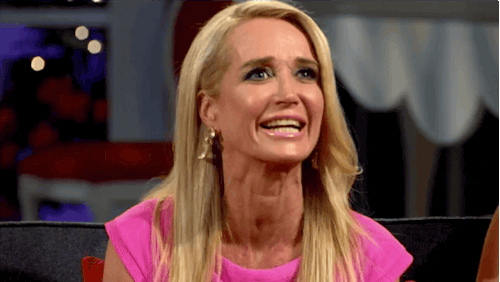 go back to "I love turtles" and "where's my juicer I bring it with me to Palm Springs?" or better yet YOU AND BRANDI GO FAR FAR AWAY AND NEVER COME BACK ON BRAVO EVER AGAIN. THE END.


:: RHNYC ::
My mom Nance-Pants says she isn't watching this season after Bethany crying ep 1 like I'm homeless blah blah and she's over it. I'm like welllllllll you do what you want, you're a grown woman, but I am not a quitter.
If I quit a show every time a character drove me insane I would have zero TV to watch.
AND THEN WHO WOULD I BE?
A person with a life? And good social skills?? Who,like…. Watches the news and reads the newspaper and walks around OUTDOORS during free time?
No . Thank. You .
The whole episode is like
"ohhhhh Luann downsized…."
insinuating downsized to a shack.
"it'll be so much easier to maintain…."
insinuating it's so small she can take care of it herself and not be paying staff to maintain the grounds
"it's …. you know…. Modern and New"
insinuating its new and not classic and old money like the hamptons should be.
Sonja is really the worst friend ever. It's ALL ABOUT SONJA.
love it for TV sake.
her tooth didn't fall out at all in this episode though, so there went my drinking game based around that. it was a winner last season. fingers crossed…. i'm not giving up on it yet.
I forgot how much Bethanny and Ramona together talking over one another makes me want to find a xanax and wash it down with a full-fat-salt-rimmed-margarita.
both of you are obnoxious. both of you stop.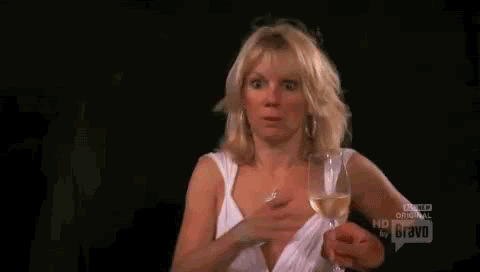 UM. look at this
picture
I found whilst googling for images for this post.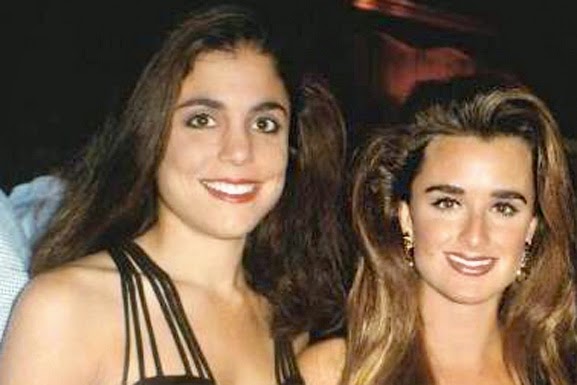 mind. blown.
:: Mazel of the Week ::
Lisa Rinna for suriving her first season and reunion of housewives.
There were some close calls there…..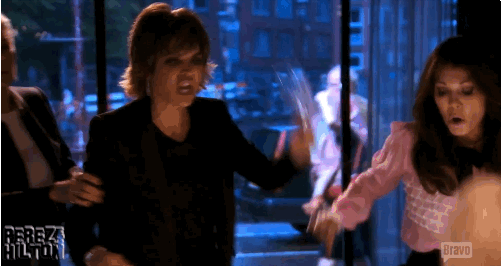 but luckily Kim and Brandi are such horrible human beings, when you finally strike back with anger, no one blinks twice at the shattering of a wine glass in Yolanda's beloved home town of Amsterdamn. Hell…. we're surprised it took that long.
Also,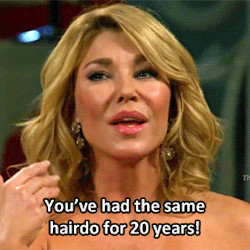 and you still rock it just as well as the Depends.
ALL. THE. WAY. TO. THE. BANK.
suck it trebek take that kim.
as always, ignore my own blatant grammatical errors whilst I
make fun of others poor grammar during coffee talk on a weekly basis.
#hypocrite #sorryimnotsorry
I write these posts late at night while simultaneously watching Bravo, taking snapchats of my snoring husband, and making to do lists of everything I was supposed to do and didn't do that day and likely won't do the next day either. or the day after that.