I'm sharing a couple crack worthy recipes this week!
For Valentine's Day we made the following:
Better than Take Out Chicken Pad Thai
My Girl Ina's Chocolate Cake with Whipped Mocha Frosting
and I decorated my food photography with sweet $1.00 decorations I found at THE jewel as chicagoans call it –
aka- the worst grocery store in the world
where you get home and even though you picked through 9,000 pounds of produce to try to find something fresh you cut into your red onion and it is DISGUSTING what you see inside of it and you curse yourself for ever buying anything there in the first place.
but I digress………. we're talking about yummy food here……
We absolutely loved both. The pad thai was easy to make and it was fun to recreate one of our favorite take out meals at home. The chocolate cake was hands down the BEST cake I ever made and one of the best cakes in general I've ever had. Kip likes his frosting a little bit thicker, so I'll alter the frosting recipe for him next time (I like it light and fluffy and whipped so it was perfect the way it was to me and I wouldn't change a thing) but the chocolate cake itself was so rich and moist and I could seriously go on and on. We made ourselves sick Saturday night AND Sunday night eating it and eventually had to toss the tiny bit that was left in the trash because we have no damn self control.
it was a full blown miranda on SATC dish soap/trashcan moment.


:: Barefoot Contessa Beatty's Chocolate Cake and Frosting ::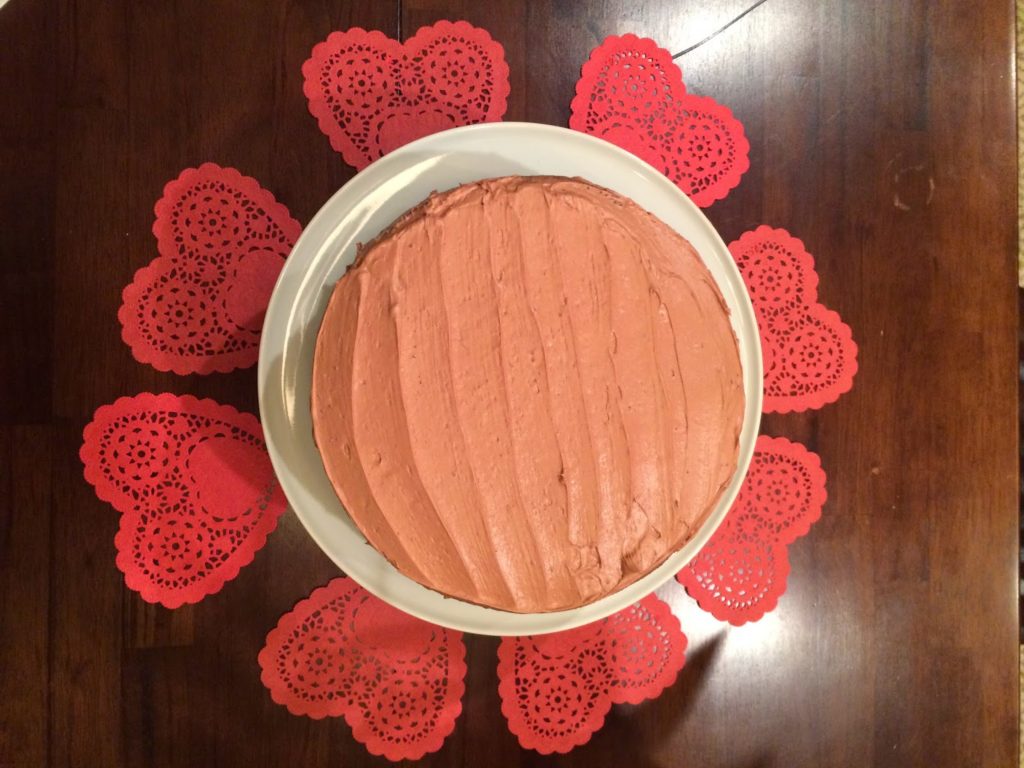 my sweet husband frosted the cake and everything.
(insert tune of "that's effin teamwoorrkkkkkk)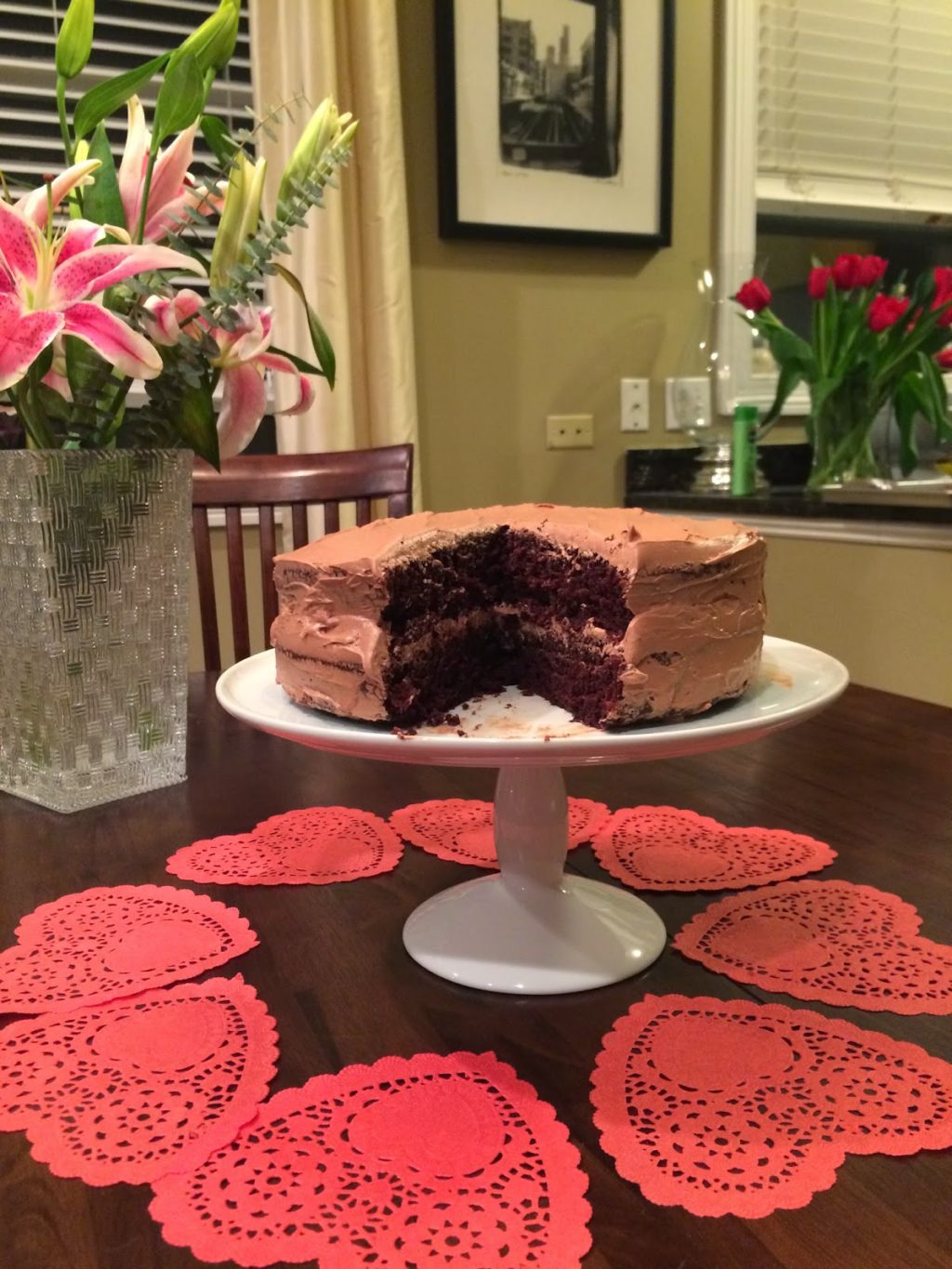 Cake Recipe
Butter for greasing the pans
1 ¾ cups all-purpose flour, plus more for pans
1 teaspoon kosher salt
1 cup buttermilk, shaken
½ cup vegetable oil
2 extra-large eggs, at room temperature
1 teaspoon pure vanilla extract
1 cup freshly brewed hot coffee
Chocolate Frosting
6 ounces good semisweet chocolate such as Callebaut
½ pound (2 sticks) unsalted butter, at room temperature
1 extra-large egg yolk, at room temperature
1 teaspoon pure vanilla extract
1¼ cups sifted confectioners' sugar
1 tablespoon instant coffee powder
Preheat the oven to 350 degrees. Butter two 8-inch round cake pans. Line with parchment paper, then butter and flour the pans.
Sift the flour, sugar, cocoa, baking soda, baking powder, and salt into the bowl of an electric mixer fitted with a paddle attachment and mix on low speed until combined. In another bowl, combine the buttermilk, oil, eggs, and vanilla. With the mixer on low speed, slowly add the wet ingredients to the dry. With mixer still on low, add the coffee and stir just to combine, scraping the bottom of the bowl with a rubber spatula. Pour the batter into the prepared pans and bake for 35 to 40 minutes, until a cake tester comes out clean. Cool in the pans for 30 minutes, then turn them out onto a cooling rack and cool completely.
Place one layer, flat side up, on a flat plate or cake pedestal. With a knife or offset spatula, spread the top with frosting. Place the second layer on top, rounded side up, and spread the frosting evenly on the top and sides of the cake.
Chocolate Frosting
Chop the chocolate and place it in a heat-proof bowl set over a pan of simmering water. Stir until just melted and set aside until cooled to room temperature.
In the bowl of an electric mixer fitted with a paddle attachment, beat the butter on medium-high speed until light yellow and fluffy, about 3 minutes. Add the egg yolk and vanilla and continue beating for 3 minutes. Turn the mixer to low, gradually add the confectioners' sugar, then beat at medium speed, scraping down the bowl as necessary, until smooth and creamy. Dissolve the coffee powder in 2 teaspoons of the hottest tap water. On low speed, add the chocolate and coffee to the butter mixture and mix until blended. Don't whip! Spread immediately on the cooled cake.
:: Better than Take Out Pad Thai ::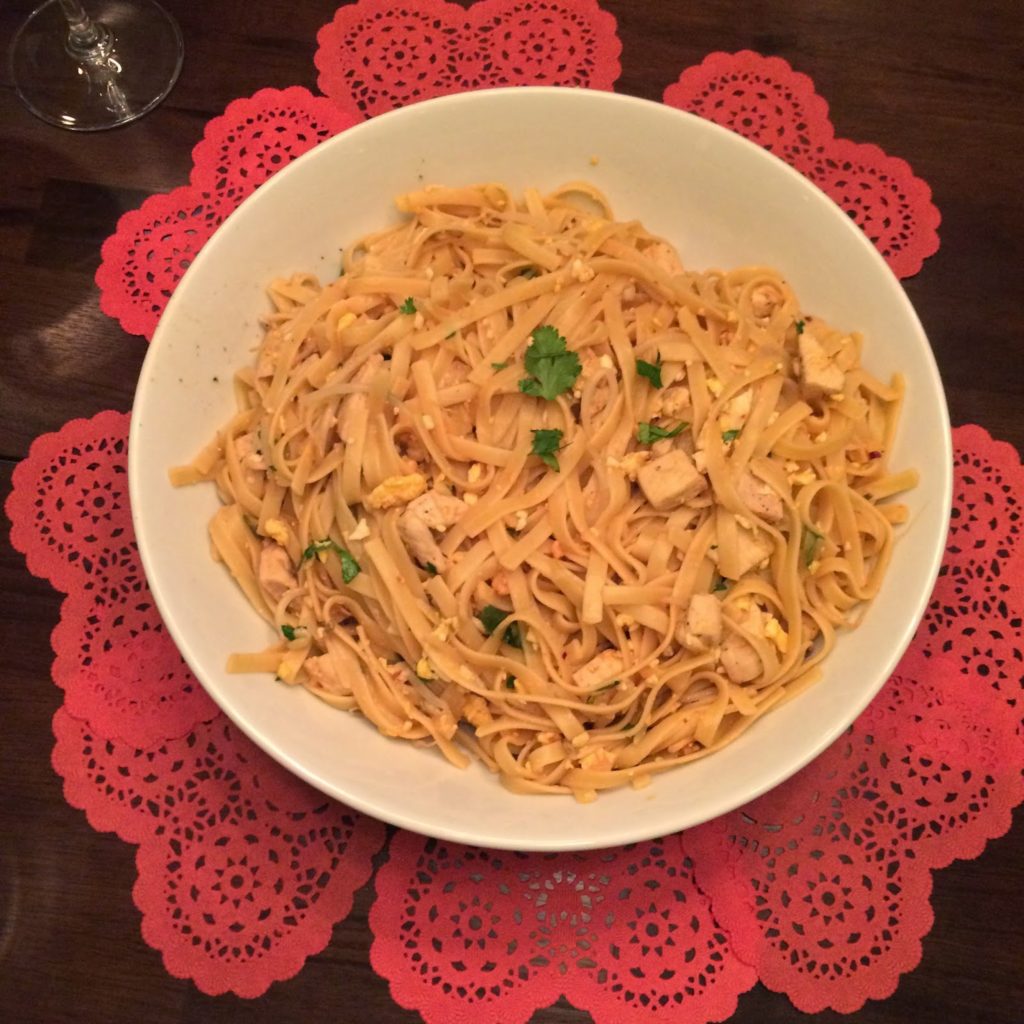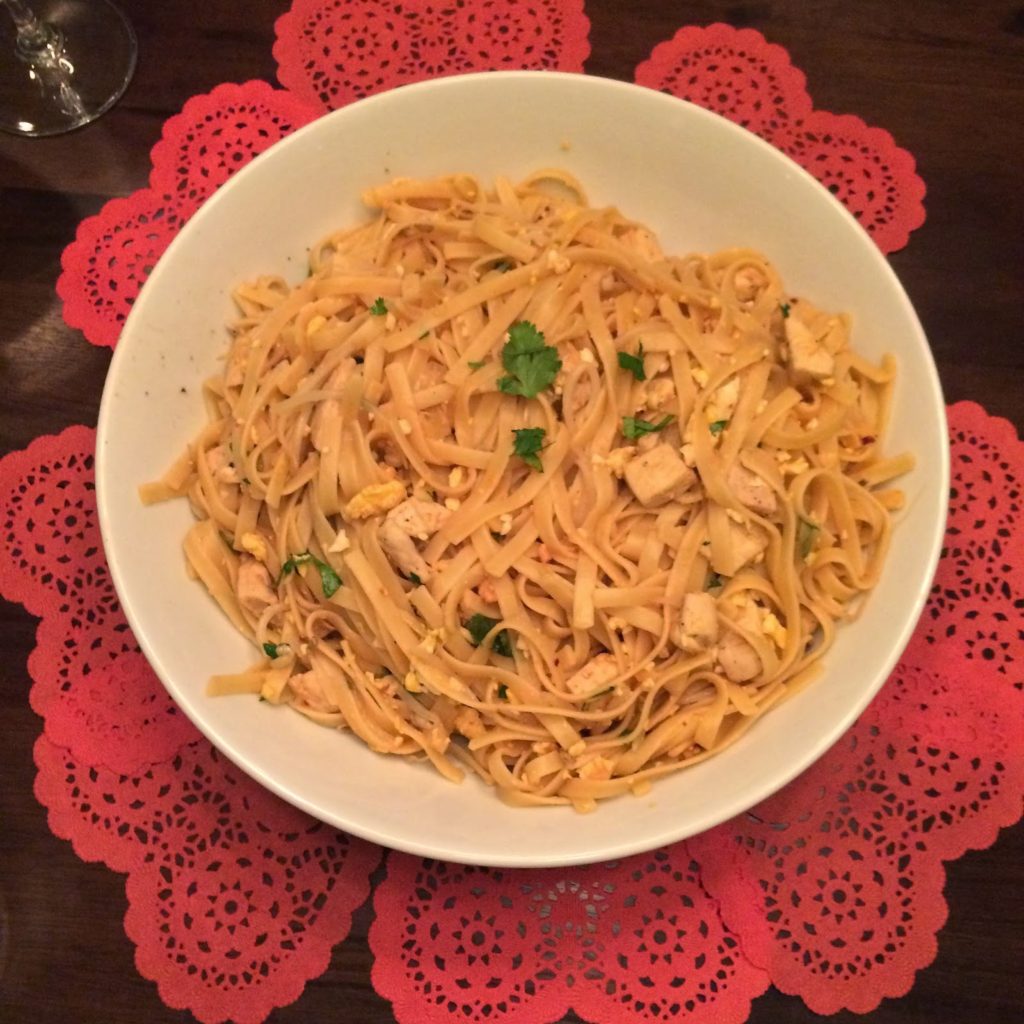 8 ounces pad thai noodles*
1 batch of Pad Thai Sauce (Recipe Below)
3 cooked chicken breasts, sliced
1/2 cup chopped peanuts
*THE jewel options were limited, they had fettucine, so whatever, worked for me 🙂
whisk the following together :

3 tablespoons soy sauce

1 tablespoon sriracha

2 tablespoons lime juice

2 tablespoons canola oil

2 tablespoons brown sugar
Prepare noodles according to package instructions.
Meanwhile, scramble eggs for about 2 minutes and set aside.
In a large skillet, combine noodles, chicken, and sauce.
Top with bean sprouts, cilantro, green onion, and peanuts.