AsI said yesterday, I have been loving my Skinnytaste cookbook.
Today, I'll be sharing TWO soup recipes that we made in the last week!
p.s. yes. these are both mexican themed soups.
we have a bit of a mexican obsession in this household 🙂 it can't be stopped.
The Santa Fe Chicken could not have been easier to make.
I made it when I had been awake for all of 3 minutes, and other than dropping an entire can of chicken broth on the floor, and then spilling the can of black beans, it took mere minutes.
…. clean up took a bit longer…. and black beans went down the sleeves of my all white fuzzy robe…. it was HIGH-larious except that it was not.
it tasted even better the next day on top of brown rice (some of the liquid had evaporated so it was the perfect fix).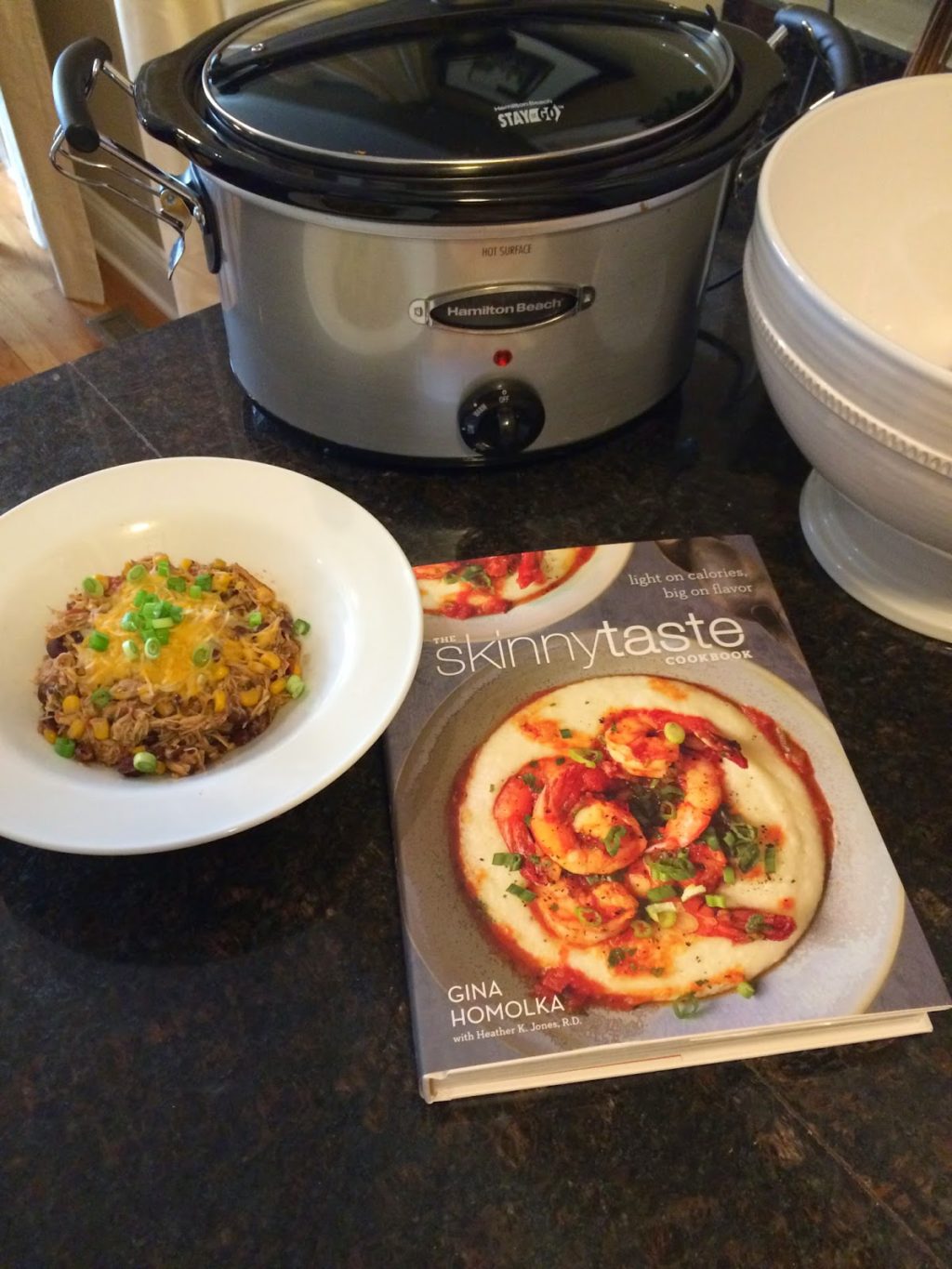 this photo was from the next days leftovers, so some of the liquid had evaporated 🙂
I served it over brown rice and topped it with some cheese and scallions.
Slow Cooker Santa Fe Chicken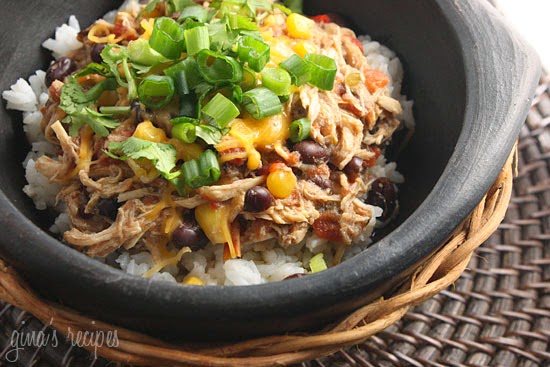 Ingredients:
24 oz (1 1/2) lbs chicken breast
14.4 oz can diced tomatoes with mild green chilies
15 oz can black beans, reduced sodium
2 cups frozen corn
1/4 cup chopped fresh cilantro
14.4 oz can fat free chicken broth
3 scallions, chopped
1 tsp garlic powder
1 tsp onion powder
1 tsp cumin
1 tsp cayenne pepper (to taste)
salt to taste
Combine
chicken broth, beans (drained), corn, tomatoes, cilantro, scallions, garlic powder, onion powder, cumin, cayenne pepper and salt in the
crock pot
.
Season
chicken breast with salt and lay on top.
Cook
on low for 10 hours or on high for 6 hours. Half hour before serving,
remove
chicken and
shred
.
Return
chicken to slow cooker and stir in.
Adjust
salt and seasoning to taste.
Serve
over rice or tortillas and your favorite toppings.
Servings:
8 servings
•
Size:
1 cup
•
Old Points:
3 pts
•
Points+:
4 pts
Calories:
190 •
Fat:
1.5 g •
Fiber:
5.6 g •
Carbs:
23.1 g •
Protein:
21 g
Next up ::
Slow Cooker Chicken Enchilada Soup
The Chicken Enchilada Soup was a wonderful healthy soup, that was fine without all the delicious toppings when I had it for lunch at work. However, it's 10x better for dinner once we added some cheese, scallions, diced avocado and a big dollop of 0% Plain Greek Yogurt (I promise in this dish it tastes just like sour cream, and for making creamy and rich it was a delicious necessity!)
Slow Cooker Chicken Enchilada Soup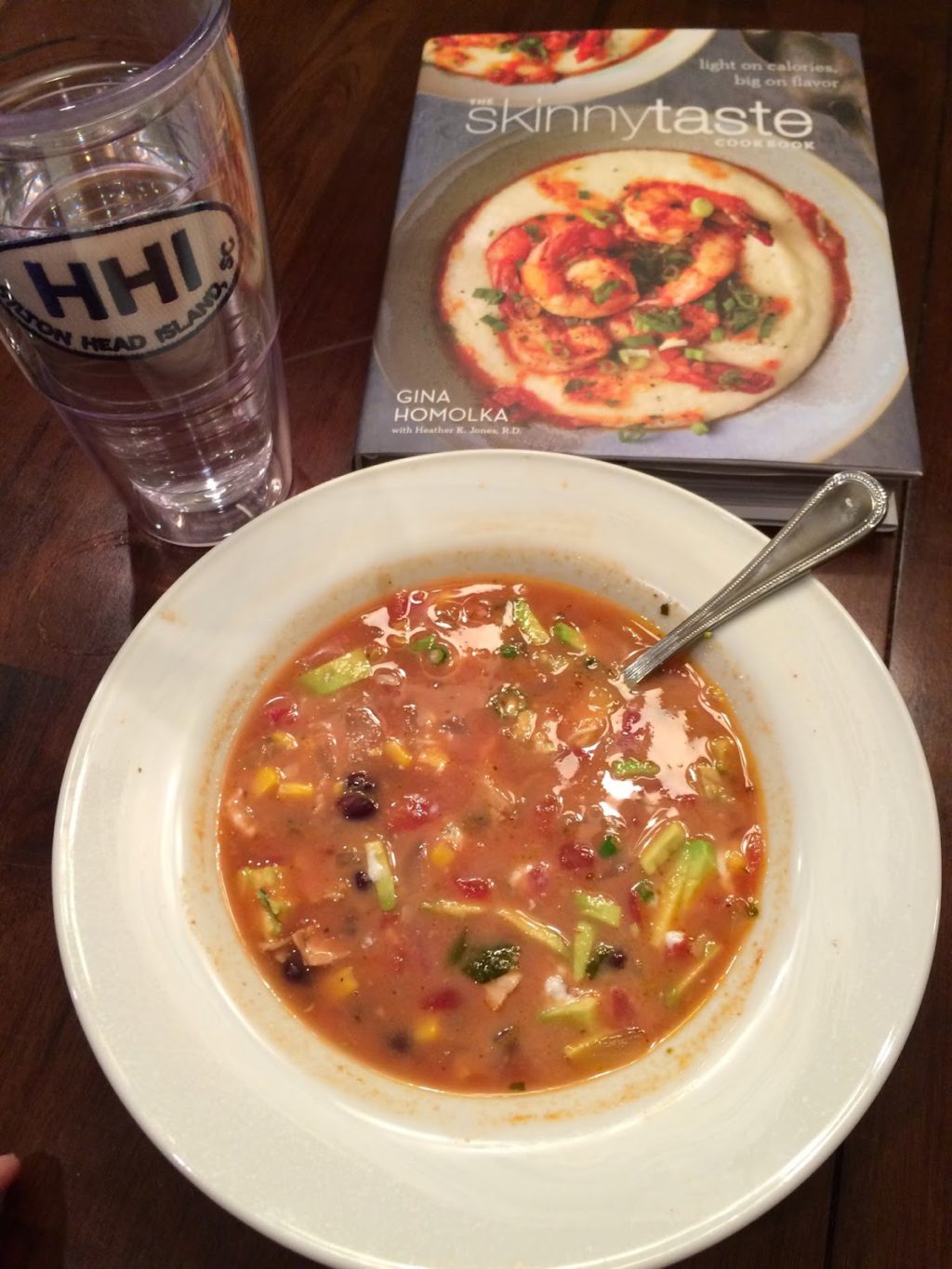 recipe via skinnytaste






2 tsp olive oil
1/2 cup onion, chopped
3 cloves garlic, minced
3 cups low sodium fat-free chicken broth
8 oz can tomato sauce
1-2 tsp chipotle chili in adobo sauce (or more to taste)
1/4 cup chopped cilantro (plus more for garnish)
15 oz can black beans, rinsed and drained
14.5 oz can petite diced tomatoes
2 cups frozen corn
1 tsp cumin
1/2 tsp dried oregano
2 8 oz skinless chicken breasts (16 oz total)
1/4 cup chopped scallions, for topping
3/4 cup shredded reduced fat cheddar cheese
fat free sour cream (optional) I use 0% Plain Greek Yogurt
Heat
oil in a saucepan over medium-low heat.
Add
onion and garlic and
sauté
until soft, 3-4 minutes. Slowly
add
the chicken broth, tomato sauce and chipotle adobo sauce and bring to a boil.
Add
cilantro and remove from heat. Pour into crock pot.
To the crockpot,
add
drained beans, diced tomatoes, corn, cumin, oregano and stir.
Add
the chicken breasts;
cover
and cook on low heat for 4-6 hours.
Remove
chicken and
shred
with two forks.
Add
chicken back into the soup, adjust salt and cumin to taste.
Serve
in bowls and
top
with fat free sour cream, cheese, scallions and cilantro. You can also top with avocado or crushed tortilla chips. Enjoy!
Servings:
6 •
Serving Size:
1 1/2 cups + cheese •
Old Points:
5 pts •
Points+:
7 pts
Calories:
260.9 •
Fat
:
6.6 g •
Protein:
25.4 g •
Carb
:
29.9 g •
Fiber:
6.7 g
•
Sugar
:
4.1 g
Sodium: 572 mg (without salt)


what are some of your favorite healthy blogs or cookbooks? I'd love to know some of your favorite recipes to try out!