This week's edition of crack of the week takes us into the cooler temperatures
(the snow/sleet/wintry mix arrived in full force on Friday here in Chicago).
top it with cheese + more cheese? good.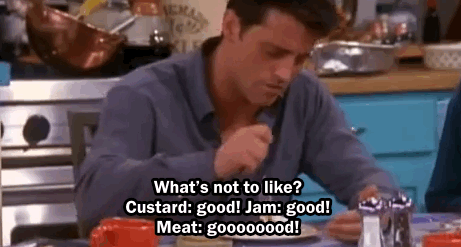 The recipe on her site and the recipe on damn delicious are pretty different. Her version was made more with what she had on hand, so it's good to know this can be altered to suit your pantry items! I did a combo of their recipes to suit what we had…. which should have been everything…. because
I went to the store 3 times on Sunday.
three. no joke.
and still forgot things. damn gargabe bags…..
I was so sleep deprived I definitely should not have been driving anywhere.
It is a perfect, super simple soup to throw together….. one of those recipes that is great for the cooler weather and a night with the DVR yelling at Erin Andrews on Dancing with the Stars.
ya know, one of those recipes.
From the Pawley's Island Posh recipe, I copied the ground turkey as the meat and the addition of tomato sauce, as well as adding 2 cups of water. It definitely needed more broth. From Damn Delicious I copied adding in a whole onion (I love me some onions) and the red pepper flakes for some kick. Oh, and I have no idea what the heck "armoniche pasta" is and couldn't find it, so I used rotini. All pasta is my friend.
Lasagna Soup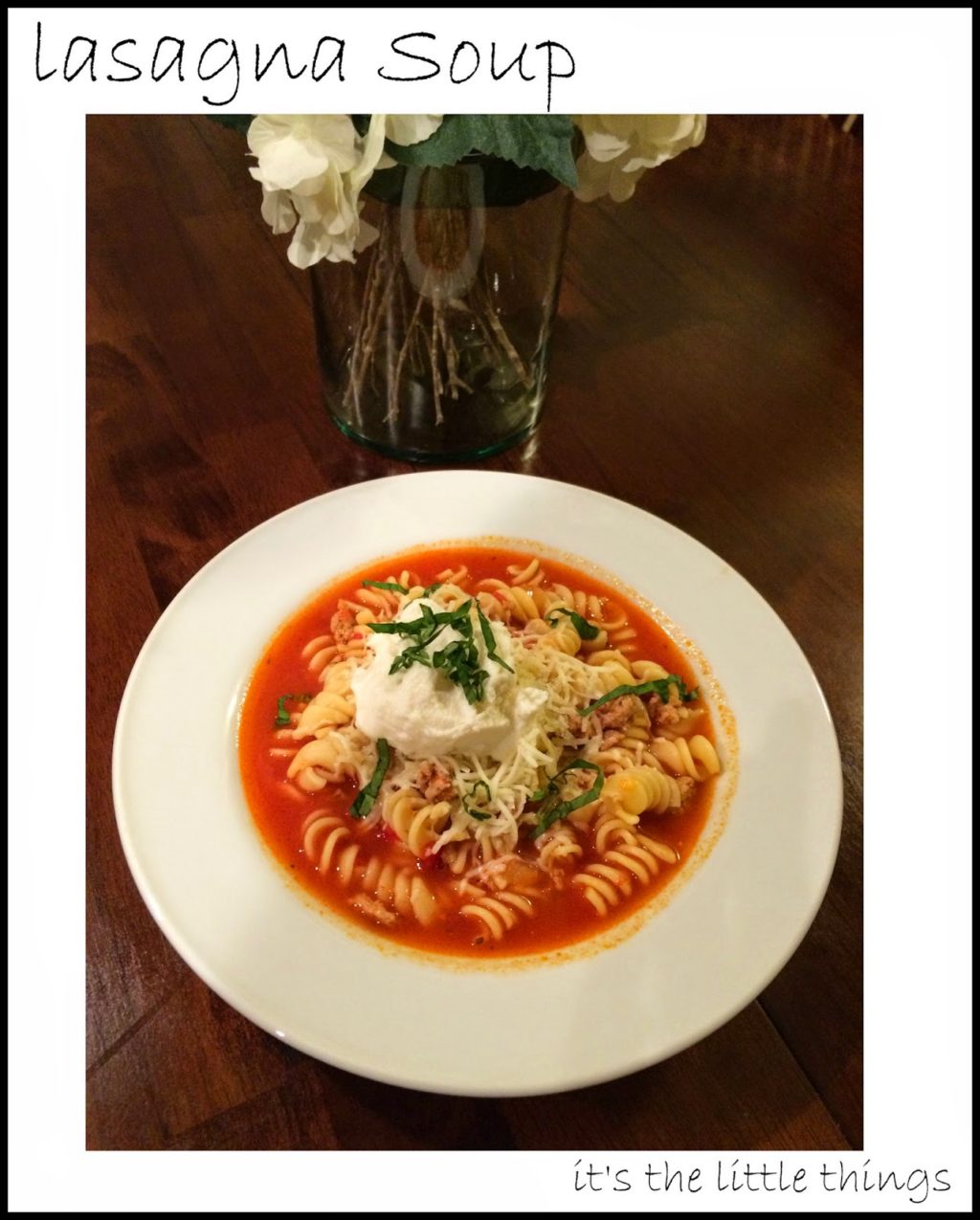 dammmmnnn look at that bowl.
climbing that iPhone food photography ladder one sprinkle of basil at a time…..
1 box rotini pasta

1 tablespoon olive oil

1 pound ground turkey

3 cloves garlic, minced

1 onion, diced

(or one pre-cut container from the produce section to avoid onion teary eyes)

2 teaspoons oregano

1/2 teaspoon crushed red pepper flakes

2 tablespoons tomato paste

1 box chicken stock

2 cups water

1 (28-ounce) can fire roasted diced tomatoes

Kosher salt and freshly ground black pepper, to taste

Mozzarella Cheese + Ricotta + Ground Parmesan for topping

1/4 cup fresh basil leaves, chiffonade for topping (I mean I

'm assuming that means cut up real thin and pretty like)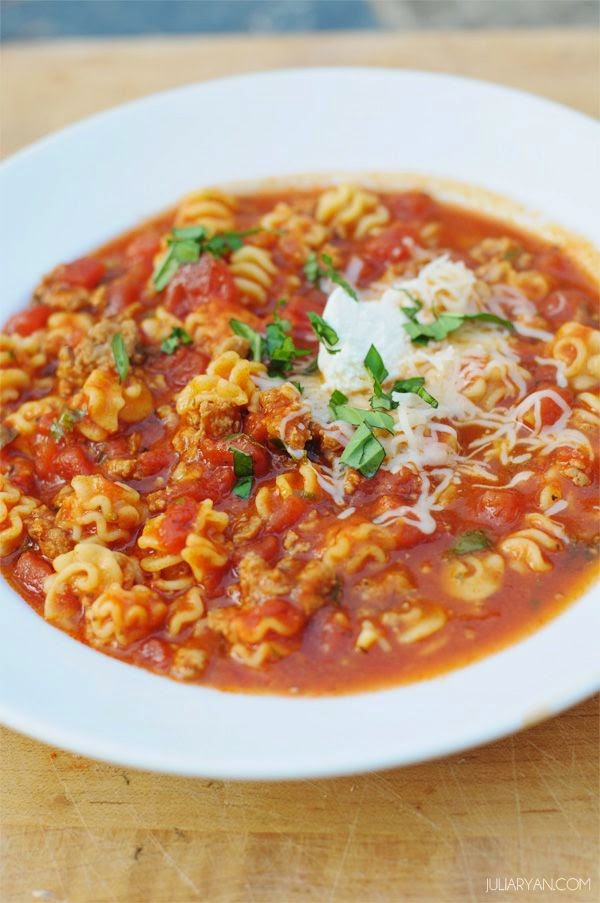 In a large pot of boiling salted water, cook pasta according to package instructions; drain well.
Heat olive oil in a Dutch oven or large pot over medium high heat. Add ground turkey to the skillet and cook until browned. Add garlic, onion, oregano and red pepper flakes. Cook, stirring frequently, until onions have become translucent, about 2-3 minutes. Stir in tomato paste until well combined, about 1 minute.
Stir in chicken stock and diced tomatoes. season with salt and pepper, to taste. Add 2 cups water if needed to get more broth out of the soup. Bring to a boil; reduce heat and simmer until slightly thickened, about 30 minutes. Stir in pasta.
Serve immediately with a heaping spoonful of the ricotta, sprinkled with mozzarella,
parmesan
and basil.