I hosted a brunch at my place on Sunday for the girlfriends.
I needed to make something gluten free, which I thought would be difficult. I was so wrong.
I had no idea hash browns and potatoes were gluten free….. am I the biggest moron in the world??
I have a breakfast casserole recipe I usually make, and this forced me to think outside the box, which I'm so glad I did.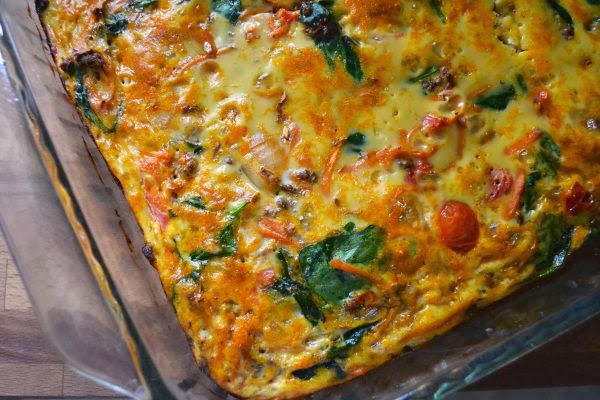 photo via big eats tiny kitchen
Of course, I topped it with cheese which the recipe didn't call for, because why would you not add a bunch of cheese to anything?
Without the cheese, this is dairy free and paleo friendly.
not saying I'll be going paleo, gluten, or dairy free – but nice to know there are easy and great recipes that fit all of those categories!
You can make this the night before and just bake it the next day, which is the best way to do brunch.
Make Ahead Mexican Breakfast Casserole (Gluten Free, Grain Free, Dairy Free, Paleo-Friendly)
Serves 8 to 10
Ingredients
12 eggs, whisked
1/2 medium onion, diced
1 lb ground beef
1 sweet potato*, shredded with skin on
1 jalapeno, deseeded and chopped
2 cloves of garlic, minced
1 teaspoon chili powder
1 teaspoon smoked paprika
1 teaspoon salt
2 cups diced fresh tomatoes (or 1 can of diced tomatoes, drained)
2 cups fresh spinach (or chard or any leafy green you choose)
*Note – if you have picky eaters in your house, you can substitute regular potatoes for the sweet potato. And if you are _really_ in a pinch, you can substitute frozen hash browns.
so….. obviously I said no to sweet potatoes and did frozen hash browns 🙂
Instructions
Preheat oven to 375 F. Spray a 9″X13″ baking dish with nonstick spray and set aside.
Whisk eggs in a medium bowl and set aside.
Shred sweet potato using a food processor with shredding attachment or by hand. Set aside.
Cook ground beef in a large skillet over medium-high heat until no pink remains. Break into crumbly pieces using a spatula. Drain off extra grease. Add onion, shredded sweet potato, garlic, jalapeño, chili powder, salt, and paprika into skillet. Cook until onions are translucent (about 5 to 7 minutes). Add tomatoes and spinach into skillet and cook for about 2 minutes or until spinach begins to wilt.
Pour beef and sweet potato mixture into the prepared 9″X13″ pan and spread evenly along the bottom. Pour whisked eggs over the top, making sure to mix the eggs into the sweet potato mixture with a spoon or spatula. (The casserole can be made ahead 1 day in advance up to this point and covered and refrigerated. Remove from fridge 15 minutes before cooking.)
Place in preheated oven and bake for 30 to 40 minutes or until middle of casserole is set (not jiggly) and edges are lightly browned. Remove from oven and allow to cool for 5 minutes. Feeds a crowd of 8 to 10 or it feeds 2 people over the course of a week!!!!