With St. Patrick's Day right around the corner
I thought I would test out a recipe a little early.
I traditionally dye my crack cakes green,
but Tricia Yearwood's recipe has been
calling my name for weeks now.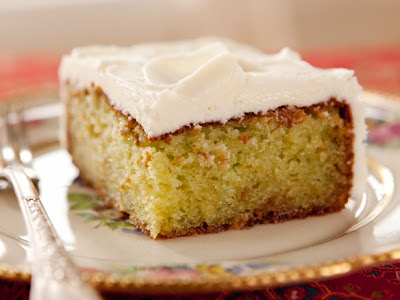 I love key lime pie, so I figured I couldn't go wrong with this.
And obviously anything topped with cream cheese frosting is amazing.
I would recommend trying the cake without the glaze the first time, or maybe only putting glaze on half of the cake. It adds such a strong lime flavor, that although it is good, I felt it overwhelmed the cake a little bit too much.
Cake:
One 3-ounce package lime flavored gelatin
1 1/3 cups granulated sugar
2 cups sifted all-purpose flour
1/2 teaspoon salt
1 teaspoon baking powder
1 teaspoon baking soda
1 1/2 cups vegetable oil
3/4 cup orange juice
1 tablespoon lemon juice
1/2 teaspoon vanilla extract
5 large eggs, slightly beaten
Glaze:
1/2 cup key lime juice (from about 25 small key limes or 4 large regular limes)
1/2 cup confectioners' sugar
Icing:
1/2 cup (1 stick butter), room temperature
One 8-ounce package cream cheese, room temperature
One 1 pound box confectioners' sugar
Directions:
For the cake: Preheat the oven to 350 degrees F and grease and flour one 9-by-12-by-2-inch cake pan.
In a large mixing bowl, mix the gelatin, granulated sugar, flour, salt, baking powder and baking soda. Stir to mix well. Add the oil, orange juice, lemon juice, vanilla, and eggs. Mix until well combined. Pour the batter evenly in the pan and bake for 35 to 40 minutes. Test for doneness by lightly touching the tops or inserting a toothpick. Cool the cake in the pan for 5 minutes then turn out onto a cooling rack.
For the glaze: While the cake is still hot, mix the lime juice and confectioners' sugar together well. Pierce the cake with a fork to allow the glaze to soak in better and pour it over the cake on the cooling rack. Allow cake to cool completely as you prepare the icing.
For the icing: Cream the butter and cream cheese. Beat in the confectioners' sugar until mixture is smooth and easy to spread. Spread the icing on the top and sides of the cake.
Cook's Note: you can also use three 9-inch round cake pans and make this into a layer cake.
………………………………………………………………………………..
let me know your thoughts about with or without the glaze.
Any other fun St. Patrick's day treats you normally make?
It is a big, big day for us in Chicago
and always one of my favorite days of the year.
xoxo