I wanted to share the recipe
for the Empanadas we made over the weekend.
They were deleicous and really easy to pull together!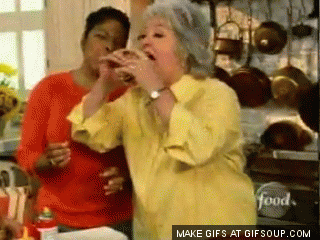 see how happy she is?!
The recipe called for chicken, but we substituted with beef.
Use whatever kind of meat you like, or go for vegetarian.
but I don't think Paula would approve of vegetarian.
Recipe courtesy of my second favorite (don't worry Ina)
and I'll be in Savannah in exactly one month + am already dreaming about what to order at Lady and Sons Restaurant!
Paula Deen's Chicken Empanadas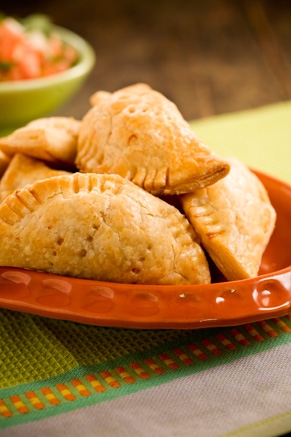 Ingredients
3 cups chopped, cooked chicken
*or beef, or meatless


1 (8-ounce) package shredded Colby and Monterey Jack cheese blend




4 ounces cream cheese, softened




1/4 cup chopped red bell pepper




1 jalapeno, seeded and chopped




1 tablespoon ground cumin




1 1/2 teaspoons salt




1/2 teaspoon pepper




1 (15-ounce) package refrigerated pie crusts




Water


*we brushed with olive oil at the end to get the crust golden brown


Directions
Preheat oven to 400 degrees F.
Lightly grease a baking sheet. In a large bowl, combine the chicken and next 7 ingredients. Unroll 1 piecrust onto a lightly floured surface. Roll into a 15-inch circle. Cut out rounds, using a 3-inch cookie cutter. Re-roll dough as needed. Repeat procedure with remaining piecrusts, making 12 to 15 circles total. Arrange 1 round on a clean, flat surface. Lightly brush the edges of crust with water. Place 1 heaping teaspoon of chicken mixture in the center of the round. Fold the dough over the filling, pressing the edges with a fork to seal. Repeat with the remaining rounds and chicken mixture. (Up to this point, the recipe can be made ahead and frozen for up to 1 month). Arrange empanadas on the prepared baking sheet. Bake for 15 minutes.
*we had to bake for longer, so keep an eye on them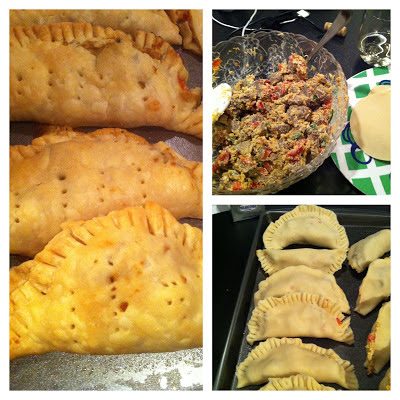 god my food photography just gets better and better,
don't you think?
we topped ours with salsa to have a bit of a sauce.
xoxo