yes…. it is Fat Tuesday…. so maybe make this one tomorrow 🙂
I have a great, and really healthy recipe to share with you today.
It comes to us from Mr. Rocco DiSpirito
sure, he seems like a cocky asshole.
especially on his amazing show on Bravo Rocco's Dinner Party that really needs to come back for a second season.
but he also looks like this.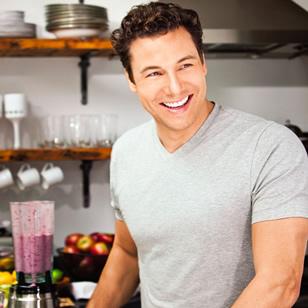 AND he takes amazing comfort foods and makes them healthier.
This recipe comes from his Now Eat This Cookbook that I have about 90 post it notes in for recipes to make.
Tasted as great as any homemade chili recipe I have had!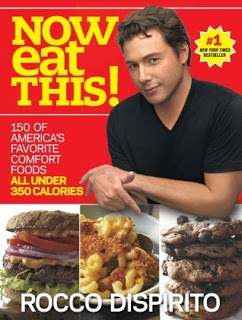 Rocco's Super Light Mexican Chili con Carne with Beans
serves 4 / 297 calories per serving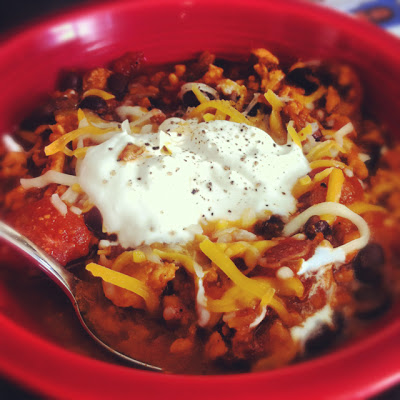 Ingredients
4 garlic cloves, minced
1 medium yellow onion, cut into fine dice
1 green bell pepper, seeded and cut into fine dice
One 35-ounce can whole plum tomatoes, roughly chopped, juices reserved (a)
3 tablespoons chili powder (b)
2 tablespoons ground cumin
Salt and freshly ground black pepper
12 ounces ground turkey breast (c)
One 14-ounce can black beans, drained (d)
Shredded 75% reduced-fat cheddar cheese, such as Cabot
Reduced-fat sour cream (e)
*Some of the measurements were hard to find in the store. I bought one 28 oz can of tomatoes, and then an additional smaller can. My ground turkey was in a 20 oz package, which is all they really come in at the store. I also used Chili Powder and leftover Chipotle Chili Powder (Spicier) rather than Cumin because I didn't have any and it tasted deliciious. I did about 2.5 tablespoon Chili Powder and .5 tablespoons Chipotle because it has a big kick to it.
Instructions
In a

Dutch oven

, combine the garlic, onion, bell pepper, tomatoes and their juices, chili powder, and cumin. Bring to a boil over high heat. Season with salt and pepper to taste. Reduce the heat to low, cover, and simmer until the vegetables are tender, about 8 minutes.
Raise the heat to high and add the ground turkey, stirring to break it up. Add the black beans and season with salt and pepper to taste. Cover, and bring to a boil. Then reduce the heat to medium-low and simmer, stirring occasionally, until turkey is cooked through, about 8 minutes.
Serve the chili in bowls, with the cheese sprinkled on top.
I also made Cornbread Muffins to have on the side!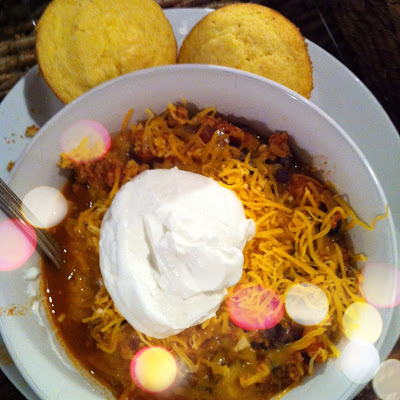 xoxo