I'm sure some of you have seen this but I had to share.
Cute, adorable little Rachel Bilson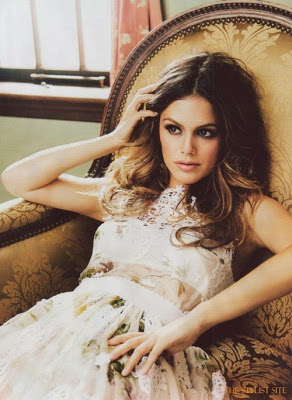 via pinterest
goes gangster in this Funny or Die Video (here).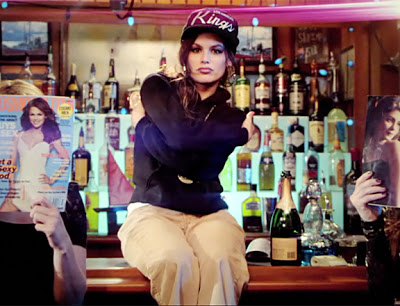 It's definitely worth watching.


Last weekend we broke out the crock pot and made homemade sloppy joes based on this recipe, but with a few variations. We decided to use bison + pork instead of regular beef which is what I think made it so delicious! The best part was that most of the ingredients you'll probably already have in your pantry.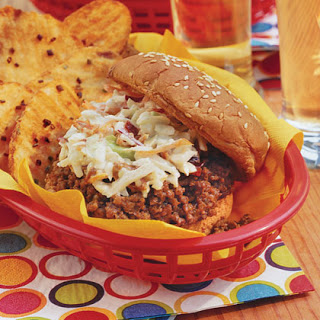 sloppy joes aren't pretty, so I'm using their pic instead
Crock Pot Sloppy Joes
Ingredients
A couple cloves of garlic, minced
1/2 medium size green pepper, chopped
2 Carrots, chopped
1 tablespoon chili powder
1/4 cup firmly packed brown sugar
2 tablespoons cider vinegar
2 tablespoons yellow mustard
1 tablespoon chili powder
1 tablespoon

Worcestershire sauce

1/2 teaspoon salt

1/4 cup all-purpose flour

8

hamburger buns, toasted
Preparation
1. Brown beef and sausage with onion, garlic, and bell pepper in a large Dutch oven over medium-high heat, stirring 10 minutes or until beef and sausage crumble and are no longer pink. Drain well.

2. Place beef mixture in a 4 1/2-qt. slow cooker. Stir in all remaining ingredients. Cover and cook on HIGH 4 hours. Serve on hamburger buns.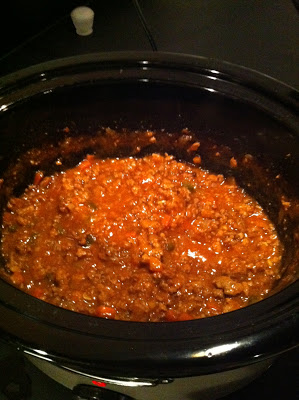 Couldn't be easier! I know my pictures are awful, but they were so good. The extra couple of dollars for the bison and pork made this dish. I can't wait to use the slow cooker again soon.
For the MLK holiday I also wanted to make an easy breakfast instead of the usual bagel or scrambled eggs. I saw this recipe for individual Huevos Rancheros while I was sick and OD'ing on Food Network last week and thought it was perfect for a weekend breakfast.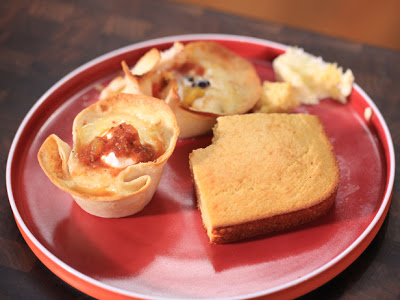 My boyfriend didn't really want beans, so I left those out of a few, but the options are seriously endless with this! I loved it with cheese, salsa, and sour cream, but I think that adding peppers, onions, eggwhites, or goat cheese would be great too. So many different ways to make this!
Cheesy Individual Egg Bakes
Ingredients
8 (5-inch) flour tortillas

3 tablespoons butter, melted
Kosher salt and freshly ground black pepper
3/4 cup cooked black beans
8 eggs
1/2 cup shredded pepper jack cheese
1/2 cup sour cream
Special Equipment: 12-cup muffin tin
Directions
Preheat the oven to 400 degrees F.
Cut off the outer edge of each tortilla and remove so that the tortillas fit snugly into the muffin tin cups. Brush both sides of the tortillas lightly with the melted butter and sprinkle with salt. Press the tortillas into the muffin tin, creating little tortilla cups.
In a small bowl, mix half the salsa with the black beans and season with salt and pepper. Spoon a heaping tablespoon of the black bean mixture into each tortilla cup. Crack an egg into each of the eight cups. Bake until barely set, about 8 minutes. Top with cheese, cover with aluminum foil, and then bake for 6 to 7 minutes more. To serve, spoon the sour cream and remaining salsa on top of the eggs.
my egg cups, pre-toppings. god my food pics suck.
* I used wheat tortillas, which I realized was not the best move in the end. Mine were really thick so it was hard to fit everything else in there, so look for thinner tortillas to fill the muffin cups.
Happy WEEKEND!
xoxo