Sunday was the bf's birthday, and we decided to cancel our dinner reservations to stay home and cook instead. Sometimes a quiet night at home is so much better than going out – and it's especially nice because he loves to cook so it's a fun thing to do together.
It's a little embarrassing, but sometimes he is a better
cook in the kitchen than I am…
my mother would kill me.
I had seen Giada make a creamy pasta dish with spicy italian sausage and thought it looked easy but delicious. Luckily, I was right! We ate…. and ate…. and ate. It was one of the best recipes we've made yet.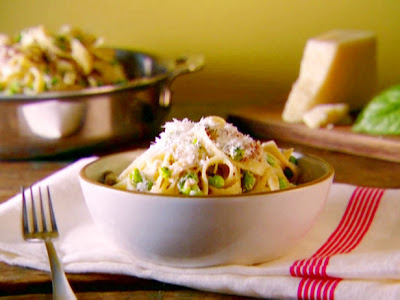 Tagliatelle with Smashed Peas, Sausage, and Ricotta Cheese
Ingredients
1 pound fresh or dried tagliatelle pasta (or other wide, long pasta)
2 tablespoons olive oil
2 cloves garlic, chopped
1 pound hot Italian sausage, casings removed

1 pound frozen peas, thawed

*I used a little less

1 bunch fresh basil leaves chopped (about 3/4 cup)
1/4 cup fresh grated Pecorino Romano cheese
1 teaspoon salt
Directions
Bring a large pot of salted water to a boil over high heat. Add the pasta and cook until tender but still firm to the bite, stirring occasionally, about 8 to 10 minutes if dry or according to package directions if fresh. Drain
pasta
reserving 1 cup of the pasta cooking water.
Meanwhile, in a large, heavy skillet heat the olive oil and garlic over medium-high heat and add the sausage. Use a wooden spoon to break up the sausage into bite-sized bits. When the sausage has browned, about 5 minutes. Remove and set aside. Add the peas to the pan and, using the back of the wooden spoon, smash the peas. Turn off the heat. Add the ricotta cheese along with the cooked pasta and toss to coat, adding the pasta cooking water in 1/4 cup additions, if needed, to make the pasta moist. Return the sausage to the pan. Add the basil, Pecorino
Romano cheese
, and salt. Toss gently to coat and serve immediately.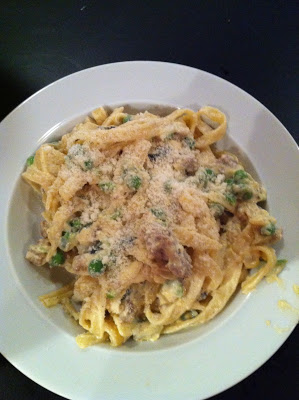 seriously so yummy….
and even better when it's followed by CAKE!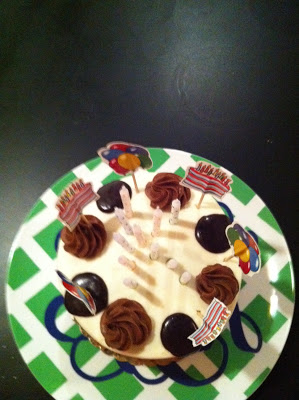 I attempted to make a K with candles…
had to do something since my lazy ass bought dessert. Oops.
xoxo