he takes popular songs and does acoustic versions of them. This Titanium cover gives me chills he sounds so good.
He has a bunch of other covers too – I seriously like his versions and his voice better than the real versions.
Plus, he has a sweet Irish name which always wins me over – even if his voice sounded like nails on a blackboard, if you are named Collin McLoughin I give you two thumbs up.
Random thought, but I am really mad at myself because while cleaning last night, I saw my leather mini skirt that I bought a few months ago from TopShop for summertime, yet somehow never wore.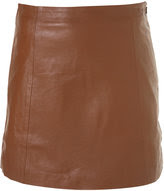 Is it too late to wear this?? With a cream top?? I'd be freezing my ass off…because it is NOT warm this weekend… so maybe I'll just have to save it for a random warm weather day next week.
So mad I didn't wear it earlier this summer!
I have a housewarming party at the boy's place tonight and then plan on taking it easy and relaxing for the rest of the weekend.
Could this have been a more random post? My apologies.
Hope you all have a great weekend 🙂