I got this cookbook a couple years ago, and have made several yummy (and healthy!) recipes over the years from it. On Sunday, I made the Stuffed Shells for my boyfriend for dinner.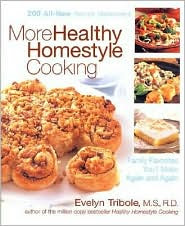 They were delicious! I'm certainly not going to act like they are better than stuffed shells from an Italian restaurant with cream & extra fatty cheese, but it definitely filled my need for a cheesy pasta dish!
Stuffed Shells Florentine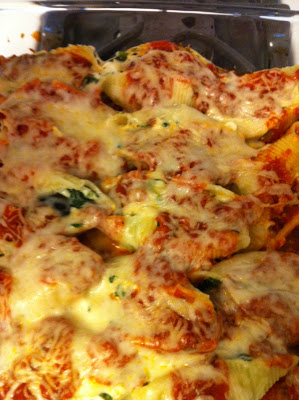 I know… my iPhone food photography is so amazing.
12 ounces jumbo shells (about 30 shells)
2 cups low fat marinara sauce *I used more so it wouldn't dry out
1 package frozen spinach (10 ounces), thawed and squeezed dry
3 cups fat free ricotta cheese (24 ounces)
1/2 cup freshly grated parmesean (2 ounces)
3 tablespoons chopped fresh basil
2 garlic cloves, chopped
1/2 teaspoon fennel seeds
1/2 cup shredded reduced fat mozzarella cheese (2 ounces)
Cook the Shells according to the package directions. Drain.
Meanwhile, preheat oven to 375. Spread 1/2 cup of the marinara sauce over the bottom of a 13×9 baking dish (I added more).
In a large bowl, combine the spinach, ricotta, parmesan, basil, flour, garlic, and fennel seeds. Mix well. Spoon some of the filling into each shell. Place the shells, filling side up, in the baking dish.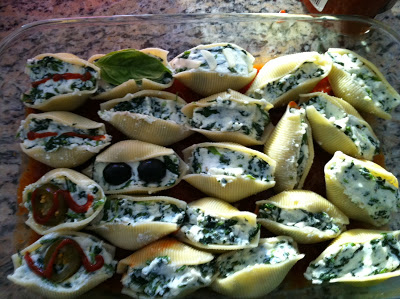 my bf insists on adding ingredients to recipes, so his shells with jalapenos, hot sauce, and olives are on the left
Spoon the remaining sauce over the shells, and top with the mozzarella. Cover loosely with foil and bake for 30 minutes or until the cheese is melted and the filling is hot.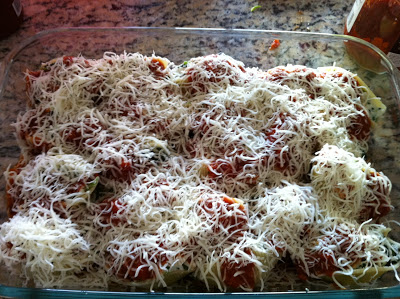 Plop yourself on the couch, try your best to negotiate a unisex TV show instead of another episode of that Deep Sea Fishing Show or Swamp People, and enjoy 🙂